Experts agree that all oily skin types should be cleansing with salicylic acid—here are the 9 best face washes
Don't sleep on this pore-cleansing ingredient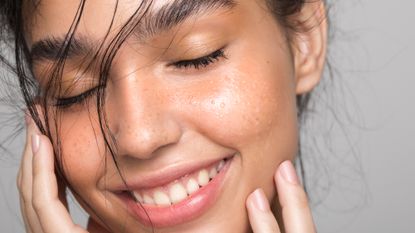 (Image credit: Getty Images)
As someone who has dealt with oily and spot-prone skin since my teenage years, there are a few things I have become reliant on - my trusty moisturiser for oily skin, a plethora of acne treatments and salicylic acid. The latter is one ingredient that has remained my beauty BFF over the decades. A tried-and-tested favourite in the skincare world, this gently exfoliating acid is renowned for its ability to slough away dead skin cells, unclog pores and generally leave skin feeling smoother and looking brighter. In fact, when it comes to dealing with blemishes, it's the one over-the-counter ingredient that makes the biggest difference to the regularity of my breakouts and to the overall appearance of my skin. And while salicylic acid-infused spot treatments and toners have been a part of my routine for years, I've recently started using a salicylic acid face wash daily after a particularly persistent bout of hormonal acne. The results? My skin has never been so soft, smooth and clarified.
Ahead, I'm sharing my pick of the very best salicylic acid face washes on the market along with some expert advice from Dr Alexis Granite, CeraVe Consultant Dermatologist, on what to look out for when choosing one to add to your own skincare routine.
What is salicylic acid?
"Salicylic acid is a beta hydroxy acid (BHA) derived from willow bark and has been used for decades to treat acne and blemishes," explains Dr Alexis. "It works by breaking down bonds between dead skin cells, penetrating deeply into pores and preventing congestion."
Who should use a salicylic acid face wash?
There's one key skin type that salicylic acid face washes benefit and that's those of us with oily, blemish-prone or congested skin—that means black heads as well as active breakouts. "Salicylic acid reduces the skin's oil production and has anti-inflammatory properties so it's a fantastic, non-drying option for those with blemish-prone skin," says Dr Alexis.
Should anyone avoid using a salicylic acid face wash?
While many skin types will tolerate salicylic acid quite well, overly sensitive skin types might want to avoid—or start with a cleanser that uses a lower concentration of the acid, around 0.5%. "I would recommend using it every other day to start, while your skin builds up a tolerance to the ingredients," advises Dr Alexis. Once you're sure that it doesn't cause irritation, then a salicylic acid face wash is great as a daily cleanse as it works well as a "preventative method as well as targeted wash".
What should we look for when choosing a salicylic acid face wash?
The best thing about salicylic acid cleansers is that many of them contain a multitude of skin-friendly ingredients to prevent irritation. "I really like the combination of effective blemish-fighting ingredients such as 2% salicylic acid and hectorite clay, and skin-soothers and emollients such as niacinamide and ceramides," says Dr Alexis.
Shop the best salicylic acid face washes
1. CeraVe SA Smoothing Cleanser with Salicylic Acid
CeraVe SA Smoothing Cleanser with Salicylic Acid
Reasons to buy
+
Affordable
+
Fragrance-free and gentle
Reasons to avoid
-
Not the most luxurious skincare option
I usually switch this cleanser into my skincare routine during times when I know I'm going to be prone to breakouts—for me, that's when my period is due or I'm having a particularly stressful week. However, during the last couple of months I've been relying on this as my daily cleanser and it's been remarkable about controlling the severity of my spots, smoothing the skin and refining its texture. It contains salicylic acid, of course, to remove dirt and excess oil from the skin, but there's also essential ceramides and hyaluronic acid to ensure that your skin never feels stripped or tight after cleansing.
2. La Roche-Posay Effaclar Micro-Peeling Face and Body Cleansing Gel
La Roche-Posay Effaclar Micro-Peeling Face and Body Cleansing Gel
Reasons to buy
+
Well-priced
+
Controls active breakouts and fades scarring
Reasons to avoid
-
Too active for sensitive skin types
This foaming formula contains 2% salicylic acid alongside the lesser-known LHA—a beta-lipohydroxy acid that works to lift away dead skin cells to prevent clogged pores or new spots forming. It still feels like it does the job gently, though, thanks to the addition of zinc, which reduces the inflammation around breakouts, and soothing thermal spring water. The best thing for me about this specific face wash is that with continued use, I can vouch for its ability to reduce the appearance of longer-term issues caused by spots like scarring and pigmentation—much like the rest of the brilliant Effaclar range.
3. Medik8 Surface Radiance Cleanse
Medik8 Surface Radiance Cleanse
Reasons to buy
+
Luxurious gel texture
+
Leaves skin glowing
Reasons to avoid
-
Very slippy—use a small amount or risk wasting it
While salicylic acid face washes are undeniably efficacious, they can often feel a little clinical to use. However, this cleanser from Medik8 turns all that on its head with a luxurious gel texture that is a true joy to use. Infused with salicylic acid to whittle away excess oil and exfoliate, it also uses L-mandelic acid and L-lactic acid to unclog pores without compromising on hydration. There's also glycerin to plump and soften the skin, and the result is a really fresh, juicy, radiant complexion once you've rinsed this away.
4. Paula's Choice Clear Cleanser
Paula's Choice Clear Cleanser
Reasons to buy
+
So refreshing
+
Targets blackheads and stubborn spots
Reasons to avoid
-
Not everyone loves a foaming formula
Chances are you will have heard of Paula's Choice cult BHA Liquid Exfoliant, and the brand has delivered again with this salicylic acid-infused cleanser. Formulated specifically with congested skin types in mind, this is one to reach for if you're looking for something that will help shift more stubborn types of spots like blackheads. It has a foaming formulation which lathers up on contact with water, working away dead skin cells and the daily build-up of dirt and grime to leave your skin feeling totally refreshed after use. Plus, glycerin and vitamin B5 ensure that your skin barrier and hydration levels remain intact.
5. Caudalie Vinopure Purifying Gel Cleanser
Caudalie Vinopure Purifying Gel Cleanser
Reasons to buy
+
Gentle gel-cream formula
+
Smells uplifting and spa-like
Reasons to avoid
-
Contains essential oils which may irritate some
I'm a long-time fan of French skincare brand Caudalie thanks to the way that they seamlessly blend spa-like textures with genuinely hardworking formulations—and this cleanser is the perfect example. It uses natural salicylic acid, extracted from Wintergreen leaves, to decongest and refine skin texture. Plus, there's grape water—the brand's key ingredient—to moisturise and soothe alongside essential oils like lavender peppermint and rosemary to soothe inflammation and tone the skin. It smells truly incredible and the gel-cream texture feels so nourishing on skin, particularly when I'm in the midst of a breakout.
6. Murad Clarifying Cleanser
Murad Clarifying Cleanser
Reasons to buy
+
Contains antibacterial triclosan
+
Works fast to calm breakouts
Reasons to avoid
-
Too harsh for sensitive skin
This salicylic acid face wash certainly has some bold claims, the main one being that it's clinically proven to transform your skin in as little as three days. And while I truly advocate for the fact that to see long-term skin change you need to stick to a regular routine for at least 4-6 weeks, there is no denying that when I've had stubborn spots, this gel cleanser has definitely calmed them fast. Alongside the salicylic acid, this active cleanser contains antibacterial triclosan to keep pores clean as well as green tea extracts and menthol to protect and refresh skin. It's certainly not for sensitive types, but is one to keep in your skincare arsenal during troublesome times.
7. e.l.f. Cosmetics Blemish Breakthrough Clarifying Cleanser
e.l.f. Cosmetics Blemish Breakthrough Clarifying Cleanser
Reasons to buy
+
Affordable but really works
+
Non-drying and gentle
Gentle enough for daily use, this fuss-free cleanser might not be the most luxurious option in the line-up but it certainly gets the job done. Alongside 1% salicylic acid to fit blemishes, there's niacinamide to even skin tone and refine pores, along with zinc and tranexamic acid to ease inflammation and target discolouration. The result is skin that's left calm, fresh and even.
8. Beauty Pie AcidEnzyme™ Exfoliating Face & Body Cleanser
Beauty Pie AcidEnzyme™ Exfoliating Face & Body Cleanser
Reasons to buy
+
It's a huge bottle
+
Can be used on face and body
This has to be my favourite Beauty Pie launch of the year—a foaming salicylic acid-infused wash that can be used on both face and body. While it's ideal for blemish-prone complexions, it is also brilliant at smoothing rough skin or keratosis pilaris thanks to the addition of a C-X-papaya enzyme complex which intensively exfoliates textured or congested skin. The active formulation means that I only use this a couple of times a week, and I'd suggest that sensitive types avoid, but it's highly effective and leaves both face and body glowing.
9. SkinCeuticals Blemish + Age Cleanser
SkinCeuticals Blemish + Age Cleanser
Reasons to buy
+
Great for 30s and up
+
Boosts glow
Reasons to avoid
-
Some people are reactive to glycolic acid
All too often salicylic acid cleansers tend to be targeted towards younger skin types as, typically, that's when most of us will be dealing with breakouts. However, as someone who still deals with acne now that I'm approaching my mid-30s, I hugely appreciate this cleanser from SkinCeuticals which works to both purify and ease congestion, while brightening and smoothing the texture and loss of radiance that comes with ageing. There's glycolic acid alongside salicylic acid here, to help with that radiance-boosting action, and it genuinely leaves skin looking so smooth.