Easy Escapes - The Pig At Bridge Place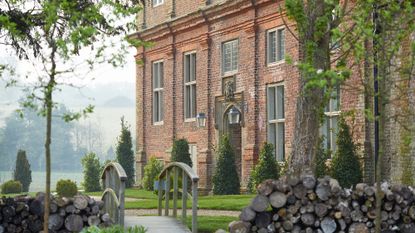 (Image credit: The Pig)
By now you'd have to have been living under a rock or been lost in the Bermuda Triangle to have not heard of The Pig Hotels famous for their laidback luxury and field to fork ethos. 8 hotels have popped up across the UK, restoring idyllic country houses and centring their offering firmly around the kitchen garden and 25 mile mantra. As long term fans of the group we jumped at the chance to try out one of the newer additions to the litter: The Pig At Bridge Place.
The Vibe
(A lounge at The Pig)
Each pig offers a unique experience; as the group trawl the country in search of one of a kind property becoming available (a job I think must surely be one of the best?) The offering at Bridge Place, just outside Canterbury, is no different. As you turn on to the grounds, the 17th century manor house or "red bricked musical honeypot" as it's affectionately termed, stands proud at the end of a long gravel drive, set in several acres of rolling Kent countryside. With historic connections to high society, banquets and balls; Bridge House has always been a place to see and be seen. After years of disrepair and neglect the house was restored in the 1960s to Kent's premier Rock N Roll venue: Bridge Place Country Club. With artists from The Kinks to Led Zeppelin gracing the grounds, the now owners describe the venue as somewhere between The Eagles' Hotel California and The Rocky Horror Picture Show. The building is steeped in history and as one pootles around the corridors every nook and cranny seems to tell a story. As is true of all Pigs we've visited, the vibe is warm, welcoming and cosy; bury yourself away in one of the secluded snugs, recline by open fires and maybe sample some of the homemade cakes and sweet treats (the cookies are well worth the calories).
The Rooms
(Big Comfy Luxe Room)
The boutique hideaway is made up of just 29 rooms split across the main house, lodges and coach house as well the barn and 7 hop pickers huts. We struck gold with one of the Big Comfy Luxe Rooms, set in the main house with views out across the grounds and local countryside. Wood panelled walls, rich and heavy velvet finishes, a super king size bed and freestanding bath in the main bedroom created a deeply indulgent and romantic setting. All we needed was a hot air balloon to float by the window and we would've been in heaven. Oh wait - it did! Tick.
Attention to detail is paramount here from the Bramley toiletries especially created for the Pig, to the bespoke in room entertainment (a combination of the best streaming services and handpicked films) right down to the vintage inspired treats in your personal larder, we particularly enjoyed the Tunnock's caramel wafers. There's very little, maybe even nothing at all, that you'd be left wanting for.
The Food
As somewhere that describes itself as a restaurant with rooms it's no surprise that eating is high on the agenda. Breakfast, lunch and dinner are served in the main restaurant (or out in the courtyard on warmer days) with nearly all produce coming from either their ample kitchen garden or from local suppliers within a 25 mile radius.
(The Courtyard)
For dinner, surround yourself with copious jars of pickled veg, preserved fruits, oils and other homegrown delicacies and dine under the warm hues from quirky "live eels" and "pie, mash & liquor" lights. We enjoyed a hearty meal of 'La Latteria' burrata and a smoother than smooth chicken liver parfait to start followed by a delicious game pie and wilted greens as well as the Brogdale Crispy Pork Loin and new potatoes. We have to admit that the pudding offering was slightly underwhelming - if you ask us they could do with a much more generous dose of chocolate, caramel and other cardiac arrest inducing ingredients to choose from, however that's subjective and we've got a very sweet tooth. Either way we'll forgive them as maybe the ingredients don't align with the 25 mile promise and we were so satisfied with the previous two courses that we only had space for a few "piggy fours" and the final slugs of a juicy bottle of Gamay anyway. Overall a big thumbs up.
(The Main Restaurant)
In our humble opinion, breakfast is where the Pig truly comes into its own. Whatever you fancy, it's here. No less than 6 different types of milk, multiple yoghurts, nuts, dried fruits, cereals, homemade granolas and a beyond tempting array of pastries start the show. Boil your own eggs from the Pig's resident chickens, slice some freshly baked bread and wash it all down with fresh juice or a cheeky shot of Willy's apple cider vinegar. And that's just the continental table! If you can demonstrate some self restraint make sure you leave room for the a la carte hot menu with everything from Paul's kippers, smashed peas on sourdough (a refreshing take on the usual smashed avo) or go big with the full "pig out". It's probably the best hotel breakfast we've had in the UK - and we've had a few.
What Else?
Down at the bottom of the garden lies the Pig's potting sheds offering the chance for a moment of R&R. Products are from VOYA and their responsibly sourced seaweed and treatments include a variety of massages and facials.
Take a wander through the kitchen garden, sample a pizza from the outdoor oven and meet the friendly pigs and chickens in the fields.
Out and About
Conveniently located under an hour by train from central London and 3 miles south of Canterbury The Pig is perfectly positioned to explore the Garden of England and the Kent coast. Check out their website for a helpfully curated selection of local eateries and attractions - we can vouch for the fish and chips at Flotsam and Jetsam in Broadstairs, a great day out can be had at Howletts Wildlife Park and you'll be supporting their sterling conservation work, and if you're a fan of a tipple then you're surrounded by some of England's finest vineyards.
How To Book
Rooms start from £185 per night, visit their website to book.
Celebrity news, beauty, fashion advice, and fascinating features, delivered straight to your inbox!
Sarah Hayman is a contributing food and travel writer at Marie Claire UK, covering everything from UK breaks to far flung destinations, the best greasy spoon to Michelin star dining.
Growing up on the Kent coast Sarah spent virtually every day of her summer holidays frolicking on the beach so it's no wonder that a life living and working in London leaves her yearning for sand between her toes and cool wines on summer eves.
To ensure she's ordering the right thing in a restaurant and knowing her lefts from her rights, Sarah has since dabbled in languages being conversational in Spanish and currently studying Arabic at SOAS.