Could a low-cut top damage your career?
Women who show too much cleavage at work risk sabotaging their careers and may even face the sack.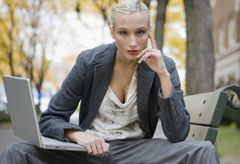 (Image credit: Rex Features)
Women who show too much cleavage at work risk sabotaging their careers and may even face the sack.
Contrary to the belief that womanly assets are an advantage in the business world, showing too much cleavage in the work place could result in the sack, according to a survey.
Bosses have named low-cut tops as one of the biggest mistakes a female employee can make, suggesting that too much cleavage could sabotage their career.
Dragon's Den star Peter Jones, who led the study, said: 'I know from all my years in the business that if people look smarter, they feel the part and achieve more – both in terms of productivity and career progression.'
While one in five managers admitted to firing someone for inappropriate dress, the entrepreneur also found that almost half of bosses had overlooked someone for promotion or a pay rise for the same reason.
The survey of 3,000 managers and workers was designed to assess the impact of dress-down Fridays, which have become a growing trend in office culture.
The findings show geographical differences with Southampton named the UK's scruffiest city, while Wolverhampton was named the smartest.
The private sector is also facing a backlash for dressing down after Whitehall civil servants were ordered by ministers in September to smarten up.
With many employees struggling to cling on to their jobs, stores have reported an increase in tie sales during the economic downturn and Peter Jones has launched a collection of cufflinks, socks, shirts and ties available online, in his bid to smarten up the nation's office workers.
Do you think Britain's employees need a make over? Should the way we dress in the office, impact on our career success? Marie Claire would like to hear from you today by posting a comment below.
Celebrity news, beauty, fashion advice, and fascinating features, delivered straight to your inbox!