Lucy Boynton: "I'm completely indebted to the women in my industry who have come before me"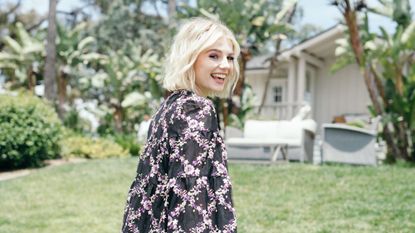 (Image credit: Getty Images)
Lucy Boynton is a woman to watch, and from her starring roles in Bohemian Rhapsody and Murder on the Orient Express to The Ipcress File, she is rapidly becoming a household name.
One minute into our interview, it is evident why - Lucy Boynton is magnetic. Warm, kind, inviting and incredibly hardworking - she quite literally exudes positivity.
But there's a lot more to the 29-year-old than meets the eye. She's an avid horror fan, a reader of neurology non-fiction, a champion of women's voices and a devotee to her craft.
Now, she's starring in Netflix's The Pale Blue Eye, a period murder mystery thriller directed by Scott Cooper, following veteran detective Augustus Landor and young cadet, Edgar Allan Poe.
As The Pale Blue Eye lands on Netflix, Features Editor Jenny Proudfoot sat down with Lucy to talk the beauty of horror, the importance of kindness and why we should all champion women's voices in film.
What was it that drew you to The Pale Blue Eye?
I'm such a huge fan of the horror/ thriller/ gothic genre. Some of my favourite films are horrors, and I think they just give way to such fascinating characters from an actor's point of view. It's a more technical experience, and I think as an actor, you're much more analytical in how you approach it in trying to manipulate the audience's experience, from a first watch to a second watch, and all of that. So the concept really appeals to me. And then specific to this script, I just loved it. I was so moved by it as much as I was horrified by it. And I just loved the kind of reveal of each character and how intimately that was dealt with.
What do you tend to first look for in a project? Is it the director, the script? Etc.
It's a combination of all of those things, but for me it's the feeling of being emotionally activated by the script. It's always a very instinctive response for me. And then it's the excitement of what you can do with a character, and especially a character like this. There's so much trajectory to build on and material to feast on. And then talking to Scott Cooper [our director] and realising that we were very much on the same page with the same intentions for the character was really exciting. As soon as you know that you're on the same kind of path with the creative leader at the helm of it, I think it's such a badge of confidence. Hearing how much he cared about the characters, and especially Lea - he was so sensitive to her and protective of her. So I knew I was in safe hands to then be able to explore and really take it quite far.
I don't even know how I would describe the last scene...
I think that's the thing I love the most about my job - getting to go to the absolute extremes of human emotion. It's totally socially unacceptable in my day to day, so to get to do that in this film was so cathartic. We were doing that scene in our last three or four days of filming, so it was also really cathartic getting to kind of purge all of those feelings that I've been holding onto throughout filming for the character. And what a total privilege getting to do it with people like Scott Cooper, Christian Bale, Gillian Anderson, Harry Lawtey and Harry Melling. These people take their craft really seriously, and have such tremendous respect for the process, which means that it gives you permission to do the same. To really explore and experiment, to have fun with it, without being self-conscious or precious. You can really just like let rip, and see what happens. And especially when you're in the hands of someone like Scott.
It is such an all star cast - Gillian Anderson and Christian Bale to name a few. What was it like working with them?
It was so cool just watching them. I mean, just watching Gillian with that character - I read it on the page in a certain way and then seeing her bring it to life was just watching a genius at work. She just made such interesting choices and you never knew what was going to happen next or in the next take. And the same with Christian - I mean, he's a genius, and in that final scene I learnt the greatest lesson from him. It was a really intense environment to shoot in, and he was so hands on with nurturing everyone and keeping an eye on everyone. He made sure that the environment was still conducive for everyone's work and that everyone was also safe. It was remarkable, and I think it was such an education in how to be a leader on set.
And, obviously, Scott Cooper directed. Would you ever consider directing yourself?
I don't know. I love the analytical conversations and process of filmmaking. But I think the filmmakers and directors that I admire the most and whose films are my favourite, have such a specific and idiosyncratic style that I think I would want to be in that realm. So I would have a lot more watching and reading and studying to do before I'd be ready to do that I think.
And the costumes were the dream...
It was heaven. Kasia, our Costume Designer is just brilliant because every costume tells such a huge portion of the story. The material of my costume was really delicate with really fine prints for instance to kind of mirror Lea's frailty. But then the scale of them were a kind of compensation for that frailty, and wanting to be present and take up space and live. So that was really beautiful. And then the contrast of what corsetry does to you, which I kind of love - in a short filming period. l think it just completely changes the way that you hold yourself and move. It changes the way that you have to measure your breathing and your vocals - everything. And it's so satisfying to just completely be able to exit yourself and your life and step into that world. The scale of that dress completely changes the way that you can move and and operate and your circumference - all of it. So there's just nothing of Lucy there, it would be so inappropriate for me to be in that. So it is a really satisfying way to just kind of mentally get into the character at the beginning of the day, and then step out of it at the end and leave it behind.
You've long been a champion for women's voices in film, why is that so important?
Because it's so obvious that it should be and should have always been. I'm so grateful to be in an industry where there's an opportunity to give voice to that and reflect that. To either hold up a mirror to society or hold up an opportunity of what something could look like - a more hopeful version of something. I'm just completely indebted to the women in my industry who have come before me - who started that wave of putting their foot down and saying, "these roles aren't good enough for us". The women who said "I believe there is better". Now, thanks to them, I have a plethora of performances and women to look to, and to have as the standard to hold scriptwriters to. Women are fucking brilliant and fascinating, and have always been operating in this landscape and playing the game under the surface. So I think we've only just breached the tip of the iceberg of the women's stories that are there to be told. I'm just excited to see what continues to unfold.
And on that note, is there a dream role that you would want to play in the future?
I think it changes as I get older - the more experiences I have, the more scripts that I read and the more I understand the world around me. But I think this genre is one that I really love. I definitely want to put positive things out into the world as well, but I think the horror/ Gothic genre is such an interesting vehicle to get to investigate human behaviour in a much more honest way. You can Trojan horse a message and have it be more kind of palatable than if you're just trying to educate. So I'm really interested in that.
Are there any specific female role models that you have in the industry?
I think the two creatives that I look to constantly are Brit Marling and Michaela Cole. They are two people in my industry who didn't feel that they were reading roles that were complex enough or that fascinated them enough. So they decided to start writing themselves - and I think that's so bold and brilliant. Their voices are so singular, to each of them and they're just creating such brilliant singular work. So whenever either of them put something out, you know it's going to be an education on a real experience. I'm very grateful to have people like them to look to in this industry.
We love your book recommendations on Instagram. What role does reading play in your life?
I actually used to be really embarrassed that I wasn't a proper cinephile in the way that a lot of people in this industry are. And then I realised it's because reading does for me what films have done for so many others. Reading a book is a departure from my life around me, and an opportunity to experience someone else's world or experience that I otherwise wouldn't have access to. It's such a great exercise in empathy and just an opportunity to time travel and transport. I think that's why I gravitated towards this job - and it makes so much sense when I'm reading a script. I'm doing the same things - working out what that world is and who those characters are when brought to life.
Is there a particular book that you've loved this year?
Oh, my God, I should have prepared this answer. I was doing a movie just last month about grief. So I was reading Joan Didion's Year of Magical Thinking, which was really impactful. But actually, Open Water by Caleb Azuma Nelson - I put it on my Instagram, but I'll say it again. I was so floored by that book. He is such a lyrical, poetic writer but writes human experience and emotions so viscerally, so beautifully. I can't recommend it highly enough - it's just beautiful.
Is there a book that has had the biggest impact on you in life?
I mean, Helen Oyeyemi and Shirley Jackson are two authors whose writing is just genius. Their books see the world in such an abstract but honest way. They have opened an avenue in my brain in a way that I really love. And the women that they write are so fascinating and multifaceted - ones that I would love to play. And then also, I find it hard to read fiction when I'm working. So I have gravitated towards David Eagleman's books on neurology. I really recommend the book, Live Wired - it's so fascinating.
What is the best piece of advice you've ever received?
God I don't know. It's so basic, but it's probably my mum telling me to be kind. It's the easiest thing to be kind. It's such a cliché, and I wish I had something more profound to say, but I honestly think if we all adhered to that and led with empathy, everything would be a lot easier. Always lead with kindness - you will never regret it.
You use your social media for good and to amplify other people's voices. Is that important for you to use your platform to shine a light?
Social media doesn't come very naturally to me - I like it less and less and understand it less and less. But I'm aware that it's a great opportunity for conversation and connection. I was active on Instagram before anyone beyond my friends and family followed me, so it just feels organic to use it in that way and express myself. I'd love to be able to be more proactive and useful with it, but without engaging with it much more - so I'm constantly trying to navigate that landscape.
What piece of advice would you give to women coming up in your footsteps?
Talk to all the other women in the industry and ask all the questions of all the women around you. Their experience will be so informative to how you operate your surroundings. I've been so grateful to the women that I continue to be able to talk to and ask of their experience and their advice in how to navigate this landscape. And then also whenever you can, and I'm sure it will change and reset all the time, but define your own concept of success and your own personal goals. Because I think in a creative industry, it's really easy. And obviously, you want to look to other examples to kind of get a sense of what feels right for you and what doesn't. But I think the more you can hone in on your own voice and goals, the easier it will be to keep obtaining moments of happiness and satisfaction because it'll be true to you.
The Pale Blue Eye is available to watch on Netflix now.
Celebrity news, beauty, fashion advice, and fascinating features, delivered straight to your inbox!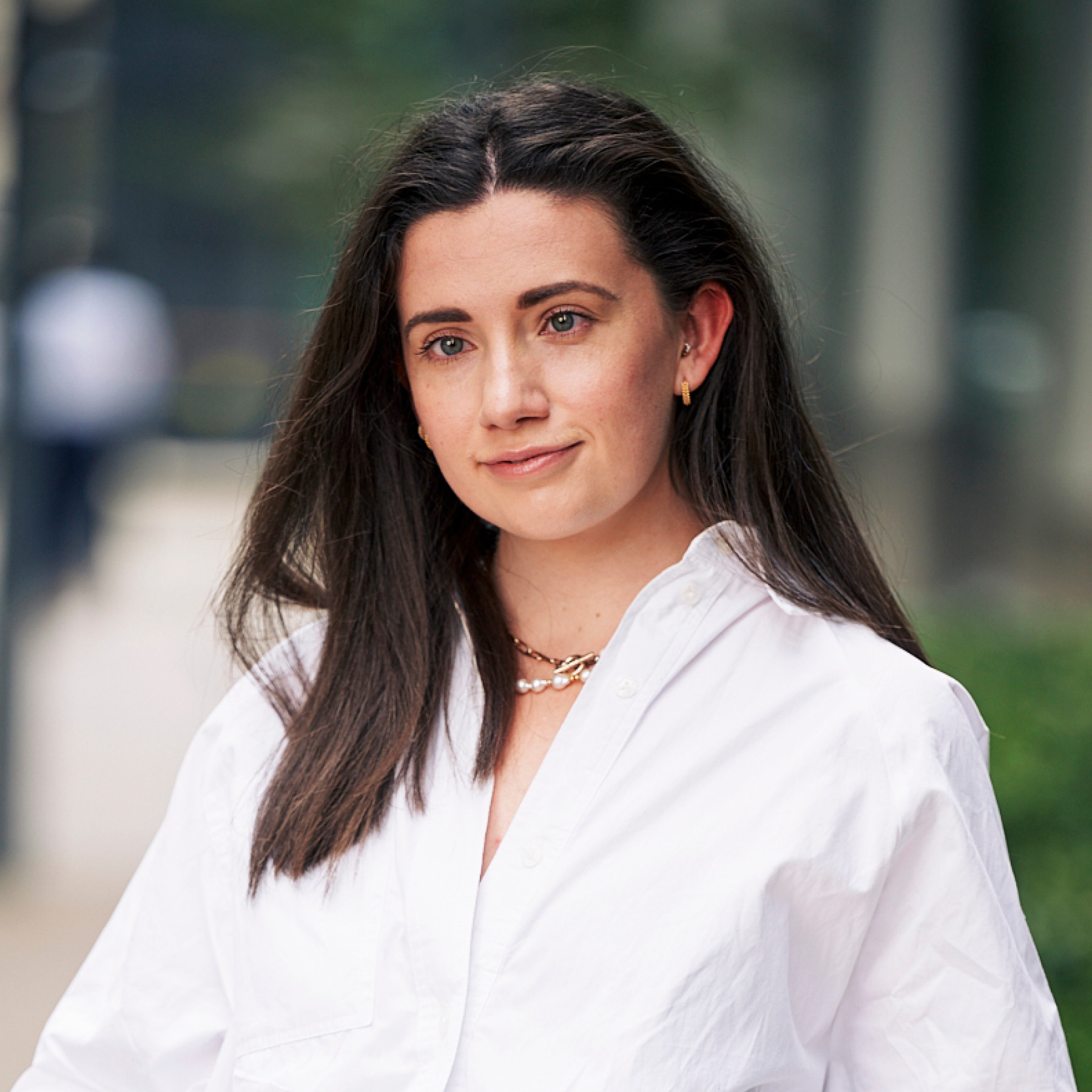 Jenny Proudfoot is an award-winning journalist, specialising in lifestyle, culture, entertainment, international development and politics. She has worked at Marie Claire UK for seven years, rising from intern to Features Editor and is now the most published Marie Claire writer of all time. She was made a 30 under 30 award-winner last year and named a rising star in journalism by the Professional Publishers Association.