Melanie C talks resilience, trusting your instincts and why vulnerability is actually a superpower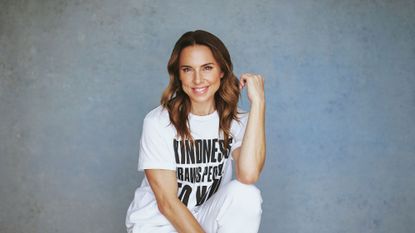 (Image credit: Alexandra Cameron)
Melanie C is an advocate for resilience and women supporting women - something she proved this season when fronting The Body Shop's resilience survey and campaign.
To celebrate its much-loved Edelweiss skincare products, famed for strengthening the resilience of the skin barrier, The Body Shop spoke to over 1,000 women, finding that just 14% consider themselves resilient.
In an effort to champion women and their confidence, The Body Shop asked women for their advice on practicing resilience, from being kind to yourself and investing in "me" time, to looking after your mental and physical health. And this autumn, they have used the advice to write a new song: Living Resiliently, a track narrated by Melanie C herself.
We sat down with Melanie C to find out more about the empowering campaign and her relationship with resilience...
Let's talk The Body Shop and what drew you to working with them...
Well, I grew up in the 80s, and so The Body Shop is really nostalgic for me. It was one of the first beauty brands that me and my friends would wear - we'd always be buying our white musk and dewberry fragrances on a Saturday. But crucially, I've got so much respect for The Body Shop as a company. We're so much more aware now of the products that are earth friendly, and I see The Body Shop as the front runner of that. They were talking about these issues - whether that's animal testing or safe formulas - decades ago. And now luckily so many other beauty brands are jumping on board with that, so I've always respected The Body Shop. And then when I was approached about this campaign, it just felt so in line with my own beliefs. It's about coming together, supporting women and resilience, and it just felt like a kind of perfect partnership. We all want to feel great, which in turn helps us look great. And these products, and this whole campaign really echoes that.
And the song Living Resiliently is amazing - I love that it is written from The Body Shop customers' quotes in the survey...
Yeah, it's brilliant, isn't it? I love that. Something that is so important to me about what I do is this connection with people. We often think we're so different, and that we're the only people experiencing these things. And we can feel so vulnerable and alone at moments. And I think what this song does is reminds us that we are unique, but at the end of the day, none of us are really that different. That there are other people feeling the same way and that you should never feel out there on your own because we're all experiencing the same things. It was just really lovely recording it, and there was a moment of goosebumps even - I don't want to sound too corny, but it just felt (and still does feel) powerful. It's just really positive, and we need that because there is so much negative stuff out there. So it's really nice to come together and be there for each other.
What does resilience mean to you?
Resilience is a very important word in my life. I think sometimes we don't really credit ourselves with how resilient we are. We're all busy, and we have so many things to do and achieve in a single day, that we often don't acknowledge what we've done. I released my autobiography last year, and I had to do so much research and go back chronologically through my life and career. And it was just such an amazing moment for me to see how much I've achieved. And people will go, well yeah you were a Spice Girl, you've done all these amazing things, and that's true. But I'm thinking about the things I've overcome - you know, the issues and the challenges I've had in my life, and the resilience I've had. Because there have been times when I wondered whether I would get through some of these challenges. And I did, and I'm here, and I'm happy. I still have days which are tough, but I just think it's such an important thing for people, particularly women, to acknowledge how resilient they are.
Do you have a favourite product from the range?
I've got a few because it is quite a big range actually, so I'm working my way through it all and I really like it. I'm not one to like really heavily scented things, and this Edelweiss scent is really subtle and fresh. I am a sucker for sprays - I'm forever spraying myself, so they do a lovely mist - the Edelweiss Bouncy Jelly Mist. And I also think the day smoothing cream is really lovely - it feels very moisturising but it's not heavy, so you're getting that lovely hydration, but you don't feel slathered in it.
What message do you hope people take from this campaign?
I just really hope that people feel connected to this campaign, and that they identify with the words. In so many environments now we lack community, and I think that's what's so beautiful about this campaign, because the words have come from Body Shop customers. So it's just knowing that these are people who live very different lives, from all over the UK, and we've all come together. I hope that it makes people feel a part of something, and to give them that little bit of extra strength when they might be lacking it.
There is so much strength that comes from women supporting women...
100%. I'm going to get into my feminist Spice Girl head now, but throughout history women are pitted against each other, in the media especially. I remember for example back in the day, they always tried to pit Spice Girls and All Saints against each other - and we were really good mates. We still are to this day, we love each other's music, and we have always supported each other. But they tried to make us enemies. I think, obviously, there's a lot of men that find women coming together quite intimidating, which the Spice Girls always did. And I think we just have to remember that we are very supportive. There's always a bad apple here or there, but women generally are very supportive of each other, and that support is how we all get through.
Do you have any advice for people on practising resilience day to day?
I think there's some beautiful words in the campaign video that I absolutely love, and that I do actually live by. Being kind to yourself is something that I have really had to be disciplined about. Again, I think lots of people, especially women, have quite a negative internal dialogue. We're never funny enough, our jobs are not good enough, we're not earning enough money, we're not slim enough, we're not fit enough. And it's just about turning that around and being positive. It's hard, but the transformation when you just start being kind to yourself is amazing. That's something that I learned in my recovery from depression, and discorded eating. Now when I get that little voice creeping in, I say to myself: "I hear you, but you're not being very helpful right now". So I kind of put my negative thinking in my head back in its box. And that for me is the first step to just trying to be a bit more positive. And another thing to remember, is that it's actually a part of you that's trying to protect you - it's a protection mechanism. And it's like, I acknowledge that you're trying to protect me, but it's not really working, you know? It sounds like you're a little bit crazy having a conversation with yourself, but we all do it.
What is the biggest challenge you have faced?
There have been quite a few, and I've definitely had my moments, but I think parenthood is the most challenging. My daughter is incredible. She's 14 now, so I'm right in the midst of the teenage moment, and it's just really finding that balance - giving her freedom, but keeping those boundaries intact.
And I suppose encouraging the things in her that you're encouraging in this campaign...
This is the thing! I blame the Spice Girls for a lot of stuff, right? And one of them is how sassy young girls are now. My daughter is so outspoken - you know, she knows what she wants, which is brilliant and I'm so excited for her. And that will really be good for her when she goes out into the world, but as her mum, it's really difficult because she won't do as she's told!
What gives you confidence?
I think it's acknowledging the things I have done and overcome, especially over the last decade - and allowing myself to be proud of that. We're brought up to be so modest, because we're taught that it's not attractive to be too ambitious. And it's like, but look at these amazing things that we've done. We don't need to be big headed about it, but I do think we have to acknowledge it. And so that gives me confidence - remembering the things I've done, and the times that I've stepped out of my comfort zone. Because I think we are so much more capable than we give ourselves credit for, and the sense of achievement when you've done them is huge. This totally wouldn't be the right thing for other people, but I've done a few triathlons. I haven'd done one for years and the thought of it even now petrifies me, but I did it. I danced at Sadler's Wells in January of this year. And I realised when I was training for that that I hadn't done any formal dance training for 30 years. And I stood in the wings at Sadler's Wells and just thought, what are you doing? Why do you do this to yourself? But I went out there and I did it, it went really well and I felt very proud of myself.
What is your superpower?
In recent years I've realised that vulnerability is a superpower. You know, we're always fighting not to show our weaknesses, but being vulnerable is really important and being weak is part of being resilient. And I think that's a superpower that women have - when we're up against it, we pull through, and that's what resilience means to me.
What is the best advice you've ever received?
My mum always said to me, never do anything you don't feel comfortable doing. And I think, definitely in the world of entertainment, that's very good advice. But I think just in the world generally, I would expand on that to say, trust your instincts. It becomes harder and harder to trust your instincts and really listen to yourself because we're just bombarded with so many opinions from other people and what we think other people are thinking. But it is so important to just sit with yourself and listen because you have all the answers.
Read more about Living Resiliently, Edelweiss skincare and The Body Shop's survey.
Celebrity news, beauty, fashion advice, and fascinating features, delivered straight to your inbox!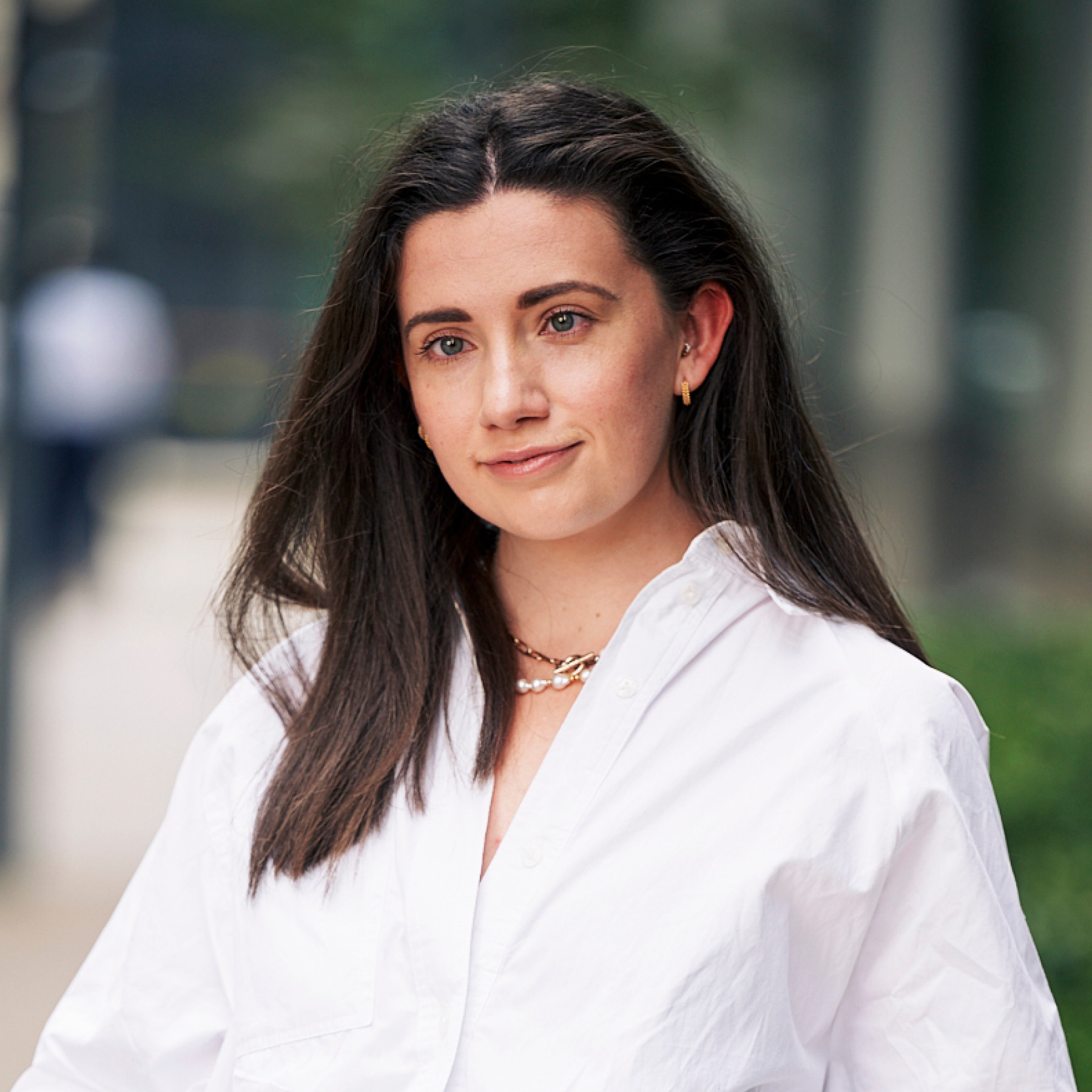 Jenny Proudfoot is an award-winning journalist, specialising in lifestyle, culture, entertainment, international development and politics. She has worked at Marie Claire UK for seven years, rising from intern to Features Editor and is now the most published Marie Claire writer of all time. She was made a 30 under 30 award-winner last year and named a rising star in journalism by the Professional Publishers Association.