Women in red more attractive to men
Don't know what to wear on a first date? Try something red. According to researchers, red clothing makes women seem more sexually attractive to men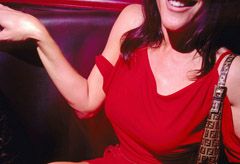 (Image credit: REX)
Don't know what to wear on a first date? Try something red. According to researchers, red clothing makes women seem more sexually attractive to men
A new study has found that men are more attracted to women who are wearing red. According to researchers, the colour transmits powerful messages that make men believe they're less likely to be rejected.
Psychologists behind the research claim the colour red carries messages about how receptive a woman might be to romantic advances, which in turn makes her more alluring to men.
The joint study, from the University of Rochester in New York and the University of Innsbruck, Austria, found that men felt that women dressed in red would respond morepositively to their advances than those dressed in green or white.
Lead researcher Adam Pazda, from New York, believes the response could be linked to humans evolutionary past, as animals such as baboons display patches of bright red skin to indicate they are ready to mate.
'We find it fascinating that merely changing the colour of a woman's shirt can have such a strong influence on how she is perceived by men,' he says.
'It is possible that women actually wear red clothing more when they are interested in sexual encounters. We are currently investigating the possibility, and preliminary evidence suggests that this is indeed happening.'
The study, published in the Journal of Experimental Social Psychology, suggests more generally that the findings could be of considerable interest for the fashion, marketing and advertising industries.
Celebrity news, beauty, fashion advice, and fascinating features, delivered straight to your inbox!