The White House has a secret code for when Donald Trump has sex
We wish we didn't know this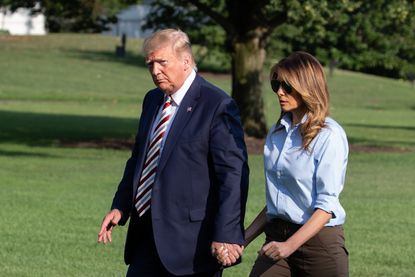 (Image credit: Cheriss May)
We wish we didn't know this
Here's something you probably don't want to think about - Donald Trump having sex.
Unfortunately, if you work in the White House then this is inevitably something you are going to have to address. After all, the POTUS and his family do live there and are likely going to want some 'private time' during their stay.
Well, apparently the Secret Service team have a 'secret' set of code words to use when the President and the First Lady want some quality time together.
According to the Daily Star, these code words aren't actually the invention of the current US President, but were also used by Barack and Michelle Obama when they resided in the White House.
The Daily Star claims that during Obama's time in office he was also referred to as 'Renegade' and Michelle was referred to as 'Renaissance' and the actual deed itself was called 'discussing the Bosnian problem'.
So basically, whenever Barack and Michelle wanted to be given some privacy the code would be that 'the Renegade and Renaissance are discussing the Bosnian problem' and therefore 'the Renegade can't be disturbed'.
It's not yet clear as to whether or not Trump has changed these code words, but we'll keep you updated.
Celebrity news, beauty, fashion advice, and fascinating features, delivered straight to your inbox!