Saudi woman to be lashed for driving
A Saudi Arabian woman faces 10 lashes with a whip for driving.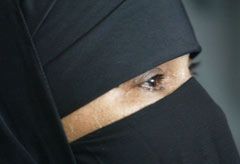 A Saudi Arabian woman faces 10 lashes with a whip for driving.
A Saudi woman has been sentenced to 10 lashes with a whip for defying the country's ban on female driving. This is the first legal punishment to be handed out in the strict Muslim nation for a violation of the ban.
Women drivers are usually stopped and questioned but released after they pledge never to get behind the wheel again.
However, dozens of women have continued to drive since June in a campaign to break the taboo.
Shaima Jastaina was found guilty on Tuesday of driving without permission, and has appealed the verdict.
Her sentencing comes just two days after King Abdullah promised to protect women's rights.
SAUDI WOMEN GRANTED RIGHT TO VOTE
He announced that women could vote and take part in municipal elections in 2015, and that a woman would be appointed to the Shura Council, the country's all-male advisory board.
These mixed signals demonstrate the challenges faced by the King, a reformer, in achieving change without antagonising the clergy and conservatives.
Activists see the sentence as a retaliation from the strict Saudi religious establishment that controls the courts and oversees the religious police.
Sohila Zein-el-Abydeen, from the National Society for Human Rights, was moved to tears when asked about the sentencing: 'How come women get flogged for driving while the maximum penalty for a traffic violation is a fine, not lashes? Even the Prophet (Muhammad's) wives were riding camels and horses because these were the only means of transportation.'
Saudi Arabia is the only country in the world that bans women—both nationals and foreigners—from driving.
The ban forces Saudis to hire live-in drivers, with poorer families having to rely on male relatives for transport.
Should we stand back and watch Saudi women be brutally punished for exercising their right to drive?
Was King Abdullah's pledge to impove women's rights an empty promise?
Air your protests and let us know your views in the box below.
Celebrity news, beauty, fashion advice, and fascinating features, delivered straight to your inbox!