New hope for Chilean miners
A capsule to rescue the 33 Chilean miners trapped underground for two months has arrived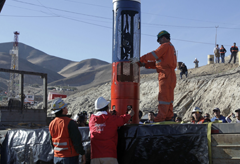 (Image credit: PA Photos)
A capsule to rescue the 33 Chilean miners trapped underground for two months has arrived
The Chilean miners trapped underground for two months were given real hope of rescue yesterday as a capsule arrived to lift the 33 men to safety.
A shaft is being dug to lower the rescue capsule half a mile underground to where the miners have been trapped since the collapse of the mine in August.
Officials say the rescue operation is due to commence early next month and it is hoped all 33 miners will be lifted to safety by November.
During the operation, the miners will be in contact with the rescuers using a microphone, and in the event of the capsule becoming jammed the bottom will open for the individual to be lowered back down to safety.
Relatives of the trapped men tried out the capsule - painted in Chile's national colours - when it arrived at the copper and gold mine in San Jose.
Carolina Lobos, daughter of trapped miner Franklin Lobos said: 'It is very exciting for me to be in the capsule that will lift my dad to safety and bring him back to us.'
The amazing story of the miners survival underground has brought them international fame, and psychologists on the medical support team hope to shelter the men from the expected media onslaught after their rescue.
The 33 men are due receive media training via closed circuit TV and lessons in how to deal with any financial benefits they may receive before emerging above ground.
Celebrity news, beauty, fashion advice, and fascinating features, delivered straight to your inbox!