Would You Give The Touching Gift Of Porn This Christmas?
Pornhub are now offering Christmas gift vouchers for your loved ones. You need to watch the advert...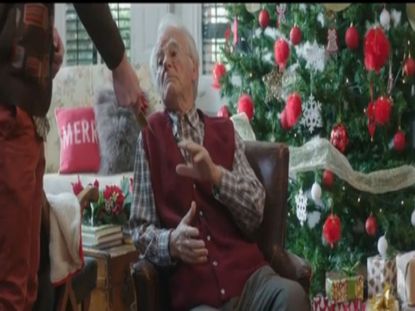 Pornhub are now offering Christmas gift vouchers for your loved ones. You need to watch the advert...
Gift vouchers get a bad wrap. They're not a cop out or lazy – you just get exactly what you want as the receiver, rather than a crap pair of socks or cheap chocolates that even your dog wouldn't chow down on.
But would you buy somebody a porn voucher? Well that's what Pornhub - the world's largest porn provider - are now offering those looking for the perfect gift for their loved ones.
Although the site offers primarily free content, the vouchers give you access to the premium service without ads (no interruptions, unless somebody happens to walk in as you're mid-fiddle. Awk-ward), faster playback (we're all busy, let's do this fast) and the largest collection of exclusive full length HD adult titles available in crisp 1080p resolution (it'll almost be like you're in the room – potentially slightly creepy.) That's not all; the premium service is also optimized for mobile use – should you want to belt one out on the go.
To really sell you on the idea, Pornhub have also released a Christmas advert showing the joy their gift voucher can bring, parodying the heart-jerking (we used that ironically) ones we're all so used to.
Keep watching as an elderly gentleman – noticeably perturbed by the lack of gifts he's gotten - finally receives the gift he always wanted from his grandson - a Pornhub gift voucher! Hugs are exchanged, tears are shed and all his dreams are coming true. It's all the porn he could ever wish for - tissues at the ready. (Sorry!)
Here's what the MC team thought:
"Can I just buy Pornhub a voucher instead? Preferably a book voucher for a guide to gender equality, or female pleasure, or anything else that involves women with actual body hair looking like they're having actual fun?"
"I think it would be a really delightful stocking filler along with a nice box of tissues. I will definitely be buying one for the man in my life."
"I'd buy one for a female friend if wasn't so random and full of pop ups with women wanting to 'chat'. Who is this Live Jasmin? And WHAT DOES SHE WANT FROM ME?"
"Porn is free now – there's no need for vouchers. That's just old school."
"I have nobody I would give this to. Nobody."
Would you give a porn gift card? And to whom? Tweet us @marieclaireuk and tell us your thoughts - we're curious....
Celebrity news, beauty, fashion advice, and fascinating features, delivered straight to your inbox!