As a queer person from Malaysia, here's why I find Matty Healy's actions problematic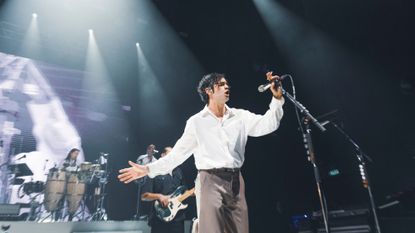 (Image credit: Getty Images)
The 1975 frontman Matty Healy made a public statement against Malaysia's anti-LGBTQ laws whilst performing at a music festival in Kuala Lumpur last week. Healy, 34, kissed his bandmate Ross MacDonald on stage at Good Vibes Festival, after calling out the country's laws. Now activists are warning however that his actions could harm the local LGBTQ+ community, generating a backlash. Here Ash Layo Masing breaks down why this is problematic.
I remember when The 1975 dropped their debut self-titled record back in the early 2010s. The pop music landscape at the time was taking a turn towards an indie and alternative sound. Introspective lyrics were cutting through huge hedonistic party anthems dominating the sound waves post-recession. The angsty, damaged, sad boy image portrayed by the band was popular amongst online communities and fandoms, especially at the height of the Tumblr era. For many queer Malaysians such as myself experiencing a terrifying and tumultuous coming-of-age (and coming-to-terms with their gender and/or sexual identity) in a country that has consistently made it apparent we do not belong in its cultural vision, this sort of alternative edge dipped in introspective emotion spoke to many of us living through an angst-ridden teen-hood. It is not surprising that the 1975 cultivated the following it did in Malaysia, especially via Tumblr, which was a common site of respite for many chronically online queer teens at the time.
So when Good Vibes Festival announced that the 1975 would be headlining, a small part of me was excited. Not that I was able to attend anyways, I had been residing in the UK for almost 5 years at this point and I was saving up for a trip home later in the year for PhD related field research. I think for me it felt like a full-circle moment, especially since I've been thinking a lot about nostalgia the past couple of years. It was also around this time that the 1975 and their associated controversies had been re-circling the internet — before the Taylor Swift debacle made its way into the pop culture mainstream, videos of Matty Healy kissing fans, making inflammatory remarks cut short by a well-timed guitar riff, and eating raw meat on stage had been making their rounds on Twitter. As most things circulating Twitter do, it sparked discourse surrounding the band's frontman and his past behaviour. While it is well-known amongst fan circles that a lot of what was happening is meant to be self-referential, insider humour about what Matty was like in the past, many of those peering from outside read his behaviour as cringy and in poor taste.
I say all this to give vital context to this band, but more specifically their lead singer: Matty Healy is not someone who responds well to authority and criticism. He's won the IDGAF war. He's going to do whatever he wants on his stage, just because he can. Given the strict regulations the federal Malaysian government has regarding the conduct of international acts, this was bound to be a recipe for disaster. And perhaps it was precisely this rebellious attitude that drew so many queer Malaysians to his music all those years ago. But many of us have since grown up and self-actualised as fully-fledged queer folk, hyper-aware of our circumstances in this country and the insidious capabilities of our deeply homophobic government.
It has become evidently clear that Matty Healy wasn't concerned for the well-being of our community — he just didn't want to be told what to do. Prior to his on-stage kiss, he professed how frustrated he was that he has to perform in a country that would not allow him to sleep with whoever he wanted. For a moment, he stepped into our shoes. And in that same moment, he offered our political parties more ammunition needed to double down on their anti-LGBTQ+ rhetoric, especially with state elections coming around the corner. In response to the festival organisers statement regarding the cancellation, he posted an insta story about how difficult it was not to kiss his bandmate (despite going several shows without doing so).
Matty Healy doesn't have to live with the repercussions of his actions, we do. If he truly did care about the homophobia in Malaysia he would have truly done his research. He would've known that not too long ago, our Prime Minister backed the decision to ban Swatch watches because of their pride campaign. He would've known that anti-LGBTQ+ rhetoric has been on the rise since the last federal election, and will continue to rise with the upcoming state elections. He would've known that queerness is constructed as a foreign threat symbolising Western encroachment and that his actions would be read as such. He would've just not done anything. Perhaps put his money where his mouth is and donate to local queer organisations who know how to navigate the system.
For so many Westerners, the homophobia of the non-West is a hypothetical thought experiment. Often, people from other communities centre themselves in the conversation. Ultimately, this discourse - while positive in its intent - risks erasing the existence of queer folk who actually live in these places. We are not all part of the same universal queer community - we might be your siblings, but we are not your selves.
And the cherry on top of all this is that Matty Healy isn't even queer himself, he just wanted to stir the pot. He disrespected local customs, however unjustified they may be, not because he should, but because he could. And while it is absolutely uncalled for the Malaysian government to respond by tightening entry requirements for foreign artists — or to even have such strict requirements in the first place — this is just another step in a long series of steps our country has taken in its crusade against the LGBTQ+ community.
The relationship postcolonial countries such as Malaysia has with gender and sexual diversity is messy and complicated. After years of colonial rule insisting on Victorian standards of sexual morality as the standard of civilisation and the weaponisation of political Islam to build transnational alliances against the return of colonial intervention, the existence of queer citizens has been rendered an oxymoron — being LGBTQ+ is unMalaysian and contradicts our country's supposed core values. Given the way gay and lesbian rights have been continually used against former colonies to deny their legitimacy in our global political imaginaries, the Malaysian government has taken on a self-orientalising register as a trauma response against Western hegemony. It is not surprising that this incident will give Westerners more of a reason to vilify Malaysia in the current discourse. It takes people who are sensitive to, and familiar with this context to navigate our nation's political framework and build a pragmatic protest. And Matty Healy is not one of them.
Celebrity news, beauty, fashion advice, and fascinating features, delivered straight to your inbox!
Ash is a Sociology PhD candidate at the university of Cambridge. Their research lies at the intersection of queer and postcolonial theory and their PhD topic is on the relationship between queer Malaysian identities and popular music.