The cast of 'My Best Friend's Wedding' reunited for the first time in 22 years
And they all look amazing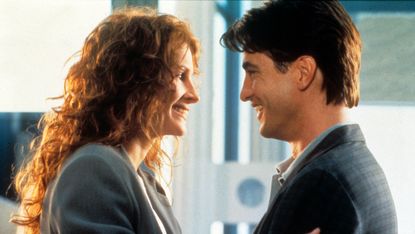 (Image credit: Moviestore/REX/Shutterstock)
And they all look amazing
More than 20 years after My Best Friend's Wedding hit theatres, the cast of the film has reunited. Fronting the cover of Entertainment Weekly's romantic comedy issue, Julia Roberts, Cameron Diaz, Dermot Mulroney and Rupert Everett, had a lot to talk about, including the alternative ending.
In case you haven't seen My Best Friend's Wedding *Spoiler Alert* ; the film tells the story of Julianne Potter (Julia Roberts) who discovers that her best friend Michael (Dermot Mulroney) is marrying rich college student Kimmy (Cameron Diaz), so she heads to Chicago to sabotage the wedding with the help of her best friend George (Rupert Everett).
Probably the most remarkable part of this movie is the ending. In contrast to many other romantic comedies, Julianne doesn't end up with Michael. Instead, she attends his wedding with Kimmy solo as his best woman.
Well, it turns out that director P.J. Hogan had a completely different ending in mind for Robert's character – she was supposed to fall in love with a wedding guest played by John Corbett. He told EW: 'once I knew that the studio would pay [to reshoot] the last scene, I thought, "There were a couple of other scenes I think sucked – we best do a better job.'
Hogan added: 'the focus group didn't want Julianne to have a happy ending. They still hadn't forgiven her. They just weren't ready for her to end up in the arms of another guy.'
In addition to the very last scene, they also ended up reshooting the bathroom scene at Chicago Union Station. Originally, Cameron Diaz' character almost immediately forgave Julianne, but the actress said 'it wasn't as gratifying.'
'I think it just kind of revealed that it was needed. When the movie was put together, everybody kind of just went, "It wasn't good for her character to not have [her moment], you know,' Cameron Diaz said. 'If Kimmy didn't stand up for herself, it felt different for the end of the story.'
Time to re-watch My Best Friend's Wedding – it's on Netflix, FYI.
Celebrity news, beauty, fashion advice, and fascinating features, delivered straight to your inbox!