Michelle Obama meets Nelson Mandela
Michelle Obama made an impromptu visit to the home of Nelson Mandela yesterday during her tour of South Africa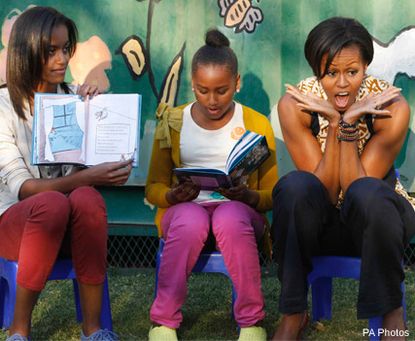 (Image credit: PA Photos)
Michelle Obama made an impromptu visit to the home of Nelson Mandela yesterday during her tour of South Africa
First lady Michelle Obama experienced her most inspiring encounter to date when she dropped in to meet with former South African president and anti-apartheid campaigner, Nelson Mandela, at his home yesterday.
Michelle was in South Africa with several members of her family, on her second official solo tour, where she has said she hopes to inspire children and young adults during her week's visit.
Since her warm welcome in South Africa on Monday evening, Michelle's schedule has been jam-packed with official meetings and engagements, including a visit to President Jacob Zuma's official residence in Pretoria to meet with Nompumelelo Ntuli-Zuma, one of the president's three wives.
Their visit also included a trip to Emthonjeni Community Centre where Michelle met with the children who live in the sprawling shantytown community there, many without electricity and plumbing.
She spent time singing and playing games with the youngsters and even had her daughters Sasha, 10, and Malia, 12, read extracts from their favourite book "Cat in the Hat". After which she donated 200 books to centre.
The meeting had not initially been scheduled, but when Mandela heard that the first lady and her family were visiting South Africa he sent out word that he wished to meet them.
During their stay, the Obamas reviewed letters and photos from Mandela's time in captivity and had a book of his quotations signed for them.
America's first lady also spent time with South Africa's former first lady, Graca Machel. The two women appeared relaxed in each other's company as they toured through the archives.
The official tour continues today with Michelle giving a keynote speech on the importance of leadership among young adults.
Celebrity news, beauty, fashion advice, and fascinating features, delivered straight to your inbox!
Natalia is a health journalist with 14 years experience in the publishing industry. She has worked for a number of well known magazines and websites including Marie Claire, Woman&Home, Top Sante, Boots and The Telegraph. She likes to think she practices what she preaches when it comes to health and fitness. Her athletic prowess began early. A keen fencer for 13 years, she wielded an epée for Olympic Team GB during her teenage years. She likes to think she made sword-fighting cool before Game of Thrones came along! While working on her sporting performance with the team, she also participated in a lot of nutrition and psychology training, When it comes to time off, you'll most likely find her up a mountain somewhere. It seems holidays have become a time for climbing several thousand feet, rather than chilling out. She's now hiked eight of the major mountain ranges across four continents – including the Appalachians, the Smokies, the Sierra Nevadas (she spent her honeymoon hiking to the top of Half Dome), as well as hitting the summits of Snowdon, Pen-Y-Fan (Brecon Beacons), Table Mountain in South Africa, the Blue Mountains in Australia and the Atlas Mountains in Morocco. She's also passionate about all things health, particularly vaccinations, and will happily jump on her soap box at any given opportunity to talk about their benefits to anyone who will listen!