Your chance to be mentored by interiors guru Kelly Hoppen
You could be mentored by interiors guru and design expert, Kelly Hoppen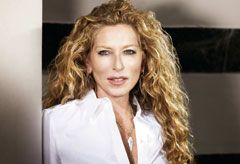 You could be mentored by interiors guru and design expert, Kelly Hoppen
Seventeen of the most influential women in Britain have joined forces with Marie Claire to become part of Inspire & Mentor with Marie Claire, our brand new campaign.
Women from all walks of life are reaching out and help other women onto the rungs of success.
By pairing short listed applicants up with the mentors we believe will help them the most, we hope to help women fulfil their potential, get that dream job, or launch that business they've always hoped for.
CLICK HERE FOR THE FULL DETAILS
Kelly Hoppen is just one of the influential women you could be mentored by as part of the new campaign.
Interior designer Kelly started her business at the tender age of 17, and saw it take off purely by word of mouth.
She has since gained a whole host of celebrity clients, been awarded an MBE and started up a design school to teach others.
'When I was little, my mother and I used to go and look at show flats at the weekends,' she tells us.
'I just loved looking at the before and after pictures.'
But it was some A-list clients who really helped turn the hobby into a business.
'When I was 17, one of my girlfriends was having an affair with a famous racing driver and I was given the job of doing up his house!' Kelly reveals.
'I had a stream of celebrity clients from a really young age; that's really how my career took off. It was all word of mouth,'
And although having celebrity clients was a great business boost, Kelly also puts her success down to hard work.
'I did have enormous drive,' she says.
'My father had just died and I guess I didn't want to rely on anybody. I thought, 'I'm going to do this on my own', and I did.
'I was completely self-taught in terms of business and money management, everything like that.'
One of Kelly's memorable moments was being awarded an MBE, but she's still determined never to take her success for granted.
'Getting my MBE from the Queen last year was a definite highlight, but I'm always striving for the next thing,' she reveals.
'I sit here sometimes listening to all my staff telling me about the holidays they're going on, and I think, 'I haven't even booked one myself'.
'Particularly in a recession, you're constantly on it; success is not a day job - that's my motto.'
And what advice would she offer to others? 'Anything is possible, you have to believe in it. You have to visualise your future, learn from your past, and make these things happen.'
If you would like to me mentored by Kelly, click HERE to apply.
Celebrity news, beauty, fashion advice, and fascinating features, delivered straight to your inbox!