10 Ways The Kimye Wedding Was Over The Top... Even For Them
We expected Kim Kardashian and Kanye West's wedding to be BIG. But we were still surprised by a few of the lavish details...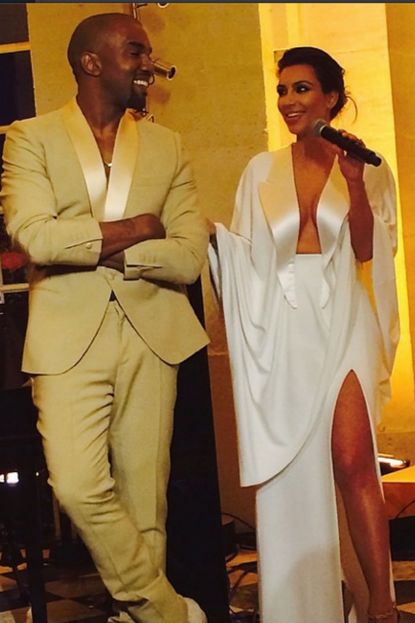 (Image credit: Instagram)
We expected Kim Kardashian and Kanye West's wedding to be BIG. But we were still surprised by a few of the lavish details...
When Kim Kardashian first described her upcoming wedding to Kanye West as 'small and intimate,' we had to take pause. Surely, this spotlight-loving twosome wouldn't eschew a grandiose affair in favour of low-key, courthouse nuptials?
But now that the wedding has come and gone, it's clear that Kimye's idea of 'small and intimate' doesn't exactly align with any other human's. In true Kardashian form, the nuptials were lavish, luxe and completely extravagant.
Here are the over-the-top details that pushed the wedding from just your average multimillion-pound wedding to a true Kimye-style affair.
1. It was a multinational affair The wedding festivities kicked off in Paris last week as paparazzi, reporters and fans flooded the city. But it wasn't enough for the couple to limit their wedding to just one country. Early on Saturday morning, the wedding party and roughly 200 guests were flown from France to Florence, Italy, for the main event.
2. Valentino hosted the pre-wedding brunch. Kim and Kanye's celebration featured a week's worth of events that each cost more than an average wedding all on their own. They even got Italian designer Valentino Garavani to host the pre-wedding brunch at his home outside of Paris. In her toast, mum Kris Jenner described Valentino's chateau as 'the most beautiful place we've ever been.' (And they've been to a lot of places!)
3. The pre-wedding party was held at the Palace of Versailles. There was no gradual crescendo leading up to the main event. Instead, Kimye went all out for their pre-wedding party at the luxurious Palace of Versailles on Friday night. Hundreds of guests partied into the early morning hours - and, of course, the palace's opulent grounds provided plenty of gorgeous backdrops for her sisters' selfies.
4. The guests were treated like royalty. We'd expect the wedding party to get A-list treatment, but Kimye extended the hospitality to each and every guest. According to reports each guest (estimated at 200 for the ceremony and more for the pre-party) got their own personal security officer and chauffeur, as well as their own glam squad for pre-wedding hair and make-up services.
5. Kanye gave a very long speech. As a general rule, it's best to keep wedding toasts short and sweet. Sure, throw in some funny anecdotes here and there, but be careful not to drone on until your guests are asleep. But, obviously, when you're Kanye West, the rules do not apply. The groom reportedly gave an emotional speech that lasted a full 20 minutes. And as if that weren't enough, he gave a second speech later in the night, after the bubbly had kicked in. 'It ranged from being very lovely and romantic to then just being crazy and screaming and shouting in excitement about the day,' said an E! reporter.
6. The whole family wore Givenchy. After much speculation over who would design Kim's wedding dress, it was confirmed that she wore Givenchy for her big day. Though we haven't yet seen a clear, full-body picture of the long-sleeved, lace gown, we have been treated to this beautiful photobooth snap of the bride and her gown's creator, designer Riccardo Tisci.
But it wasn't just Kim who dressed in Givenchy for the day. Kanye West wore a Givenchy tuxedo - and their 11-month-old daughter North wore a mini Givenchy Haute Couture creation.
7. Kanye rapped at his own wedding. The couple hired a few of their favourite singers to perform for the happy occasion. Lana Del Ray performed at the pre-wedding party on Friday night, and John Legend performed their first dance song, 'All of Me.' But that didn't stop the groom from a bit of freestyling. 'He would get up on the stage with a microphone and rap over random songs. It was kind of hysterical but fun at the same time,' said an E! reporter.
8. They had a huge (no, really) cake. It took three people to carry the multi-tiered wedding cake, which was estimated to cost around £4,000.
9. Kim spent a fortune on fashion. Her pre-wedding wardrobe - which included a £12,000 hen party Balmain dress and a £49,000 Valentino gown for her pre-wedding brunch - was estimated to be worth a total of £100k. Her Givenchy wedding gown is being priced around the £300k mark. And she also changed into a second Balmain dress (a short sparkly number with a plunging neckline) to dance at the reception.
10. The grand total wedding cost will make your jaw drop. Eager reporters are still pricing out all the details of the Kimye wedding week, but the price tag is being described as 'millions upon millions.' An estimation for just the Florence leg alone was set at £2 million.
The festivities were certainly gorgeous - and according to all reports, the bride and groom had a lovely time. But not all their nearest and dearest were present. Noticeably absent from the big day were Kanye's would-be best man, Jay Z (and wife Beyoncé), as well as Kim's younger brother Rob Kardashian.
Guess that's just an excuse to keep the celebrating going when they get back home...
Got a tablet? Take the new look Marie Claire wherever you go, download straight to your iPad & iPhone, Kindle (just search the store for 'marie claire magazine'), Nook or Google Nexus for only £2.99.
Celebrity news, beauty, fashion advice, and fascinating features, delivered straight to your inbox!
Ali Gray is an award-winning content director and digital strategist. Most recently she was the Director of Branded Content at Hearst, and helped to bridge the gap between the editorial and commercial worlds working across all Hearst brands, including ELLE, Cosmopolitan, Esquire and Harper's Bazaar. Prior to that she worked as an editor contributing to several brands such as The Telegraph, iVillage UK.