Sarah Ferguson speaks out about Royal Wedding snub
The Duchess of York told Oprah of her heartache at missing out on an invite to William and Kate's royal nuptials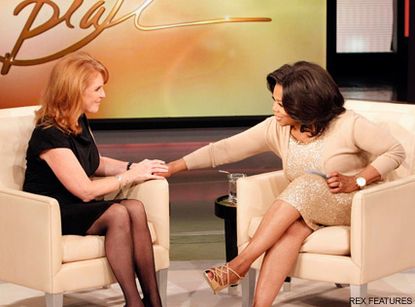 (Image credit: PA Photos)
The Duchess of York told Oprah of her heartache at missing out on an invite to William and Kate's royal nuptials
Sarah Ferguson has spoken about missing out on an invite to Prince William and Kate Middleton's Royal Wedding for the first time, revealing her heartache to Oprah, on her famous American chat show.
THE ROYAL WEDDING: BEST DRESSED
The ex-royal was left off the list after running up millions of pounds worth of debts, and being caught on camera trying to sell access to her ex-husband,but claims she still felt hurt and 'worthless' by the snub.
'I went through the phase of feeling so totally worthless and that [it] was quite right they didn't invite me,' she told Oprah. 'Why would they - why would they invite me?'
'I felt that I ostracised myself by my behaviour, by the past, by living with all the regrets of my mistakes, that I sort of wore a hair shirt and beat myself up most of the day thinking and regretting why did I make such a mistake? Why have I made so many mistakes?'
Instead of watching William and Kate's nuptials on television with the rest of the world, Fergie told how how she escaped to a jungle in Thailand – and just had to make do with regular updates from Prince Andrew, over the phone.
'I chose to go and be in Thailand in a place called Camelia... the jungle embraced me,' she explained, adding the slight 'was so difficult, because I wanted to be there with my girls... to be getting them dressed and to go as a family.'
'Also, it was so hard, because the last bride up that aisle was me.'
'When Andrew went with the girls, we were talking all morning and he was saying, "It's okay. Just remember we had such a good day. Our wedding was so perfect,"' she added. 'He made me feel very part of the day on April the 29th.'
Bizarrely, the Duchess also drew comparisons between herself and Princess Diana, explaining they both missed out on William and Kate's wedding day.
'I really love the feeling that sort of Diana and I both weren't there,' she said. 'But I'm here to say how proud she would have been and Kate looked utterly beautiful.'
'I think Diana would be so proud of her son. Both of them, you know? They did a great job.'
Do YOU think Sarah Ferguson should be invited to William and Kate's royal wedding festivities? Or were they right to leave her off the list? Let us know your thoughts in the comments box below.
SEE THE ROYAL WEDDING IN PICTURES!
Celebrity news, beauty, fashion advice, and fascinating features, delivered straight to your inbox!