Robbie Williams: Mystery 'illness' was all hormones
Just weeks after Robbie revealed he was battling a mystery disease, the Take That star has said it was all down to hormones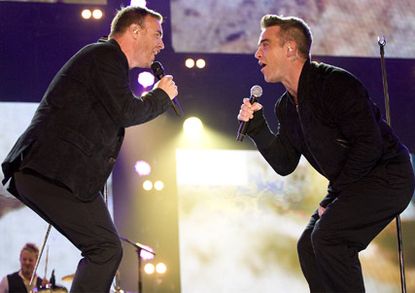 (Image credit: Rex Features)
Just weeks after Robbie revealed he was battling a mystery disease, the Take That star has said it was all down to hormones
Just weeks after shocking fans by announcing he was battling a mystery illness, Robbie Williams has opened up on the source of the problem, revealing it was all down to hormones.
SEE ROBBIE'S CAREER IN PICS HERE!
The star was said to have been suffering during his time out of the spotlight – with the mystery condition first hitting four years ago - but he thought he was 'depressed as a person.'
But just months ago doctors diagnosed Rob's problems, putting him on treatment which has 'changed his life.
'I thought I was lethargic and depressed as a person. I thought that was my make-up,' Robbie told Magic 105.4FM in a recent radio interview.
'I found out a few months ago that I'd been ill, completely by mistake, and I don't want to go into the whys and wherefores but what I had made you lethargic and made you depressed and I'd had it for years and not known and I'm on treatment for it,' he said.
Now Robbie has spoken out about his 'mystery illness', revealing hormones have been wreaking havoc on his body, causing him to feel lethargic, 'energy zapped' and pile on the pounds.
'If you are lethargic and your energy is a bit zapped and you find stuff difficult to do, I advise you to go and check your hormones,' the Take That singer told the Sun.
'I did it by mistake and a few interesting things came up. It explained to me why everything seemed to be so much of a hassle for such a long time.
'You know, I didn't do anything for three years as I just didn't have the energy. I just thought this was who I was as a person, lethargic.
'You kind of, sort of, blame yourself for the drugs you have taken or the drink you have drunk - or expending the energy that maybe I didn't own when I was on stage or making physical cheques that I couldn't cash.'
Now he's receiving treatment, and feeling better than ever. 'Thanks to the grace of God, or whoever she is, I stumbled across the answer and I'm, like, "Now I'm ready to go!"' he said. 'I'm absolutely rocking. Life is wonderful at the moment, personally and professionally.'
We're glad to hear it, Robbie!
SEE ROBBIE AND AYDA'S WEDDING SNAPS HERE!
Celebrity news, beauty, fashion advice, and fascinating features, delivered straight to your inbox!