Priyanka Chopra lost a role for being 'too ethnic' and she's not standing for it
'Priyanka, I don't know how to say that in 2017.'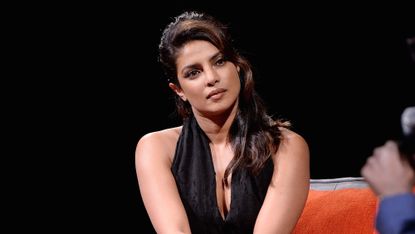 (Image credit: WireImage)
'Priyanka, I don't know how to say that in 2017.'
The question of how to solve Hollywood's diversity problem (namely, the lack of it) is one that keeps cropping up again and again, especially when it comes to casting women of colour. There's been a lot of talk of change, however things are moving incredibly slowly and people like actress Priyanka Chopra are 'digging their feet in' to help drive it forwards.
The Quantico actress was recently at Toronto International Film Festival, where she spoke candidly about her experience as an Indian woman in Hollywood.
Vulture, who were there, reported that she revealed, 'I was asked not to be a part of a movie because I was too ethnic.'
Excuse me?
She continued, 'First of all, everyone has an ethnicity. Even Caucasian is an ethnicity. But I was 'too ethnic' for the part and it was a mainstream American part. And I remember my agent being - he didn't know how to tell me that. He was really skirting the issue and I said to him, 'Just tell me.' And he said, 'Priyanka, I don't know how to say that in 2017,' that this was actually a reason! They could have at least made up a reason!'
However, Priyanka refused to take that lying down. In fact, she was actually at the festival not only as a guest of honour but also to promote her new film Pahuna: The Little Visitors - which she produced alongside her mother Madhu Chopra.
She opened up about how roles in Hollywood just aren't written for women and/or people of colour, but she's not letting that get her down.
'I'm digging my feet in and not gonna settle ever,' she told Entertainment Tonight. 'Because it's gonna take people like me, like a lot of other women out there, to make it easier for the next generation where they don't have to feel like, 'Oh, there are not parts written for us. We always have to stand behind the guy.' [We have to] create parts for ourselves because nobody else is gonna do it.'
This isn't the first time she's spoken out about the representation of women, as she has fiercely defended her pal Meghan Markle for the way the media focuses first of all on her boyfriend - then her personal accomplishments. She said to Entertainment Tonight, 'There needs to be a certain sense of equality where a woman is not just a plus one, you know. It's nice to be your own identity too.'
While diverse shows like Orange is the New Black, Atlanta and Master of None have become firm audience favourites, Tinseltown has actually taken a step back this upcoming TV season - particularly behind the camera. According to a report by Bloomberg, 89% of people executive producing this year's new television series are white and 79% are male overall which will inevitably blow back on the kinds of stories we get to see.
However, there are many like Priyanka fighting for a more inclusive Hollywood. Back in July, Daniel Dae Kim and Grace Park of Hawaii Five-O shed light on their unequal pay in comparison with their white costars, leaving the series and blasting them for their actions.
American actor Ed Skrein recently left Hellboy after realising his character was initially mixed race in the comics and publicly announced he would be leaving the project, saying 'It is clear that representing this character in a culturally accurate way holds significance for people, and that to neglect this responsibility would continue a worrying tendency to obscure ethnic minority stories and voices in the Arts. I feel it is important to honour and respect that. Therefore I have decided to step down so the role can be cast appropriately.'
Netflix has also just made the announcement that Shonda Rhimes, the showrunner and producer behind projects like Scandal, Grey's Anatomy and How To Get Away With Murder, would be joining their talent roster so it's not all bad news. Here's to seeing more women and people of colour on our screens - we've still got an awfully long way to go.
Celebrity news, beauty, fashion advice, and fascinating features, delivered straight to your inbox!
Megan is a freelance journalist who covers entertainment and all things lifestyle, with a particular passion for fashion, beauty, travel and Keanu Reeves stories. She has previously worked on staff for titles including Marie Claire UK, CNN Style and The Evening Standard and has written for titles such as Bustle UK, Wallpaper*, Forbes and Hong Kong Tatler. She splits her time between London and her hometown Hong Kong, where she currently lives with the love of her life - an elderly dog named Poppy - and her husband.