Prince Harry in tears after his favourite pony collapses at polo
The young Royal was distraught, after his favourite pony lost his fight for life at the edge of a polo field over the weekend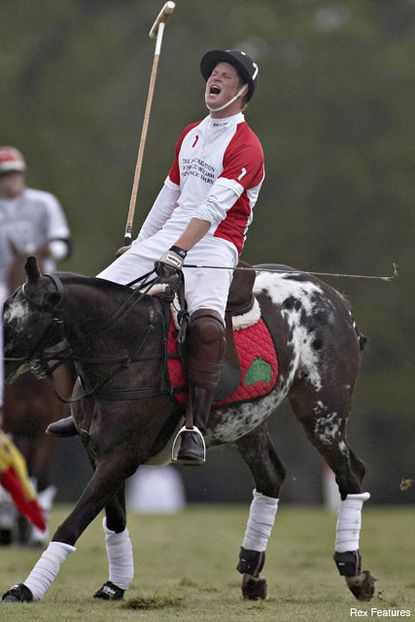 The young Royal was distraught, after his favourite pony lost his fight for life at the edge of a polo field over the weekend
Prince Harry was left in tears over the weekend, after his favourite polo pony collapsed and died at a game.
Drizzle - who was kept at stables close to the boys' country home at Highgrove - was ridden by both Princes Harry and William, and had also been used by Prince Charles.
Harry began the charity match - held at Coworth Park in Berkshire - riding Drizzle, but after noticing she was struggling, rode her to the side of the pitch.
'Harry instinctively realised that something was wrong with Drizzle,' an insider told The Mail on Sunday.
'He decided to ride her to the side of the pitch and she was then walked off. Sadly within minutes she suffered a heart attack and died.'
And Prince Harry was left distraught by the incident.
'William and Harry are very, very upset - Harry was in tears,' said a source.
'Harry had a cigarette at the end of the game and said he did not want to stay for the lunch because he was so upset. He kept saying he couldn't believe what had happened. Everyone was telling him not to blame himself.'
Although the princes stayed until the end of the game, both looked visably upset and downcast for the rest of the day.
'After the match they mingled with some of the guests but William didn't stay for the lunch either,' said one guest.
'Kate Middleton wasn't there because she was put off by the weather, so William didn't bother staying. The incident put a bit of a dampener on things to be honest.'
And last night a royal aide said in an official statement: 'Drizzle was part of the pool of Royal ponies and all the Princes were very fond of her. It was not the end to the day they had hoped for. It's been rather distressing.'
PRINCE WILLIAM AND KATE MIDDLETON'S RELATIONSHIP IN PICS
Celebrity news, beauty, fashion advice, and fascinating features, delivered straight to your inbox!