Lindsay Lohan praised by judge for 'doing well' in probation hearing
Lindsay Lohan is on course to finish her probation a month earlier than first thought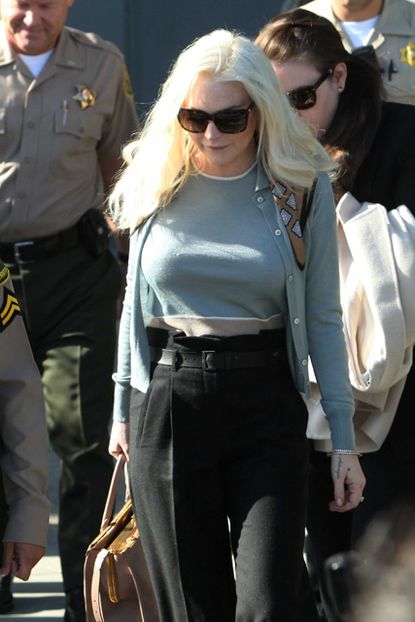 (Image credit: Rex)
Lindsay Lohan is on course to finish her probation a month earlier than first thought
Lindsay Lohan has been praised by a judge during her recent court hearing and told that her probation period is going well. LINDSAY LOHAN CAREER IN PICS
It seems the troublesome star is getting herself back on track, after a judge said she would be completing her supervised court probation in just over ten weeks for her drink driving and theft offences.
Judge Stephanie Sautner praised Lindsay for adhering to her strict community service and therapy sessions, and said she was on track for a completion date of 29 March, a month earlier than first thought.
'Keep doing what you're doing. You appear to be doing it well,' Judge Sautner told the actress during a five-minute probation progress hearing in LA.
'The probation officer has written a favourable report, as has the volunteer centre. I'm pleased to say she's done it all on schedule.'
Obviously wanting to make a good impression the Mean Girls star arrived 15 minutes early for her report hearing at the Los Angeles Airport Courthouse.
The 25-year-old star appeared pleased with the comments and was seen smiling and whispering 'thank you' when Judge Sautner told her to keep up her good work.
In November, Lohan admitted violating her probation in a DUI case and a theft case of a $2500 gold necklace, by failing to show up for community service appointments.
She was ordered to serve 30 days in jail, but only spent approximately five hours behind bars, partly due to prison overcrowding.
Before her completion date Lindsay will still have to finish 26 more days of community service at the County morgue and attend a further nine psychotherapy sessions.
LiLo has admitted she is hoping to re-launch her acting career by being offered the role of Elizabeth Taylor in a new biopic feature film.
She will, however, have to fight brunette beauty Megan Fox for the role of Liz, who has also been put in the casting line-up. THE DOWNFALL OF LINDSAY LOHAN
Celebrity news, beauty, fashion advice, and fascinating features, delivered straight to your inbox!