Lily Collins On Love, Jennifer Lawrence And Her Very Famous Dad
Meet our October cover star, the rising talent that is Lily Collins.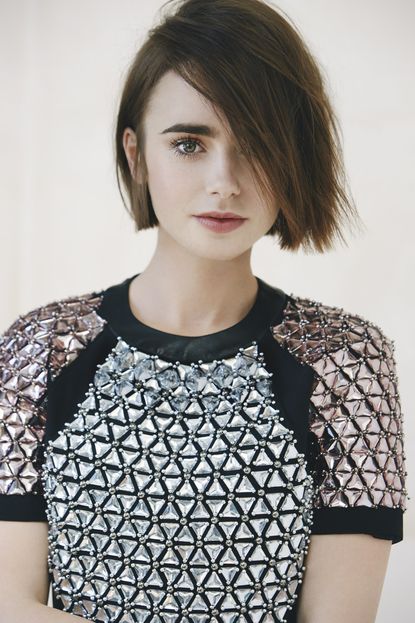 Meet our October cover star, the rising talent that is Lily Collins.
Lily Collins is one Britain's coolest rising talents and Marie Claire's wonderful October cover star.
Daughter of Phil Collins (Tarzan's You'll Be In My Heart was composed for her) this deeply ambitious actress is as focused and articulate as she is down to earth. We caught up with her at London's Soho Hotel to talk all things love, life and Hollywood.
At 25, she's already done eight movies but, fortunately for her, has come under nowhere near as much pressure as her young actress counterparts, Kristen Stewart and Jennifer Lawrence.
'It's definitely not normal,' she says of the scrutiny levelled at her friends. 'There are preconceived ideas about them and the media wants to prove them wrong or find fault in them. They feel that, because they've known them since they were young, there is an ownership of their personal life.
'Jennifer and Kristen have done such a great job of navigating that; they're witty, strong, funny, cool, young women. It's really just nice to see that it's possible to go through something like that and still be genuinely awesome people.'
Though Lily hasn't had as much pressure as her showbiz chums, she has been romantically linked with both Taylor Lautner (he of Twilight fame) and Jamie Campbell Bower (her The Mortal Instruments co-star), but is currently, she tells us, 'focusing on herself right now. I'm trying to be the most vibrant version of myself. I'm working and really enjoying finding out who I want to be.'
It would of course be weird if we didn't mention Lily's mega-famous dad, Phil Collins. It's a showbiz connection that has, it seems, played no part in her rise to the top.
'When I first met with agents I was asked, "Well, what makes you so special? Everybody in LA is a cousin or a daughter of someone."'
She adds: 'At the beginning, that was the most interesting thing about me. Now I've done eight films, it's an afterthought. I get kids who say, "Oh, I love your movie, but my mum loves your dad." It's really nice to be able to share that with him, but it doesn't define who I am career-wise.'
Read the full interview and see the stunning shoot with Lily in the October issue of Marie Claire, available to buy now.
Celebrity news, beauty, fashion advice, and fascinating features, delivered straight to your inbox!