Laverne Cox On What It's Like To Grow Up Transgender
The actress is making headway as the first trans person on the cover of TIME Magazine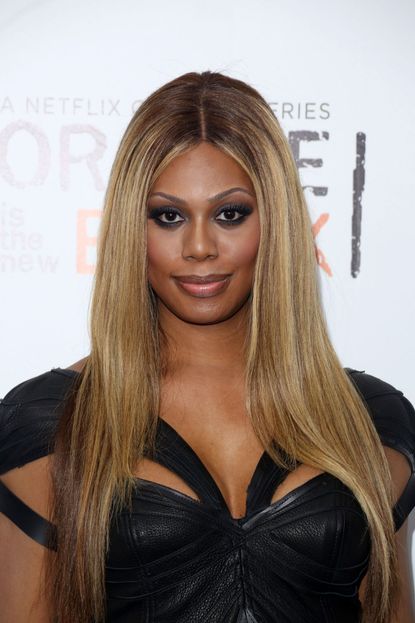 The actress is making headway as the first trans person on the cover of TIME Magazine
Orange Is The New Black actress Laverne Cox is an incredible spokesperson for the trans community and has become a figurehead for media and cultural awareness, touring the US with her "Ain't I A Woman?" speech.
It takes an incalculable amount of confidence to come out as transgender, but Cox is breaking down barriers as the first trans person on the cover of TIME magazine. She and fellow advocates Carmen Carrera and Janet Mock are fighting for trans rights and steadily winning the war for acceptance.
'There's not just one trans story. There's not just one trans experience,' Cox says in an Q&A with the mag. 'And I think what [people] need to understand is that not everybody who is born feels that their gender identity is in alignment with what they're assigned at birth, based on their genitalia. If someone needs to express their gender in a way that is different, that is okay, and they should not be denied healthcare. They should not be bullied. They don't deserve to be victims of violence.'
Cox grew up in Mobile, Alabama, where she would have to run home from the school bus everyday to avoid getting beaten up by bullies. Being trans or gay just wasn't accepted. Before high school she had attempted to commit suicide.
'I tell this story about third grade' she says. 'My third grade teacher called my mom and said, "Your son is going to end up in New Orleans wearing a dress." Up until that point I just thought that I was a girl and that there was no difference between girls and boys. I think in my imagination I thought that I would hit puberty and I would start turning into a girl.'
She eventually moved to New York, pursued a career in acting and came out as transgender. She reflects on her experience and the way it differs now.
'There's a way to connect through the Internet that I didn't have. So you can connect with people who are like you, who may be in another part of the country. That didn't exist when I was a kid. I think there are more media representations that young trans people can look to and say, that's me, in an affirming way.'
Her story is an amazing one, full of adversity, but she is on top of the world now.
'I'm happy that I am myself and I couldn't imagine my life if I were still in denial or lying, pretending to be a boy. That seems ridiculous to me. That seems crazy at this point… It's nice to be done with transitioning.'
Got a tablet? Take the new look Marie Claire wherever you go, download straight to your iPad & iPhone, Kindle (just search the store for 'marie claire magazine'), Nook or Google Nexus for only £2.99.
Celebrity news, beauty, fashion advice, and fascinating features, delivered straight to your inbox!