The stars are supporting Jennifer Aniston's open letter to the tabloids
'I agree one hundred thousand billion percent.'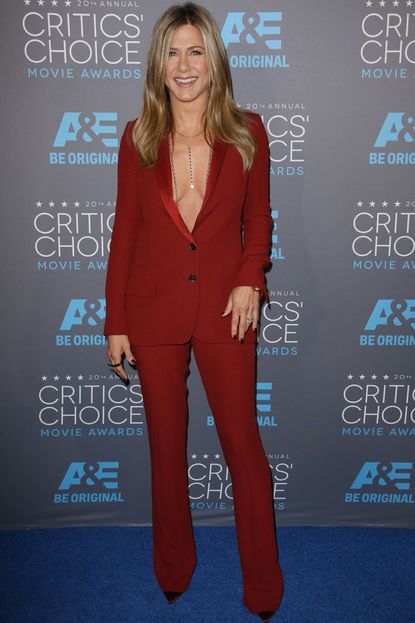 (Image credit: Matt Baron/BEI/REX)
'I agree one hundred thousand billion percent.'
Both male and female stars from around the world have spoken out to support Jennifer Aniston, after the actress published a powerful letter on Tuesday to call out the tabloids that stalk her. And we're not at all surprised that everyone's on Jennifer's side. No one ever really thought that baby shaming and body shaming were ok now, did they?
Speaking on Entertainment Tonight, actress Melissa McCarthy said that she agrees with Jennifer 'one hundred thousand billion percent.'
'Everybody needs to stop tearing down women,' she said, before explaining the difference in the ways that male and female celebrities are discussed in the media. 'It's always about the way we look — saying, 'He's very interesting,' 'He's a good writer,' 'She's looking older than she was last time we saw her. It's a ridiculous thing. I just hope it gets to the point where it's embarrassing for people to have such a shallow thought.'
Jennifer's former co-star Jason Bateman simply wrote 'this kicks ass' while sharing the link on Twitter, and Jennifer's husband Justin Theroux, posted this candid picture on Instagram, calling her his #WomanCrushWednesday.
Writer Piers Morgan meanwhile had a different opinion to share, calling Jennifer a hypocrite for sometimes choosing to appear in, and earn from, the media interest in her. 'If she really wants to make a difference to this ugly process, she can start by getting a tiny bit uglier herself and letting us see what she REALLY looks like on a magazine cover,' Piers wrote. 'Then the little girls she's so worried about can know exactly what they are aspiring to be.'
Female-kind needn't worry too much about Morgan's comments, however, as Chrissy Teigen was quick to weigh in and have her say. '@piersmorgan saw your piece on Jennifer Aniston. Why do you ALWAYS take the road of being the piece of s–t a–hole?' wrote Chrissy on Twitter. 'Particularly with women and people of colors. tell me it's just for click?? Please tell me you aren't TRULY this vile.'
Let's hope Jennifer's letter at least gets tabloid chiefs talking about what they're running and who they really think it's for.
Celebrity news, beauty, fashion advice, and fascinating features, delivered straight to your inbox!