13 facts about Johnny Depp you (probably) never knew existed
Oh, Johnny, we still have so much to learn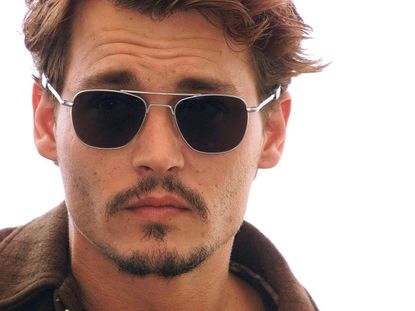 (Image credit: Rex)
Oh, Johnny, we still have so much to learn
Johnny Depp. The man, the myth, the method actor who once took his character transformation so far, he changed his teeth (more on that later).
He's been acting since the 1980s, where he gained teen heartthrob status after starring in 21 Jump Street (not the one with Channing Tatum and Jonah Hill – the original) and has since become one of the world's biggest actors.
Seminal films and a staggering collection of necklaces aside, he's also one of the most enjoyably eccentric actors out there, and the many A-list loves aside, his personal life has remained deliciously under the radar. Until now.
Here are 13 things you probably don't know about Johnny Depp…
1. He was born in Owensboro, Kentucky in 1963 to Betty Sue Palmer, a waitress, and John Christopher Depp, a civil engineer.
2. During the 'Kate Moss' years, Johnny infamously trashed a suite at the Mark Hotel in New York. He blamed an armadillo for the damage. Bloody armadillo.
3. He credits Nicolas Cage with helping him break into acting after Cage hooked him up with his first agent.
4. Be it fact or an incredible urban legend, the Oscar-nominated actor fears dancing more than anything in the world and has apparently NEVER DANCED IN HIS LIFE.
5. Johnny had a cameo role in the French movie, Ils Se Marièrent Et Eurent Beaucoup d'Enfants, with Charlotte Gainsbourg who incidentally, is long time friend of Vanessa Paradis. Prepare for potentially the most epic elevator scene in cinematic history.
What's Eating Gilbert Grape in 1993, he dared his co-star, Leonardo DiCaprio, to sniff a rancid pickled egg and then paid DiCaprio $500 when he did.
7. For his role as Captain Jack Sparrow in Pirates of Caribbean, he underwent extensive gold capping of his teeth, which is a pretty 'method' thing to do for a Disney film.
8. In 1997, he played slide guitar on the Oasis track Fade-In Out
The Kids, to get a record contract. They even opened for Iggy Pop, but sadly, that was their peak and they disbanded not long after.
10. He's got a fossil named after him. A British scientist David Legg found a 505 million-year-old fossil that reminded him of Edward Scissorhands (that'll be down to its large scissor-like claws). Being a fan of Depp, he decided to name the fossil Kooteninchela deppi, naturally.
11. He was once almost mugged, but the mugger recognised him and, as the tale goes, said, 'I ain't stealing from Captain Jack' and backed off. Depp gave him some money anyway, 'cos he's a thoroughly nice man.
12. He was allergic to chocolate as a child, but not as an adult – which would have made filming Charlie and the Chocolate Factory difficult.
13. Depp likes Barbie dolls. Let him explain: 'I do like playing with Barbies. It's a great thing to do with your kids,' he's quoted as saying. 'Once, I was exploring different characters with the Barbies and my daughter didn't like it. At one point she said, "Dad, please just stop, don't do that, just do your regular voice."'
Celebrity news, beauty, fashion advice, and fascinating features, delivered straight to your inbox!
Holly Rains is the digital editor of Marie Claire UK. She has over 10 years journalism experience, working as an editor and writer, specialising in digital media, content strategy and dog breeds. Prior to Marie Claire, she has held senior staff positions at ELLE UK, Grazia and Company magazine.
Holly is a frequent speaker, panelist and interviewer on a range of subjects including media trends, careers and entertainment. From working with Reuters to provide global red carpet coverage for events like the BAFTAs, to discussing fashion and beauty trends on network TV, she was also the host of the Marie Claire series 'Holly's First Dates', where she regularly interviewed a mix of inspiring woman and A-list celebrities (including Jack Black, Dakota Fanning and Renée Zellweger) - a series which garnered half a million views in its first two months. And was approved by The Rock.
Her love of office-based meetings means that the days of discovering the melting point of Cadbury's Flakes are long gone, but when she isn't dreaming of scheduling in meetings, she likes to think about social media, and how best to avoid it whilst still retaining the title of 'digital' editor. She also likes learning about emerging technology, Influencers and how to become a Financially Responsible Adult.
Contact Holly: holly.rains@futurenet.com