Hot Dudes Reading Is Your New Favourite Instagram Account
Our top 5 hot dudes from the latest viral Instagram account...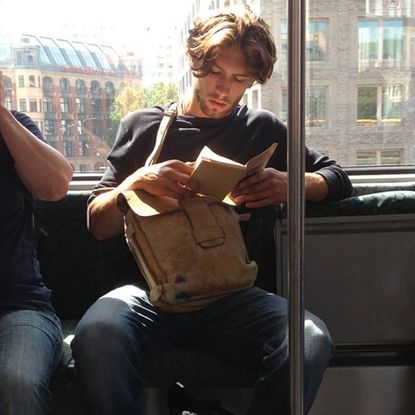 (Image credit: Hot Dudes Reading)
Our top 5 hot dudes from the latest viral Instagram account...
Hot Dudes Reading is about to become your new favourite waste of time because, well, who doesn't have an appreciation of hot dudes reading books?
Set up in early February, this is the latest Instagram craze with the account having amassed over 300K followers at the time of writing this. One of the founders of HDR told us, 'We are a group of tight knit friends in NYC who enjoy reading and appreciate a man who isn't afraid to read an old school paper or hardcover book on the subway.
'We'd constantly joke about falling in love during our daily commute, and eventually we began sending these types of photos to one another. One snowy weekend we started the instagram account on lark and a few weeks later, here we are.' And it's as simple as that.
So far the gents featured on said Instagram account have been snapped reading a wide range of tomes, from John Green's The Fault in our Stars and Lena Dunham's Not That Kind of Girl to Jared Diamond's Guns, Germs, & Steel and Herman Melville's Moby Dick.
'We're extremely humbled and overwhelmed at how positive the response has been,' the founder told Marie Claire. 'We're thrilled we've tapped into something that resonates with a lot of people. Reading is fundamentally hot, and we're ecstatic to find how many people agree with us.'
Here are our top 5 hot dudes reading:
1. You'll like him if... You have a pulse.
Hot Dudes Reading says: 'Spotted this scruffy prince on his morning commute. Probably to sculpture class. I'm sure he's reading a collection of post-war Russian short stories, but really thinking of how he made love to his French girlfriend this morning and the gluten free toast they shared after. #marryme #hotdudesreading.'
2. You'll like him if... You enjoy a full bush. Hot Dudes Reading says: 'Dapper Dude Alert! Damn. Whatever prose he's reading cannot match the beauty of that full beard. He's like the hot English professor of my dreams, only with way better hair. #voluntarydetention #hotdudesreading - this ones for @lancebass.'
3. You'll like him if... You're into hot hobbits.
Hot Dudes Reading says: 'This Elijah Wood look-a-like is all hunk, no hobbit. He probably weekends in the Berkshires with his golden retriever, hiking and chopping wood with those big hands. He could trek to Middle Earth and I'd still follow. #illtakethatring #hotdudesreading.'
4. You'll like him if... You like your dude to be pro-women.
Hot Dudes Reading says: 'Check out this Brooklyn-bound boss' material. Maybe he's an aspiring actor/writer/producer/director/nudist looking for tips. Doesn't matter, I love a man getting in touch with his feminine side. When will he get in touch with mine? Just kidding. #notthatkindofgirl #hotdudesreading.'
5. You'll like him if... You're a connoisseur of a strong jawlines.
Hot Dudes Reading says: 'Received a pic of this bald, brooding beauty and immediately fell in love with that chiseled face. Not sure what he's reading or what those credentials are for, but I want an all access pass. #skiptheline #hotdudesreading #HDRfangram.'
Celebrity news, beauty, fashion advice, and fascinating features, delivered straight to your inbox!