Heidi Klum: 'It's good to dress up in the bedroom'
Heidi Klum appears to be taking a leaf out of Fifty Shades of Grey as she opens up to Marie Claire about her bedroom antics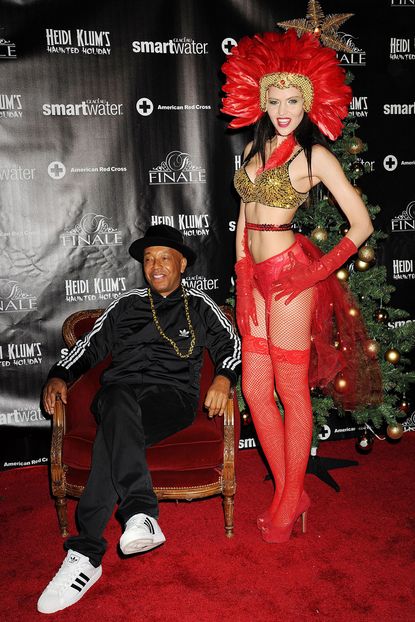 (Image credit: REX)
Heidi Klum appears to be taking a leaf out of Fifty Shades of Grey as she opens up to Marie Claire about her bedroom antics
Heidi Klum certainly isn't shy when it comes to talking about sex, in a refreshingly candid interview with Marie Claire US, the former Victoria's Secret model expressed how role play and costume can help when it comes to mattress magic.
HEIDI KLUM MAKES US JEALOUS WITH HER HOLIDAY PICS
She said: 'Some people are more experimental in bed and others are more boring, It's good to make an effort to dress up sometimes, to do things outside of the norm.'
She added: 'If you are wild and crazy, bring it on so the other person is well aware that you have little devil horns that come out every once in a while.'
HEIDI KLUM ADMITS SHE'S 'IN LOVE' WITH BODYGUARD BOYFRIEND
But for the rest of time Heidi still has her angel wings in place and despite last year's split from husband of seven years, Seal, she prefers to focus on the positive side of things.
Heidi said: 'People say, "Oh, God, how devastating to go through a divorce," Did I wish for this to happen to my family? No. But everyone is healthy; we're moving on with our lives.
'If someone got [very sick], God forbid, that would be a real problem. It's not what I wanted - it's not what anyone wanted - but it's not a real problem.'
What do you make of Heidi Klum's comments? Do you think it's good to dress up in the bedroom? Have your say below...
Celebrity news, beauty, fashion advice, and fascinating features, delivered straight to your inbox!