George Clooney addresses those gay rumours
George opens up about the gay rumours that have followed him throughout his career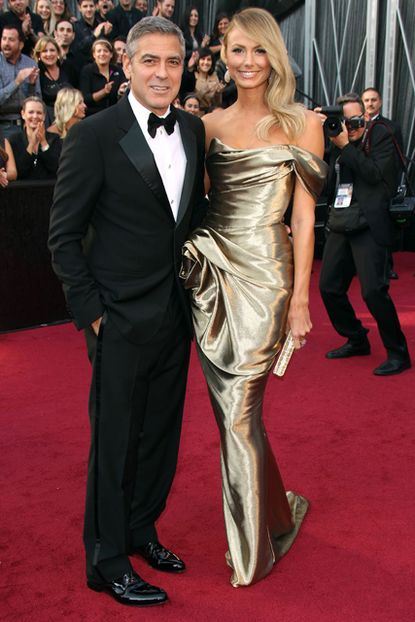 (Image credit: REX)
George opens up about the gay rumours that have followed him throughout his career
George Clooney has been plagued by gay rumours throughout his career, but the Hollywood actor says it doesn't bother him, and in fact he finds it 'unfair and unkind' to his gay friends that people think he should be offended by it.
GEORGE CLOONEY: LIFE IN LOVES 'I think it's funny, but the last thing you'll ever see me do is jump up and down, saying, 'These are lies!' That would be unfair and unkind to my good friends in the gay community,' he says to The Advocate Magazine.
'I'm not going to let anyone make it seem like being gay is a bad thing.
'My private life is private, and I'm very happy in it. Who does it hurt if someone thinks I'm gay? I'll be long dead and there will still be people who say I was gay. I don't give a s***.'
But there's one relationship George will gush about - his bromance with Brad Pitt. 'I do think we've set the bar very high. People think Brad and I hang out all the time, but the truth is that we see each other very rarely, maybe a couple times a year. I've had great fun spending time with my friend again over the awards season,' George tells the publication.
'Not only do I enjoy him as a person and respect his talent, but I also love what he does in the world. I can't speak highly enough about how hard he works at making the world better. I'm very proud to call him my friend.'
Clooney, who is an advocate for gay marriage, also joked that it will take the government ten years to catch up with voters on issues like marriage equality. 'It's always been this albatross that stood out to me as the final leg of the civil rights movement… One day the marriage equality fight will look as archaic as George Wallace standing on the University of Alabama steps keeping James Hood from attending college because he was black,' George says.
'So it's encouraging to know that this too will seem like such a silly argument to our next generation. There are even a lot of young conservatives today for whom marriage equality isn't an issue. It always takes government an extra generation to catch up to the people.'
George is currently dating blonde beauty Stacy Keibler. GEORGE CLOONEY: CAREER IN PICTURES GEORGE CLOONEY: LIFE IN LOVES GEORGE CONFESSES TO BEING LONELY AND CHEATED ON
Celebrity news, beauty, fashion advice, and fascinating features, delivered straight to your inbox!