Daniel Radcliffe admits battling alcohol addiction
The Harry Potter actor was 'reliant' on drinking aged 18, but has revealed he is now teetotal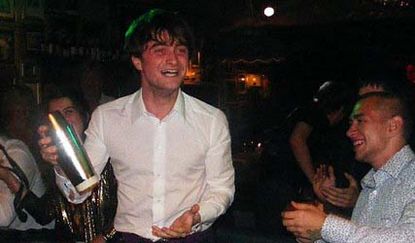 The Harry Potter actor was 'reliant' on drinking aged 18, but has revealed he is now teetotal
He's been known as the clean living child star who somehow managed to handle his fame, but now Daniel Radcliffe has revealed staying on the straight and narrow hasn't always been that easy.
The Harry Potter actor has admitted to battling an alcohol addiction aged 18 after struggling to handle his worldwide fame, revealing he has now become teetotal as a result.
HARRY POTTER STARS THEN AND NOW
Speaking in a new interview with British GQ, Dan says he began to hit the bottle when filming sixth movie Harry Potter and The Half-Blood Prince, and became 'reliant' on alcohol to have a good time.
'I became so reliant on [alcohol] to enjoy stuff,' the actor told the magazine, adding that he had become uncharacteristically 'complacent' about his job and was lucky never to land himself in trouble.
'There were a few years there when I was just so enamoured with the idea of living some sort of famous person's lifestyle that really isn't suited to me,' he said.
'I really got away with that because there were many instances when a paparazzi shot like that could have been taken.'
Realising he was close to going off the rails, Dan explains he decided to become teetotal, and has not touched a drop of alcohol since last year.
'I'm actually enjoying the fact I can have a relationship with my girlfriend where I'm really pleasant and I'm not ----ing up totally all the time,' he said of his clean living lifestyle.
'As much as I would love to be a person that goes to parties and has a couple of drinks and has a nice time, that doesn't work for me. I do that very unsuccessfully.
'I'd just rather sit at home and read, or talk to somebody that makes me laugh. There's no shame in enjoying the quiet life. And that's been the realisation of the past few years for me.'
Having averted a brush with disaster, the actor – who's currently starring in hit musical How To Succeed In Business on Broadway – says he is on a 'personal crusade' to prove that child stars do not have to go off the rails.
'If I can make a career for myself after Potter, and it goes well, and is varied and with longevity, then that puts to bed the 'child actors argument,' he said.
'If I can do it, in the biggest film franchise of all time, no other child actor who comes after will ever have to answer those same bloody questions.'
Asked what advice he would give his 18-year-old self now, Dan simply said: 'Don't try too hard to be something you're not.'
And of his £48 million fortune, he added: 'I don't know what to do with it. I'm very fortunate to have it, and it gives you room to manouevre.
'But the main thing about having money is it means you don't have to worry about it. And that for me is a lovely thing. It's not for fast cars and hookers.'
HARRY POTTER STARS THEN AND NOW
Celebrity news, beauty, fashion advice, and fascinating features, delivered straight to your inbox!