Daniel Craig on secret Rachel Weisz Wedding: 'We Got Away With It'
Craig also calls Kardashian clan 'idiots' for making careers out of their private lives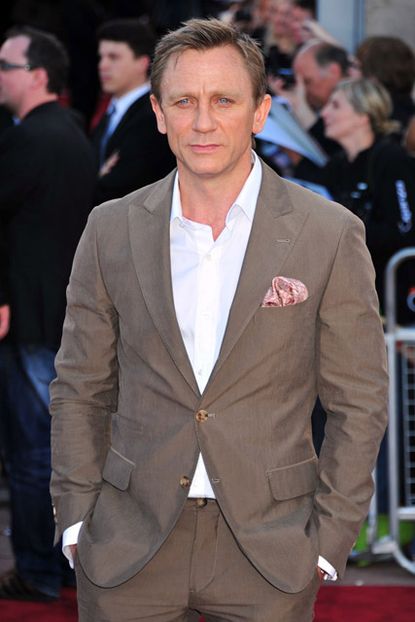 (Image credit: REX)
Craig also calls Kardashian clan 'idiots' for making careers out of their private lives
Daniel Craig has spoken for the first time about his secret wedding to Rachel Weisz, also slamming the Kardashian family as 'f*****g idiots' for making careers out of their private lives.
Following a whirlwind romance Daniel Craig and Rachel Weisz wed in upmost secrecy over the summer and have since done everything possible to keep their relationship out of the public eye.
Now for the first time the James Bond star has opened up on the ultra-private marriage in an interview with GQ saying: 'We got away with it. We did it privately. And I've got a lot of people to thank for that. But that was the point. We did it for private reasons.
'Because we didn't want it f****d up, because that would be sharing a secret. And the whole point is that it was a secret. A secret is a secret in my mind.'
Unsurprisingly he was reluctant to discuss his married life, criticising those who 'sell' themselves and then make demands about their private lives.
He said: 'Look, I'm in love. I'm very happy. And that is as far as I'm prepared to go. Life is long, life goes wrong, and I don't want to say something now that might be thrown back later… Ultimately, people are saying, 'Give it six months'. Well, guess what? I'm not responding.'
The couple met on the set of Dream House and began dating just before last Christmas after Rachel split from Black Swan director fiancé, Darren Aronovsky and Daniel parted ways with fiancée Satsuki Mitchell.
'I think there's a lot to be said for keeping your own counsel,' the 43-year-old added.
'You can't buy it back - you can't buy your privacy back. Ooh I want to be alone. F*** you. We've been in your living room. We were at your birth. You filmed it for us and showed us the placenta and now you want some privacy?'
One particular family in his line of fire were the Kardashians who Craig slammed for making millions from living their lives in the public eye thanks to their numerous reality TV shows.
'Life is long and I am hopefully in this for the long run… If you sell it off, it's gone. It's precious. It's worth more than money. You can't buy your privacy back… Look at the Kardashians, they're worth millions. Millions! You see that and you think, 'What, you mean all I have to do is behave like a f*****g idiot on television and then you'll pay me millions?'
Ouch.
What do you think of reality TV stars? Tell us in the box below...
Celebrity news, beauty, fashion advice, and fascinating features, delivered straight to your inbox!