Cheryl Cole's X Factor girls complain to Simon Cowell
The remaining trio went to see the show boss, complaining they never see their mentor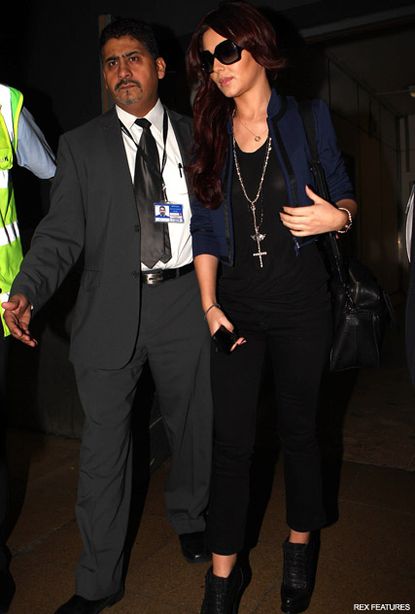 (Image credit: Rex Features)
The remaining trio went to see the show boss, complaining they never see their mentor
After weeks of rumours of infighting between Cheryl' Cole's X Factor contestants, now it seems the girls are ganging up against her. The trio are reportedly on the warpath after Sunday's show, and have complained to Simon Cowell they never see their famous mentor.
SEE ALL THE LATEST X FACTOR PICS HERE!
Cheryl came under fire just yesterday, for refusing to choose between her two acts and send one home, leaving it to the other judges' majority decision.
But despite her public show of support, it seems all is not well behind the scenes, with show insiders revealing the girls hardly see anything of the Promise This starlet between shows.
And it was particularly noticeable last week, when Mrs C jetted off to LA for talks with US giant Universal, seemingly leaving her acts to fend for themselves.
'The girls did speak to Simon and complained that Cheryl spends barely any time with them,' one insider told the Daily Mail.
'Cheryl went to Los Angeles last week, but it didn't even matter really as she only ever really sees the girls on Fridays for a final run-through, when other judges like Dannii [Minogue] and Louis [Walsh] are working so hard – and Simon, of course, is spending all his time with One Direction.'
But despite her super-quick trip stateside, sources did say the star was in 'constant touch with all her acts.
'Cheryl has been in constant touch with her acts, talking them through song choices and giving them pep talks,' one show worker said last week.
It seems Mrs C is trying to make amends, and even invited her remaining acts for a drink after the show. But insiders say you can still cut the atmosphere with a knife.
'Cheryl did have the girls in for a glass of champagne on Sunday night, but they are all a little peeved, to say the least, and tensions are running high,' one added.
Last night the songstress hit the red carpet at the Pride of Britain Awards with three of her Girls Aloud band mates, but her X Factor acts - Katie Waissel, Cher Lloyd and Rebecca Ferguson - were all in attendance. Maybe a sign they've all made up?
What are your thoughts on Cheryl's mutinous acts? Were they right to complain to Simon Cowell? Let us know in the comments box below.
SEE ALL THE LATEST X FACTOR PICTURES HERE!
BRAND NEW BEHIND THE SCENES TWITPICS
Celebrity news, beauty, fashion advice, and fascinating features, delivered straight to your inbox!