Adele: 'I make music for ears, not eyes'
The songstress struck a pose on the cover of Rolling Stone, and opened up on 'petty' speculation over her weight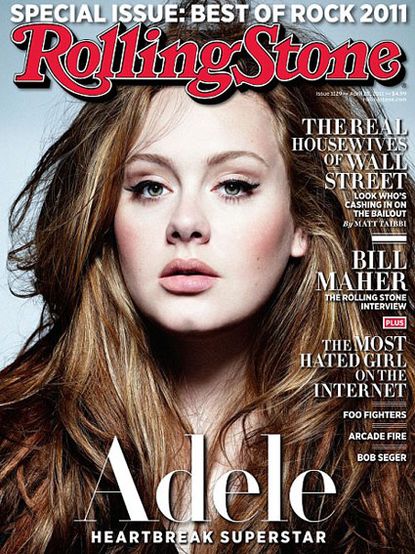 The songstress struck a pose on the cover of Rolling Stone, and opened up on 'petty' speculation over her weight
Wowza! Super songstress Adele has posed for a smouldering new shoot with Rolling Stone magazine, opening up on her drama-filled life, and how she makes music 'for ears, not eyes.'
Sizzling on the cover of the magazine's Best Of Rock issue, the Brit-born beauty – billed as the 'heartbreak superstar' - looks every inch the polished singer.
But Adele revealed she doesn't have time to worry about her weight, and would far rather chow down on fine foods than hit the gym.
'My life is full of drama andI won't have time to worry about something as petty as what I look like,' she told the magazine. 'I don't like going to the gym.'
'I like eating fine foods and drinking nice wine,' she said, adding that she won't be stripping off any time soon.
'Even if I had a really good figure, I don't think I'd get my t**s and a** out for no one.
'I love seeing Lady Gaga's boobs and bum. I love seeing Katy Perry's boobs and bum. Love it. But that's not what my music is about. I don't make music for eyes, I make music for ears.'
The Rolling in the Deep songstress also admitted that, despite worldwide success, she is 'scared' of audiences, and hates touring.
'I'm scared of audiences,' she said. 'One show in Amsterdam I was so nervous I escaped out the fire exit. I've thrown up a couple of times. Once in Brussels I projectile vomited on someone. I just gotta bear it. But I don't like touring. I have anxiety attacks a lot.'
What are your thoughts on Adele's racy Rolling Stone cover? Let us know in the comments box below.
Rolling Stone is in stores on April 15.
Celebrity news, beauty, fashion advice, and fascinating features, delivered straight to your inbox!