The Best Hand Creams To Tackle The Harshness Of Hand Sanitisers
The best hand cream will not only moisturise your digits day to day, but prevent ageing in the future. Find your perfect hand cream here...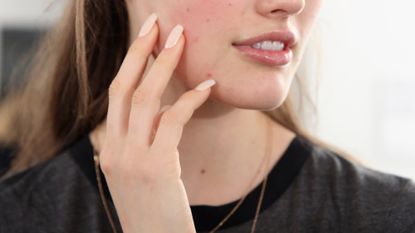 Rigorous hand washing is the recommended thing right now (and do keep doing it). But it can also be harsh on your skin. Antibacterial soap can strip it of natural oils and antibacterial hand gel has a high alcohol content to kill viruses. No wonder the best hand creams are suddenly more than just a luxury.
Skincare is normally so focused on our faces that it's understandable if you've never given your hands a second thought.
But right now they're in need of some TLC, especially as they lack the daily dose of nourishing oils, serums and moisturisers that we treat our faces to.
So be sure to apply hand cream straight after washing your hands for 20 seconds.
Another bonus: the mood-boosting effects of massaging a hand cream into your skin, especially when it smells as good as the new Glossier Hand Cream (addictively fresh and musky at the same time).
According to the Touch Research Institute at the University of Miami, pressure receptors under the skin, when stimulated through massage, can affect the nervous system.
It has a meditation-like calming effect, slowing down your heart rate and reducing levels of the stress hormone, cortisol.
And let's face it, we could all do with a bit of calm during these uncertain times.
So keep your paws soft and supple with one of the best hand creams below.
Best Hand Cream For Dry Hands
Trust Glossier to design a hand cream in a palm-sized pod with a flip-top lid for easy one-handed application. And we've not even got to the best bit yet: the product inside. Hitting the sweet spot between a lotion and cream, nutrient-rich moisturisers (meadow foam seed oil and coconut fruit) absorb fast (about 5 seconds to be exact) before a virtually invisible film forms over the skin to protect it from aggressors. Clever, cute and also philanthropic as Glossier donated the first 10,000 units to US hospital workers.
Best Hand Cream For Age Spots
By now we're all well rehearsed in the benefits of retinol for turning back the clock on ageing skin. This hydrating hand cream contains a micro-encapsulated version. The retinol is slowly released into the skin to tackle uneven pigmentation without irritation.
Best Hand Cream For Eczema
If you have eczema, the last thing you want to do is apply a product that will worsen or irritate it further. This contains probiotics to support your skin's microbiome and keep it as healthy as possible. It's also incredibly soothing so even the fussiest skin will be appeased.
Keep scrolling for a few more of Team Marie Claire's greatest hand cream hits.
L'Occitane Shea Butter Hand Cream, £16.50, John Lewis
Few things are more uncomfortable than hands so dry they start cracking. This potent 20% shea butter lotion nourishes sore digits in seconds and, best of all, won't leave behind greasy fingerprints.
Ameliorate Intensive Hand Treatment, £11, Lookfantastic
If you can't be fussed with fragrances and just want a really solid hand cream, this one from Ameliorate ticks all the right boxes. It brings together oat and sweet almond oil as well as shea butter for a deeply hydrating experience that won't rile sensitive skin.
Clarins Hand and Nail Treatment, £23, John Lewis
Packed with a whole host of active ingredients, this takes some beating. With a lovely light scent, it quickly absorbs into the skin and works particularly well when it comes to moisturising cuticles and minimising age spots. Plus, there's the astringent, condurango bark extract, which helps to prevent damp palms. You'll want to make it a permanent fixture on your bedside table.
Elizabeth Arden Eight Hour Cream Hand Cream, £27, John Lewis
The hand cream version of Elizabeth Arden's famous Eight Hour Cream still has that vaguely medicinal fragrance that instantly convinces you the salve is working wonders. And it is. Skin soaks up this fast-absorbing gel in seconds, leaving your hands utterly smooth with a healthy glow. Bonus: You can still feel it on your hands after one or two washes, so there's no need to continuously reapply.
Tom Dixon Orientalist Hand Balm, £45
Not only is this balmy cream laced with the antioxidant properties of rosehip oil, turmeric, ginger and fennel (hello smooth hands). But it also leaves behind the most incredible scent trail - think grounding notes of rose, geranium and amber that blend perfectly with the spiciness of clove and cinnamon. Plus, it makes for a pretty slick bathroom #shelfie.
Heath Hand Salve, £10, John Lewis
This might be a men's brand, but let's be honest a hand cream is a hand cream. The pepperminty scent is divine and ideal for floral fragrance haters.
Molton Brown Orange and Bergamot Replenishing Hand Cream, £10, Lookfantastic
Everything you could want from a luxury hand cream: white truffle oil (yes really) to moisturise, plus the upbeat zesty scent of bergamot, neroli and musk. So addictive you won't need an excuse to slather it on.
Neutrogena Norwegian Formula Hand Cream Concentrated Unscented, £4.62, Lookfantastic
An oldie but a goodie. Glycerin is a key ingredient to look for in hand cream as it's a humectant, meaning it draws water into the skin. This formula contains a whopping 40% so a little goes a long way.
The Body Shop Hemp Hand Protector, £5
Do good while making your hands feel even better with this best-selling cream. Enriched with Community Trade hemp seed oil from France you can wave goodbye to rough skin in a matter of minutes.
Aesop Resurrection Aromatique Hand Balm, £21, Cult Beauty
Botanicals meet science in this hard-working blend. Glycerin and sweet almond oil protect against the elements. While the scent - mandarin oil, rosemary leaf and cedar wood - transports you to a spa day bed.
Celebrity news, beauty, fashion advice, and fascinating features, delivered straight to your inbox!
Fiona Embleton has been a beauty editor for over 10 years, writing and editing beauty copy and testing over 10,000 products. She has previously worked for magazines like Marie Claire, Stylist, Cosmopolitan and Women's Health. Beauty journalism allowed her to marry up her first class degree in English Literature and Language (she's a stickler for grammar and a self-confessed ingredients geek) with a passion for make-up and skincare, photography and catwalk trends.