Tried and Tested: Probiotic Skincare
Probiotic skincare: everything you need to know...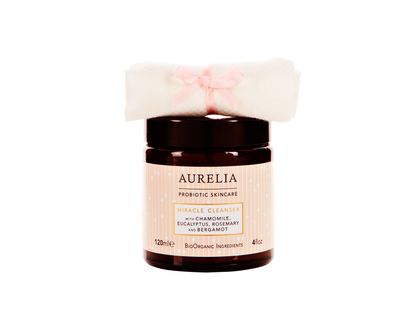 Probiotic skincare: everything you need to know...
Healthy Hollywood have been banging on about fermented food for ages: sauerkraut, kombucha (in tea) and kimchi. They are all proven to aid digestion in the gut as fermenting food in salt water encourages the growth of good bacteria, it also preserves, creates B-vitamins, Omega-3 fatty acids and beneficial enzymes making food more nutrient-dense than in its unfermented state. This is beneficial for our skin too as the healthiness of our gut is directly linked to the clearness of our skin. When applied to creams, something similar occurs. "By keeping our beneficial microorganisms up (this is what the term probiotic means) we can in turn reduce harmful bacteria and why not our this into skincare?" says Deborah Scott CEO of SKN-RG skincare. "Probiotics also have an increased positive effect on the subdermal layers due to the fact that the composition is easily and readily absorbed by the body. Inflammation is decreased and has a major impact on chronic conditions such as acne, rosacea, eczema and ageing."
Aurelia Miracle Cleanser, £34, this intelligent formula fuses next generation probiotic skincare with up-lifting ingredients. It removes make-up, hydrates and soothes dull and dehydrated skin, restoring a youthful luminous glow whilst helping to prevent skin ageing. Find more cleansers on our sister site Powder - they'll recommend the perfect one for your skin.
MURAD Anti-Ageing Mosturizer SPF 20, £45, contains Kombucha; an antioxidant rich fermented black tea. This acts like a probiotic for the skin, supporting detoxification but also preventing collagen breakdown. This is a great multi-tasking product for adults with blemish-prone skin.
OSKIA Renaissance Hand & Body cream, £34, combines fermented minerals and anti-ageing actives that help stimulate cellular renewal and reduce inflammation. Perfect for dry, winter-weathered skin in need of a good nourish.
FRESH Black Tea Instant Perfecting Mask, £69, contains fermented tea that works to clear uneven skin tone, defend against wrinkle-causing free radicals and jump start collagen production. Actually does work in an instant so save your pennies, this is well worth the splurge.
DERMALOGICA Breakout Control, £40.40, from their MediBac range contains Lactobacillus Ferment to help clear and prevent breakouts. Perfect for the emergency break-out moments.
CLINIQUE Redness Solutions Makeup SPF 15, £24.50, A revolutionary foundation if you suffer from redness and irritation. This concealing base uses the magic of makeup and probiotic technology to help treat and conceal redness and irritation.
Foreo Day Cleanser Awakening Radiance Yoghurt, £25.00, this creamy probiotic savoir will reawaken your mornings skincare in one step. Created to protect your skin from daily nasties, leaving healthy, soft and radiant dewiness.
RODIAL X-treme Pore Shrink Cleansing Pads, £38, use biotily probitoic technology to strengthen and protect skin from daily aggressions. They also help reduce poor size and remove make-up with one quick sweep.
NUDE Advanced Renewal Moisturiser, £72.00, this nutrient rich cream uses probiotics to help soften skin and create a luminous appearance. It also supports balance and creates a clearer complexion. This is light enough to wear under make-up too.
EMINENCE Clear Skin Probiotic Masque, £37.00, uses probiotic-rich organic yoghurt to act as a protective shield and eliminate the appearance of blemishes. Perfect for normal to oily complexions in need of calmness and clarification.
BURTS BEES Intense Hydration Eye Cream, £19.99, is enhanced with probiotic technology, scientifically proven to provide hydration and help reduce wrinkles. That delicate skin around your eyes is left super soft and supple.
Celebrity news, beauty, fashion advice, and fascinating features, delivered straight to your inbox!
An award-winning health and beauty writer, stylist and creative director, Lisa Oxenham is one of the UK's top beauty editors and the Beauty and Style Director at Marie Claire UK. With 20 years of editorial experience Lisa is a brand partnership expert, and a popular speaker, panelist and interviewer on a range of topics from sustainability to the future of beauty in the digital world. She recently spoke at Cognition X and Beauty Tech Live and is on the Advisory Board for the British Beauty Council's Sustainable Beauty Coalition.
A well-respected creative director she works on celebrity, model and influencer shoots with the highest calibre of photographers, filmmakers, make-up artists and hairstylists to create timeless images, attention-grabbing videos, digital events and masterclasses. Most recently Lisa has directed covers such as Lily Cole and Jameela Jamil, films such as Save The Arts featuring Francesca Hayward and sustainable fashion shoots such as Be The Change. Supporting the beauty industry over the pandemic has been a top focus, directing the British Beauty Council's six inspirational short biographical films for their Bring Back Beauty campaign.
Lisa is a wellbeing and beauty influencer with a focus on mental health and a large and engaged audience on Instagram, Facebook and Twitter.