Antioxidants: The Lowdown
Confused by all the noise about antioxidants? Let us demystify them for you...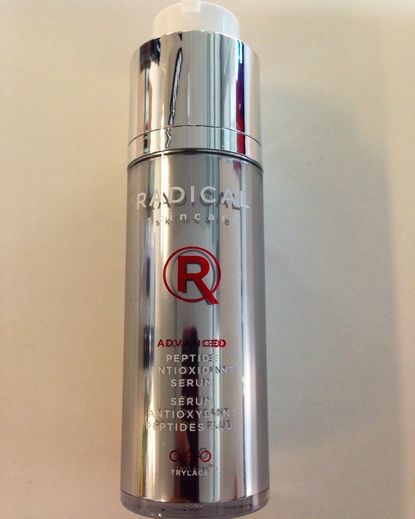 (Image credit: Radical Skincare.jpg)
Confused by all the noise about antioxidants? Let us demystify them for you...
I'm a cyclist in decidedly not so fresh of air London, so learning that a staggering 90% of premature ageing is caused by environmental damage (UVA and UVB included) isn't the beauty stat I've been longing to hear. Think suncream will protect you from the worst of the damage? Yes and no; while a good SPF will block most the harmful rays of the sun and certainly protect you from the ageing - and potentially skin cancer forming - inflammation of sunburn, you'll also need an antioxidant. Here's how they work: free radicals (which are the result of oxidation of cells following stress, pollution, sun or any other aggressors) are not your skin's friend. These highly unstable atoms are desperate to pair off so grab onto healthy cells, damaging their DNA and in some cases killing them off entirely. Antioxidants are the answer: they'll step in during this process, mopping up the pesky free radicals and terminating damage before it occurs. Want one in your life? Of course you do. Here are my favourites*:
Radical Skincare Peptide-Infused Antioxidant Serum, 82% Actives, £125 Best for: Mature skin
Delivers a concentrated shot of preserved antioxidants to improve skin tone, reduce wrinkles and increase collagen production (tests have shown an increase of up to 128%). Antioxidants from grape seed, coffee and green tea extracts are combined with anti-ageing ingredients such as Niacinamide to repair and protect skin.
Antipodes Worship superfruit Antioxidant Serum, £34
Best for: Natural beauties
Antioxidants are derived exclusively from raw, natural superfruit sources. Coffee berry, acai and ALA (an essential fatty acid) give this serum a super-natural, fortified potency, proven during in vitro testing to protect skin cells from free radicals and reduce oxidative stress by up to 90%.
Skinceuticals Serum 10, £75 Best for: Sensitive skin
Serum 10 helps to protect against environmental damage and reduce visible signs of premature ageing. This light serum combines ferulic acid with 10% pure vitamin-C technology to enhance antioxidant performance. Ideal for sensitive or problematic skin, Serum 10 stimulates collagen synthesis and can't be washed or rubbed off, remaining protective for up to four days (so you can switch in a moisturising serum on the in-between days).
Paula's Choice Resist Ultra-Light Antioxidant Concentrate Serum, £30
Best for: Younger skin
This water-based serum blends antioxidants such as vitamin C with hyaluronic acid and skin communicating ingredients. Specifically designed for combination skin, this super-light serum delivers the anti-ageing and skin-soothing properties of antioxidants while minimising acneic flare-ups. Best for youthful skin to protect from pollution and damage and to prevent premature signs of ageing.
Skinceuticals C E Ferulic, £129 Best for: Polluted skin
Remarkably, this one doubles the skin's natural protection against environmental damage of sun exposure, pollution and smoke. This concentrate of effectiveness is essential to prevent and treat the signs of natural and environmental skin ageing and more protection.
Aesop Parsley Seed Anti-Oxidant Serum, £39 Best for: Soothing irritation
A concentrated serum which smoothes and softens the skin while protecting it from everyday damaging elements. Alongside Vitamin B and parsley seed oil antioxidants, this serum contains numerous soothing elements such as chamomile oil, aloe vera juice and D-Panthenol to soothe skin and offer free-radical protection at the same time.
Skinceuticals Phloretin CF, £150 Best for: Hardcore anti-ager
A broad-spectrum treatment that protects against not only free radicals, but the range of other reactive molecules known to cause damage and DNA mutations among the integral cell types. In addition to preventing photo-damage, it corrects existing damage by stimulating the synthesis of essential proteins and fibres and accelerating cell turnover. The result: a strengthened support structure on the inside and a more youthful, firm and radiant appearance on the outside.
Grown Alchemist Detox Serum Antioxidant+3, £29
Best for: Skin detox
Based around cell-communicating skincare ingredients and skin identical ingredients, this serum combines tri-peptides with antioxidants to specifically target oxygen, carbon and nitrogen based free-radicals. As a plant-based, skin-compatible serum, the formula aims to simulate the skin's own processes, increasing the efficacy of the antioxidant ingredients and avoiding any irritation.
Skinceuticals Resveratrol B E, £143 Best for: Overnight treatment
This potent night-time product helps to reinforce skin's natural protection against age-accelerating internal free radicals. Resveratrol B E also helps to strengthen the skin's functionality to help diminish the visible signs of accumulated skin damage. This serum also combines the highest concentration of 1.0% pure, stable Resveratrol – one of the highest levels available in a skincare formulation on the market today. Resveratrol B E also helps to improve the appearance of skin radiance, elasticity and density. *Antioxidants don't come cheap: they're among the hardest of skincare products to formulate and need to be of exceptionally high quality to work. If you're buying one, invest.
Celebrity news, beauty, fashion advice, and fascinating features, delivered straight to your inbox!
An award-winning health and beauty writer, stylist and creative director, Lisa Oxenham is one of the UK's top beauty editors and the Beauty and Style Director at Marie Claire UK. With 20 years of editorial experience Lisa is a brand partnership expert, and a popular speaker, panelist and interviewer on a range of topics from sustainability to the future of beauty in the digital world. She recently spoke at Cognition X and Beauty Tech Live and is on the Advisory Board for the British Beauty Council's Sustainable Beauty Coalition.
A well-respected creative director she works on celebrity, model and influencer shoots with the highest calibre of photographers, filmmakers, make-up artists and hairstylists to create timeless images, attention-grabbing videos, digital events and masterclasses. Most recently Lisa has directed covers such as Lily Cole and Jameela Jamil, films such as Save The Arts featuring Francesca Hayward and sustainable fashion shoots such as Be The Change. Supporting the beauty industry over the pandemic has been a top focus, directing the British Beauty Council's six inspirational short biographical films for their Bring Back Beauty campaign.
Lisa is a wellbeing and beauty influencer with a focus on mental health and a large and engaged audience on Instagram, Facebook and Twitter.