Dreaming of writing a TV hit? Tips to make it happen by a woman who has
Sarah Alderson didn't start writing until she hit 30, now she's a CBS writer/producer in Hollywood. The mum of one has also penned 20 novels, so grab your notebook for her career-transforming tips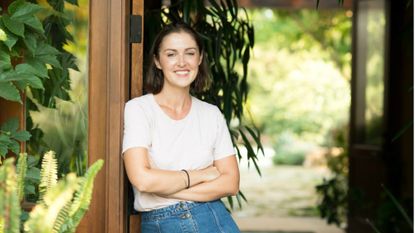 Sarah Alderson didn't start writing until she hit 30, now she's a CBS writer/producer in Hollywood. The mum of one has also penned 20 novels, so grab your notebook for her career-transforming tips
I didn't start writing until I was thirty when my husband and I decided to quit our jobs in London and go travelling with our three-year old daughter. I had no idea how we would support ourselves, beyond the loan for a new bathroom we had finagled from the bank, but I was an avid reader so I decided that if Stephenie Meyer could make millions writing about a vampire, then so could I! Writing a TV hit show wasn't even on my wishlist back then.
Fortunately, my blithe naivete paid off; ten years later we live in California, my twentieth novel, The Weekend Away, is about to be published and I write on the CBS show S.W.A.T. While I may not have Meyer's millions, I do have a dream life, I'm writing a TV hit show! And I pinch myself every day to make sure I'm not lying in a coma, imagining it. Lesson 1: 'Persevere. When doubt arises I always ask; 'what's the worst that can happen?' This usually helps me plough forwards.
From author to writing a TV hit
I may be writing a TV hit show but I never studied creative writing. When I started writing my first novel, Hunting Lila, I had no idea what I was doing. Four months later I sent it out to agents, was very lucky to find one, and very quickly the book sold to Simon & Schuster. I didn't sit on my laurels but quickly wrote another two books in under a year. I have kept to that schedule ever since. Lesson 2: Most people quit before they finish. Remember, your first draft doesn't have to be good. It just has to be done.
Honing the craft
Though I had no formal training as a writer, I had spent a life buried in books and watching TV. I had absorbed the art of storytelling without even knowing it. I have now spent tens of thousands of hours honing my craft, writing novels, copywriting (when novels didn't pay the bills), writing screenplays that went nowhere and, occasionally, some that have.
When Hunting Lila was optioned by producers I begged for the chance to write the script. I had never written a script before, but I bought a book about screenwriting and then set about writing. That script never got made into a movie, but it got me an agent in Hollywood and that helped me get a visa to move to the States. Lesson 3: You don't need a degree in writing. Anyone can be a writer. But, to get good, you really do need to practice. And you need to read in the area you are writing in.
Making it in Hollywood
There's no sugar-coating it. Millions of people dream of a Hollywood career and very few actually make it. It requires huge amounts of luck, a modicum of talent, but above it all, it requires grit.
I failed non-stop for the first year and I must have had over fifty meetings and not one resulted in a job. I have had Hollywood studio heads hang up the phone on me mid-way through a pitch. I've spent days sobbing on my sofa. And then I've picked myself up, dusted myself off (with the help of amazing friends and a wonderful husband) and soldiered on, to lots more failures, but more successes also. Lesson 4: It's ok to fail. Get comfortable with failure and cultivate grit.
It's not what you know, it's who you know
When I moved to LA I asked everyone I knew for introductions. I was introduced to an English person who was also a writer. It happened to be David Wolstencroft, who wrote one of my all-time favourite shows, Spooks. He very kindly met me for coffee and from that meeting sprung a friendship. When I finally got hired to write my own TV show, I asked him if he'd step in as executive producer to help showrun if it got green-lit. He agreed, and, fingers crossed, we'll start shooting next year.
I had zero idea what I was doing my first day on the set of S.W.A.T, and quickly figured out that I needed to make friends fast and find out what everyone on the crew did. Then I could lean on them and their expertise and I also learned I didn't need to know everything, I just had to know people who did. Lesson 5: Ask people for introductions and then nurture genuine friendships.
Surviving & writing a TV hit in Hollywood
Hollywood is full of horror stories. There's the famous actor I once worshipped until I learned he refuses to let female writers on set, the showrunner who keeps his writers in the office until 4am and the Oscar-winning director rumoured to be a sexual predator.
I refused a huge job after I found out this particular guy would be directing, even though I needed the money and the job would have propelled my career. A year later the producers came back and asked me to reconsider, having fired the director after the rumours could no longer be ignored. I turned it down again. They weren't people I wanted to work with. Every time I have turned something down though, something better has come along. Lesson 6: Listen to your gut and keep your integrity.
Climbing the LA ladder
Most writers in Hollywood get one job and then never work again. For the last three years I've worked on a network TV show. I spend upwards of 40 hours a week in a room with a dozen other writers pitching and breaking stories and writing scripts. It's collaborative and you need to be able to pitch ideas at a relentless pace and get on well with others. After all, those people will likely be the ticket to your next job.
Luckily, more women and people of colour are accessing opportunities, though still at a far lesser rate than men. Now I'm writing a TV hit show I have my foot in the door and I'm doing my best to throw it open to other women. Lesson 7: Help others. It's good karma!
* The Weekend Away by Sarah Alderson is out in all formats now and is published by Avon Books (HarperCollins). Follow Sarah on Instagram @sarahaldersonauthor
Celebrity news, beauty, fashion advice, and fascinating features, delivered straight to your inbox!
Maria Coole is a contributing editor on Marie Claire.
Hello Marie Claire readers – you have reached your daily destination. I really hope you're enjoying our reads and I'm very interested to know what you shared, liked and didn't like (gah, it happens) by emailing me at: maria.coole@freelance.ti-media.com
But if you fancy finding out who you're venting to then let me tell you I'm the one on the team that remembers the Spice Girls the first time round. I confidently predicted they'd be a one-hit wonder in the pages of Bliss magazine where I was deputy editor through the second half of the 90s. Having soundly killed any career ambitions in music journalism I've managed to keep myself in glow-boosting moisturisers and theatre tickets with a centuries-spanning career in journalism.
Yes, predating t'internet, when 'I'll fax you' was grunted down a phone with a cord attached to it; when Glastonbury was still accessible by casually going under or over a flimsy fence; when gatecrashing a Foo Fighters aftershow party was easy-peasy-lemon-squeezy and tapping Dave Grohl on the shoulder was... oh sorry I like to ramble.
Originally born and bred in that there Welsh seaside town kindly given a new lease of life by Gavin & Stacey, I started out as a junior writer for the Girl Guides and eventually earned enough Brownie points to move on and have a blast as deputy editor of Bliss, New Woman and editor of People newspaper magazine. I was on the launch team of Look in 2007 - where I stuck around as deputy editor and acting editor for almost ten years - shaping a magazine and website at the forefront of body positivity, mental wellbeing and empowering features. More recently, I've been Closer executive editor, assistant editor at the Financial Times's How To Spend It (yes thanks, no probs with that life skill) and now I'm making my inner fangirl's dream come true by working on this agenda-setting brand, the one that inspired me to become a journalist when Marie Claire launched back in 1988.
I'm a theatre addict, lover of Marvel franchises, most hard cheeses, all types of trees, half-price Itsu, cats, Dr Who, cherry tomatoes, Curly-Wurly, cats, blueberries, cats, boiled eggs, cats, maxi dresses, cats, Adidas shelltops, cats and their kittens. I've never knowingly operated any household white goods and once served Ripples as a main course. And finally, always remember what the late great Nora Ephron said, 'Everything is copy.'