The top jobs in the UK according to LinkedIn (and how to get them)
Are you thinking about a career change?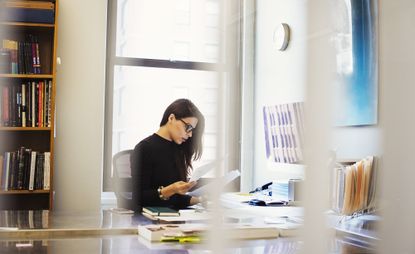 (Image credit: Mint Images/REX/Shutterstock)
Are you thinking about a career change?
You may be thinking about leaving your current role for a job you love. And, we already know the one thing employers are looking for in a job interview - but how do you decide what to apply for?
Social media platform, LinkedIn, have just released their list of the top jobs for 2017 (based on salary, the current number of job openings, potential for career advancement and geographic spread) and here are the careers that made it into the top 20:
1) Financial Controller
2) Maintenance Engineer
3) Management Accountant
4) Project Manager
5) Pharmacist
6) Finance Manager
7) Solutions Architect
8) Product Manager
9) Audit Manager
10) Business Development Manager
11) Legal Council
12) Tax Manager
13) Category Manager
14) Customer Success Manager
15) Scrum Master
16) Financial Analyst
17) Brand Manager
18) Lawyer
19) Marketing Executive
20) Nurse Practitioner
Whether you're just starting out or considering a career change, LinkedIn's Darain Faraz shares his six expert tips for landing one of these top jobs:
How to get a job
Do your research
'Speak to people in your chosen industry about what level you can look to go in at based on your qualifications, and find out if you'll need to consider doing some training or exams ahead of contacting companies. Try using LinkedIn to join relevant industry groups and posting any questions you have as this will help to remove any unexpected hurdles and will manage your own expectations.'
Be realistic
'If you're entering a completely new industry you need to be realistic about the opportunities available to you, as well as the kind of firms that will allow you to get to where you want. Consider a smaller company or start-up as this may give you room to stretch your legs, use your skills more widely and they often have more flexible hiring guidelines.'
Polish your digital shop window
'When you apply for a new job or approach an individual in a professional context, the likelihood is they will check you out online at some stage. So, if you haven't got a LinkedIn profile make sure you get one, and when you do, make sure it stands out and shows off the transferable skills and previous experience you have that will make you suitable for the sector you're moving into.'
Seek out opportunities
'Use the 'Jobs' tab on your profile to find job listings within your industry and beyond, then apply for them directly through LinkedIn. You can easily set specific job search preferences so that you're recommended roles at the companies you want to work for, as well as jobs that would be a perfect fit for you.'
Draw on your network
'By using networks like LinkedIn you can find connections you already have that work in that industry or reconnect with old school and university friends – you might be surprised where they've ended up and find a relevant connection closer than you think. This is a great way to get an introduction or endorsement from a mutual connection that may boost your chances of getting noticed.'
Find a mentor
'Having a mentor who's already doing the job you want is one of the best things you can do to get there yourself. You can use LinkedIn to check out the people already doing your dream job, and see how they got there to map out the steps you need to take and talk to them about your development. Once you've identified someone who's a good fit, write them a personal message on LinkedIn that shows you're genuinely interested in them as a mentor.'
Celebrity news, beauty, fashion advice, and fascinating features, delivered straight to your inbox!