Keep your career on track with these 5 expert insights
Leadership coach Gitanjali Trevorrow-Seymour career's spanned psychology, acting, banking, recruitment and sales, so she's uniquely placed to combine science-backed research with an innovative approach to help achieve your full potential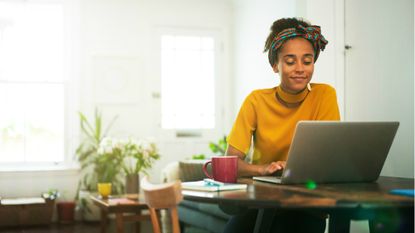 Leadership coach Gitanjali Trevorrow-Seymour career's spanned psychology, acting, banking, recruitment and sales, so she's uniquely placed to combine science-backed research with an innovative approach to help achieve your full potential
It might feel like now is not the ideal time to be planning your next career move, but that doesn't mean you should hide under the duvet until life becomes 'normal' again and only then you'll think how to keep your career on track. In fact it's the opposite. As a leadership and mindset coach who founded High Definition You, I use neuroscience-backed techniques to empower people to thrive in their careers. My advice is to be more curious than afraid - to think 'What if..?' and send out your CV or apply for that job.
Whether you've seen your industry decimated by the impact of Covid 19, you need a fresh start or you're on the lookout for your first career break, here's my 5-step strategy to plan for success and make it happen. Do it now - because life is not a dress rehearsal.
1. Keep you career on track by getting intentional
Before you take on the job market ask yourself 'What do I actually want?' Write down your best possible outcome before you get distracted by what people will tell you is not possible right now. Stick it on the wall. A difficult environment for jobseekers doesn't mean that there aren't opportunities, so be bold and set the vision for what you actually want - a job, a promotion, a side-step, a salary increase - your brain needs a focus in order to achieve it. Be curious about where you could be, not afraid of where you are.
2. Avoid overthinking
In times of uncertainty we tend to come up with reasons why the thing we really want is just not achievable. Our brain prefers predictable outcomes so in the face of uncertainty we overthink the risk of taking action and this prevents us from doing so. You might think 'They're just not giving out promotions/jobs at the moment,' but instead of going over and over your negative thoughts, ask yourself: what is within my control? And what is the smallest step I can take right now to achieve my best possible outcome, like making a call to someone useful in my network, or researching someone who is where I want to be?
3 Keep your career on track by showing courage
Have you ever thought 'When I feel a bit more confident I'll apply for that job'? Waiting until you're full of confidence means you maybe won't act at all. In fact it's not confidence but courage that's really required to take the necessary action - and that means pushing through the fear. To overcome fear and step outside your comfort zone you must first establish why this job or promotion is important to you - a motivation that matters more to you than the fear. The challenge of calling a recruitment agent or filling out job applications or asking for a promotion becomes much more doable if you know exactly why this matters so much. What will it change for you? Will it enable you to move out and get your own place or save up to buy a car? Or create a happier life?
4. Understand your brand
The thought of getting feedback from your current or former boss or team members might sound scary, but gaining insight into both your strengths and opportunities for growth puts you back in control. Ask three people to describe you in three words. If their perception is very different from how you'd like to be perceived (ie your brand), how can you close the gap? Get more insight by googling 'strengths finder' or 'social styles' to find self-assessment tools.
5. Keep your career on track by owning your brilliance
Have you ever thought 'My work speaks for itself'? Your great work could be going unnoticed, especially in the virtual working world. Make your achievements more visible - take a deep breath and mention them in team meetings, share good feedback, show your expertise. Keep a 'victory journal' of your best work when you get great feedback or a simple thank you, even when it feels like you're just 'doing your job'. In times of uncertainty our brains can't always access the evidence of our best performance but it's this evidence that's going to blow away the recruitment panel in interviews or your boss in your next performance appraisal.
Celebrity news, beauty, fashion advice, and fascinating features, delivered straight to your inbox!
Maria Coole is a contributing editor on Marie Claire.
Hello Marie Claire readers – you have reached your daily destination. I really hope you're enjoying our reads and I'm very interested to know what you shared, liked and didn't like (gah, it happens) by emailing me at: maria.coole@freelance.ti-media.com
But if you fancy finding out who you're venting to then let me tell you I'm the one on the team that remembers the Spice Girls the first time round. I confidently predicted they'd be a one-hit wonder in the pages of Bliss magazine where I was deputy editor through the second half of the 90s. Having soundly killed any career ambitions in music journalism I've managed to keep myself in glow-boosting moisturisers and theatre tickets with a centuries-spanning career in journalism.
Yes, predating t'internet, when 'I'll fax you' was grunted down a phone with a cord attached to it; when Glastonbury was still accessible by casually going under or over a flimsy fence; when gatecrashing a Foo Fighters aftershow party was easy-peasy-lemon-squeezy and tapping Dave Grohl on the shoulder was... oh sorry I like to ramble.
Originally born and bred in that there Welsh seaside town kindly given a new lease of life by Gavin & Stacey, I started out as a junior writer for the Girl Guides and eventually earned enough Brownie points to move on and have a blast as deputy editor of Bliss, New Woman and editor of People newspaper magazine. I was on the launch team of Look in 2007 - where I stuck around as deputy editor and acting editor for almost ten years - shaping a magazine and website at the forefront of body positivity, mental wellbeing and empowering features. More recently, I've been Closer executive editor, assistant editor at the Financial Times's How To Spend It (yes thanks, no probs with that life skill) and now I'm making my inner fangirl's dream come true by working on this agenda-setting brand, the one that inspired me to become a journalist when Marie Claire launched back in 1988.
I'm a theatre addict, lover of Marvel franchises, most hard cheeses, all types of trees, half-price Itsu, cats, Dr Who, cherry tomatoes, Curly-Wurly, cats, blueberries, cats, boiled eggs, cats, maxi dresses, cats, Adidas shelltops, cats and their kittens. I've never knowingly operated any household white goods and once served Ripples as a main course. And finally, always remember what the late great Nora Ephron said, 'Everything is copy.'