The Trialblazing Tech CEO: 'The biggest challenge to young women is ourselves'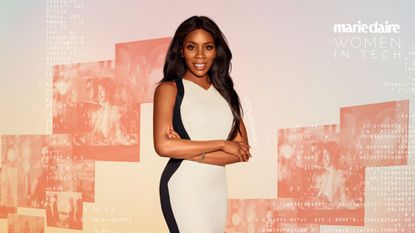 Join Marie Claire and Entrepreneur First on Friday 12th Feb at 1pm for a special STEM panel in light of National Women and Girls in Science day. Editor in Chief of Marie Claire, Andrea Thompson, and Co-founder of Entrepreneur First, Alice Bentick, speak to a host of successful female founders who are making waves across their industries.
It's Women in Tech week at Marie Claire, and we're speaking to the trailblazers changing the face of the tech industry for good. Cecilia Harvey has carved out one impressive CV. Following a career in tech? Her advice makes for essential reading
As far as forging a career in tech goes, Cecilia Harvey is one trailblazing inspirational leader we can't enough of. And her successful career in STEM is proof enough that women don't have to have a degree in tech (she graduated in political science) or follow traditional paths to get there (Harvey spent years working for big-name banks). Although she acknowledges working in finance, where "technology was really the foundation of those businesses", influenced her career move, the founder of Tech Women Today is flourishing in an industry that's been dominated by men for way too long.
But times are changing, and numerous studies are revealing the pandemic has precipitated many women considering a career change. While Harvey has seen more women entering the profession in recent years, she's seen a lot leave, too, so she acknowledges there's still much more work to be done in creating a truly diverse industry.
Currently, in the UK, women make up only 15% of STEM workers, so if government efforts to encourage more women, the shift could be worth as much as £2 billion to the labour market. At current, increasing the proportion to 30% is the target.
As Marie Claire launches Women in Tech week, we caught up with Harvey on successfully navigating your own career in tech, and how female participation can bring about systemic change in terms of diversity and opportunity.
How to follow a successful career in tech
Learn to think strategically about your career path
"I never planned on a career in technology. But working on the trading floor at Lehman Brothers bank in New York, where electronic trading, eCommerce, and data were all essential, I learned how to think strategically about technology in order to grow a business. I loved how technology was an enabler that helped make what was formerly impossible achievable. I'm now CEO of Hyve Dynamics, a company that creates sensor technology addressing issues such as the pandemic, sustainability, mental health, and gaps in basic medical care. Being a female, black CEO of a technology company inspires me to be a role model for others. We need more visible examples of us in roles where historically we have not been."
The power lies within you to create options
"Often the biggest challenge that presents itself to young ambitious talented women? Ourselves. Be clear on your identity and create options for yourself. Every day you will be challenged by people and situations that will question who you are, your ability, your experience and the value you add. Remember there are those that will tell you lies about yourself and you have the power to choose if you believe them. Once you understand that power lies within you and you have that mindset, you'll be unbreakable."
Tech Women Today provides the resources to be successful
"One of our key objectives at Tech Women Today is to build, sustain, and strengthen a 'pipeline' of women in technology and entrepreneurs. TWT provides women with the resources they need in order to be successful. The TWT Spotlight Video Series promotes diversity in IT for the wider tech community across various sectors. It celebrates women who are thriving in the world of technology. Plus, it inspires other women who are perhaps taking their first steps."
"Technology impacts on every single area of our lives, from healthcare, to fashion, to art, to education. We just can't live without it. Working in technology does not necessarily mean working at a tech firm, nor does it mean you need to know how to code. I'd love to inspire women to feel excited at the enormous career potential in technology."
We need role models women can relate to
"We need to expand the definition of what it means to work in technology. You don't need an engineering degree. You don't need career aspirations of being a programmer or data scientist."
"We need more female role models that young girls and women can relate to. Women aren't considering technology careers as they aren't given enough information about all the exciting opportunities. They aren't told enough about what working in the sector involves. There's a perception that there's a lack of diversity in the technology industry, so many may feel tech isn't an inclusive environment. Tech companies need to work to change this perception."
The STEM initiatives I'm excited about for 2021
"The Hyve Armband will help businesses and medical practices with remote health monitoring of staff. This will be crucial in the COVID- 19 world."
"Also, from an environmental perspective, companies across a number of sectors are looking at their strategy for reducing carbon footprint. Other sustainability initiatives are approaching Hyve to understand how they can use our sensor technology to help them."
"Meanwhile, I am expanding on a project I started called Avoiding Career Krakatoa, referring to those tough times during your career where you just want to explode. The pandemic has completely changed the world of work. People are losing their jobs. Entire industries have been disrupted. This is a time filled with fear, uncertainty, and doubt. Avoiding Career Krakatoa will be expanded to have an online community group and online courses. Plus, it'll showcasing how people can leverage various technology tools to help them."
Celebrity news, beauty, fashion advice, and fascinating features, delivered straight to your inbox!
Maria Coole is a contributing editor on Marie Claire.
Hello Marie Claire readers – you have reached your daily destination. I really hope you're enjoying our reads and I'm very interested to know what you shared, liked and didn't like (gah, it happens) by emailing me at: maria.coole@freelance.ti-media.com
But if you fancy finding out who you're venting to then let me tell you I'm the one on the team that remembers the Spice Girls the first time round. I confidently predicted they'd be a one-hit wonder in the pages of Bliss magazine where I was deputy editor through the second half of the 90s. Having soundly killed any career ambitions in music journalism I've managed to keep myself in glow-boosting moisturisers and theatre tickets with a centuries-spanning career in journalism.
Yes, predating t'internet, when 'I'll fax you' was grunted down a phone with a cord attached to it; when Glastonbury was still accessible by casually going under or over a flimsy fence; when gatecrashing a Foo Fighters aftershow party was easy-peasy-lemon-squeezy and tapping Dave Grohl on the shoulder was... oh sorry I like to ramble.
Originally born and bred in that there Welsh seaside town kindly given a new lease of life by Gavin & Stacey, I started out as a junior writer for the Girl Guides and eventually earned enough Brownie points to move on and have a blast as deputy editor of Bliss, New Woman and editor of People newspaper magazine. I was on the launch team of Look in 2007 - where I stuck around as deputy editor and acting editor for almost ten years - shaping a magazine and website at the forefront of body positivity, mental wellbeing and empowering features. More recently, I've been Closer executive editor, assistant editor at the Financial Times's How To Spend It (yes thanks, no probs with that life skill) and now I'm making my inner fangirl's dream come true by working on this agenda-setting brand, the one that inspired me to become a journalist when Marie Claire launched back in 1988.
I'm a theatre addict, lover of Marvel franchises, most hard cheeses, all types of trees, half-price Itsu, cats, Dr Who, cherry tomatoes, Curly-Wurly, cats, blueberries, cats, boiled eggs, cats, maxi dresses, cats, Adidas shelltops, cats and their kittens. I've never knowingly operated any household white goods and once served Ripples as a main course. And finally, always remember what the late great Nora Ephron said, 'Everything is copy.'