How to fix your financial future in six easy ways
Financial planner and founder of She Can Prosper, Diane Watson explains why you need to take control of your money and close the gender financial capability gap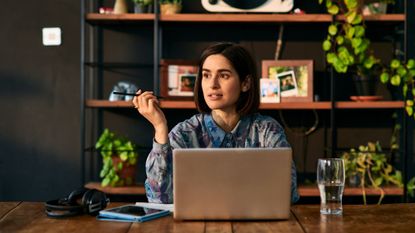 (Image credit: Getty Images)
There's no time like the New Year to bite the bullet and face your finances. In fact understanding our money is crucial to closing the financial capability gap and securing our financial independence.
Although we have made great strides within many fields, there are still major moves to be made when it comes to financial independence and building a greater focus on our financial strategies. Startling figures from UBS Global Wealth Management showed that 58% of women left crucial financial decisions up to their male partners, with women between 20-34 being the most likely to do so.
This bleak trend is putting many of us at financial risk and having a huge impact on how we manage and approach our finances. We need to take control of our money and become more confident when it comes to having conversations around it. And most importantly, we have to have the understanding and belief to develop our own financial plans.
Diane Watson runs an initiative named She Can Prosper that's dedicated to helping us become the masters of our financial futures. Here, she gives us her key advice for becoming more financially resilient.
How to fix your financial future
1. Be in control
First things first, own your shit. Your personal finances are YOUR responsibility. In order to fix your financial future, you need to take charge and ownership of your situation. Although it can seem like the easy route to pass responsibility onto a partner or a family member, in the long run, it only leaves you vulnerable as you're completely unaware of your situation.
2. Be more engaged in your financial planning
Only 23% of women globally are currently taking charge of long-term financial planning decisions. You need to set out aims and aspirations on where you would like to be and what you need to do to get there.
It is vital to conduct cash flow modelling to understand your liquidity and prepare crisis plans in case your situation is ever jeopardised, to protect you in both the short and long term.
Also be sure to track any changes in your circumstances, whether it's to your job or additional expenses. For example, many women still choose to work part-time after having children to spend more time at home. Once the changes happen, you must adjust your plan to reflect any changes to income, pension or savings so you are still prepared for the future.
3. Make the time
It can be easy to leave financial planning on the backburner. But if you leave it too long, it can often be too late.
I have worked with women, whose partners have passed away and they had no knowledge that they were not included in the will, they just assumed they were. Meaning no pensions, estate or insurance pay-outs were passed on, leaving them without a home.
4. Understand your future worth
Fixing your financial future also means you need to gain insight into your employment pension and decide your pension age. Once you have decided on an appropriate retirement age, calculate the amount of workplace pension you expect to have by this point. Is this figure combined with government pension enough to get by?
With the average life expectancy of UK women being 83 years old, there is a long time to plan for. If there isn't as much as you anticipated, you need to take action to build this figure.
5. Knowledge of partner's finance
Many women have been left in vulnerable situations after divorce or partners passing away. With the sad fact that 1 in 2 of all marriages ending in divorce, you have to be prepared and can't abdicate financial responsibility to partners. Many women have no idea what they are entitled to and in some cases stay in unhappy marriages due to the fear of being left with nothing.
I have worked with clients in the past, whose partner had increased their mortgage debt without their knowledge, leaving them with additional debt once they had divorced or died.
Consider the following types of questions: Do you own the home you live in? Will your partner's estate and life-insurance be passed on to you? Would you need to sell the house to be financially stable? Do you understand your share in the partnership?
6. Do it for yourself
Last but not least, you need to take control entirely for your own personal gain. The only person who will benefit from being more involved with your personal finances is you, so you need to want to do it for you. It is vital that women become more independent and avoid relying on spouses or family members.
Being more financially aware and involved means you have greater control over your financial well-being and let's face it, who doesn't want that?
Celebrity news, beauty, fashion advice, and fascinating features, delivered straight to your inbox!
Maria Coole is a contributing editor on Marie Claire.
Hello Marie Claire readers – you have reached your daily destination. I really hope you're enjoying our reads and I'm very interested to know what you shared, liked and didn't like (gah, it happens) by emailing me at: maria.coole@freelance.ti-media.com
But if you fancy finding out who you're venting to then let me tell you I'm the one on the team that remembers the Spice Girls the first time round. I confidently predicted they'd be a one-hit wonder in the pages of Bliss magazine where I was deputy editor through the second half of the 90s. Having soundly killed any career ambitions in music journalism I've managed to keep myself in glow-boosting moisturisers and theatre tickets with a centuries-spanning career in journalism.
Yes, predating t'internet, when 'I'll fax you' was grunted down a phone with a cord attached to it; when Glastonbury was still accessible by casually going under or over a flimsy fence; when gatecrashing a Foo Fighters aftershow party was easy-peasy-lemon-squeezy and tapping Dave Grohl on the shoulder was... oh sorry I like to ramble.
Originally born and bred in that there Welsh seaside town kindly given a new lease of life by Gavin & Stacey, I started out as a junior writer for the Girl Guides and eventually earned enough Brownie points to move on and have a blast as deputy editor of Bliss, New Woman and editor of People newspaper magazine. I was on the launch team of Look in 2007 - where I stuck around as deputy editor and acting editor for almost ten years - shaping a magazine and website at the forefront of body positivity, mental wellbeing and empowering features. More recently, I've been Closer executive editor, assistant editor at the Financial Times's How To Spend It (yes thanks, no probs with that life skill) and now I'm making my inner fangirl's dream come true by working on this agenda-setting brand, the one that inspired me to become a journalist when Marie Claire launched back in 1988.
I'm a theatre addict, lover of Marvel franchises, most hard cheeses, all types of trees, half-price Itsu, cats, Dr Who, cherry tomatoes, Curly-Wurly, cats, blueberries, cats, boiled eggs, cats, maxi dresses, cats, Adidas shelltops, cats and their kittens. I've never knowingly operated any household white goods and once served Ripples as a main course. And finally, always remember what the late great Nora Ephron said, 'Everything is copy.'