There's a weird dress code on United Airlines that bans leggings
Even Patricia Arquette got involved in leggings gate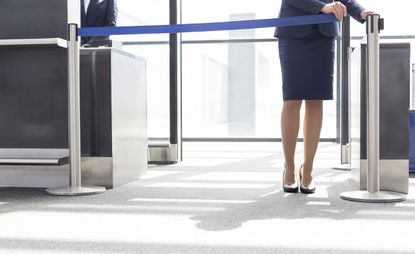 (Image credit: REX/Shutterstock)
Even Patricia Arquette got involved in leggings gate
Leggings. Let's talk about them. They've divided opinion for years, but we think everyone can just about agree that they're super comfortable - making them the perfect uniform for flights, right?
Wrong. (Apparently.)
United Airlines have come under fire after they banned a girl (aged 10) from boarding a flight because she was wearing leggings, and that goes against their dress code.
Yes, we're guessing you are as shocked as us.
Considering we have been tracksuit bottom-wearing passengers before, we always considered leggings a slightly more formal choice of plane attire, so when three young girls were refused entry onto their original flights because of their dress, it didn't take long until the world knew about it.
We already know the first thing flight attendants notice about you, but we did not expect them to judge our dress sense.
Founder of anti-gun violence organisation Moms Demand Action Shannon Watts was boarding a flight from Denver yesterday when she saw the kerfuffle and started tweeting about it.
United Airlines started replying, saying that the airline is allowed to refuse passengers who 'are not properly clothed' - and that the definition of that was 'left to the discretion of the agents.'
And, apparently there is an internal policy that specifically bans leggings from travelling.
'Our regular passengers are not going to be denied boarding because they are wearing leggings or yoga pants. But when flying as a pass traveler, we require this pass travellers to follow rules, and that is one of those rules,' was the answer given by a representative.
It seems that 'a pass traveller' is someone who is eligible for either free or discounted air travel because they are company employees or dependents of employees - so their argument was that these 10-year-old girls were representing the company...
Shannon's tweets started going viral yesterday, with actress, and women's rights activist, Patricia Arquette also getting involved:
We couldn't have said it better ourselves, Patty.
Celebrity news, beauty, fashion advice, and fascinating features, delivered straight to your inbox!