Easy Escapes: Relax in a stylish Tuscan villa at L'Andana hotel
Think sublime solitude in a beautiful villa once owned by the Medicis in Tuscany. Ciao Bella...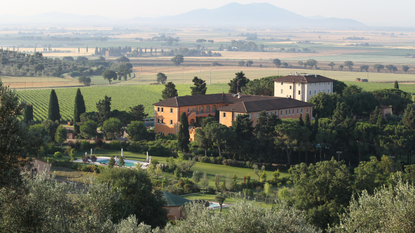 (Image credit: L'Andana Hotel )
Rural tourism – where experiences are related to nature-based activities, agriculture, rural lifestyle, culture, and sightseeing - is fast gaining popularity in the travel sphere. Our Beauty and Style Director, Lisa Oxenham, went to check out one such wellness destination located within the 500 hectare La Badiola Estate, in the coastal Tuscan region of Maremma.
STAND OUTS:
This historic villa's ESPA spa and hammam and black-slate hot bath and indoor pool are unforgettable. The outdoor pool and jacuzzi overlook the gardens and there is also a tennis court (Novak Djokovic was staying there when we were there), a small golf course, mountain bikes, and acres of countryside hills to explore. It's a 10 minute drive to the nearest beach, Castiglione della Pescaia, which is a pretty mediaeval seaside town and harbour with great local shops, bars, and restaurants.
LOCATION:
Set behind what seems like a mile-long driveway of alternating pine and cypress trees typical of a Tuscan entrance, we arrived after a one hour and forty-minute drive from Pisa airport. Florence, Perugia, Rome, and Bologna are all between two-and-a-half to three hours drive from the hotel. The closest major town and train station is Grosseto, which is 18 km away. On the way back, we left slightly earlier so we could pop into Pisa to see the city and to take the obligatory Leaning Tower Shot.
SPLENDID DESIGN:
As well as having been home to a Medici, the villa is the former summer residence of Duke Leopold II. In keeping with the traditional Tuscan grandeur, the hotel reception is elegant, bright, with a captivating scent of pine and lavender, complete with traditional terracotta tiled floor.
THE ROOMS:
Interiors are beautifully decorated with sumptuous fabrics, vintage furniture, and large windows that invite the light in as well as the sounds of sweeping swallows and the balmy, lavender-infused air.
All of the 33 rooms and suites have a stone fireplace and huge bathrooms - ours came complete with an enormous Roman style bath, too. Every last detail has been considered, from the king-sized beds to the filtered water and healthy snacks in the mini bar, black out shutters that ensure a great night's sleep. We had a prestige suite which includes a mezzanine bedroom - perfect for my mum and ideal for family stays.
WELLNESS SPA:
It would be hard not to feel well and rested at L'Andana thanks to the setting - but the spa adds to it, with holistic-inspired ESPA treatments. I've often found spas to feel like an afterthought in terms of design, but this sanctuary of relaxation is a masterpiece with lots of options including the hammam, mineral-rich heated pool, indoor pool, fitness centre, outdoor pool, and jacuzzi. The outdoor pool area with bar service is stunning with views over the beautifully manicured grounds and surrounding countryside.
The spa treatment menu covers facials, massages, day-long holistic spa programmes, and alternative therapies like full body massages and exfoliation to smooth dry skin and kickstart a sluggish system (I had this when I landed at the resort and it was the perfect antidote to the effects of the flight).
FOR FAMILIES:
A key pillar of parenting, which most of us struggle with (I certainly do), is switching off, but the hotel offers opportunities to get some downtime thanks to the Kids club of dreams, with myriad activities like table football and arts and crafts, and a kiddie pool with slide outside. I felt really happy to leave my daughter, Eliza, there with staff who were so warm and thoughtful. The larger main pool at L'Andana allows kids but is unsupervised, so parents will have to keep an eye on them and dining time is perfect for families too.
THINGS TO DO:
The surrounding area is beautiful and quiet and great for running or hiking, and several beautiful protected beaches are a short drive away. We visited Castiglione della Pescaia where the water can be wavy, so not ideal for kids wanting to swim, but great for a paddle and play on the shore. In the evening, a walk up through the old town and up to the fort offers spectacular views, and then you can head back down to La Terrazza on the harbour for a bottle of the local wine, grab a table on the balcony and watch the fishing boats returning to port. For cheaper options, there are many great pizza restaurants - make sure you try one featuring burrata cheese, a Tuscan speciality.
If you don't want to leave the cosy embrace of the hotel, you can arrange a tour of the 500-hectare estate's wine production set-up and guided wine tasting. The cookery classes are also a must, given by the hotel's chef.
FOOD AND DRINK:
Eating healthily is easy here thanks to the abundance of Tuscan fruit and vegetables. La Villa is set on an outdoor terrace overlooking the gardens, and there you'll find excellent breakfasts and light lunches. In the evening, traditional Mediterranean dishes are served up using the freshest, seasonal local produce, including aromatic herbs, vegetables, wine, and olive oil from the gardens - and there is also a barbecue once a week. Mum sampled the estate's wine with dinner to sip during the spectacular sunsets.
La Villa's elegant Italian meals can be simplified for kids, and dishes from the menu can be tweaked on request - I am a fussy pescatarian who is also gluten and dairy free and they were unfazed.
ACCESSIBILITY:
The hotel has step-free access, and there is a lift for wheelchair accessibility with ramps put in place of steps where applicable.
How to book your trip?
L'Andana is available through F&P Travel from £380 per night in a Superior Room. Price includes breakfast and F&P Travel complimentary concierge service. To book, contact F&P Travel www.fandpatravel.com / 01306 264 005
L'Andana, Tenuta La Badiola, Località Badiola, 58043 Castiglione della Pescaia, Grosseto;
Celebrity news, beauty, fashion advice, and fascinating features, delivered straight to your inbox!
An award-winning health and beauty writer, stylist and creative director, Lisa Oxenham is one of the UK's top beauty editors and the Beauty and Style Director at Marie Claire UK. With 20 years of editorial experience Lisa is a brand partnership expert, and a popular speaker, panelist and interviewer on a range of topics from sustainability to the future of beauty in the digital world. She recently spoke at Cognition X and Beauty Tech Live and is on the Advisory Board for the British Beauty Council's Sustainable Beauty Coalition.
A well-respected creative director she works on celebrity, model and influencer shoots with the highest calibre of photographers, filmmakers, make-up artists and hairstylists to create timeless images, attention-grabbing videos, digital events and masterclasses. Most recently Lisa has directed covers such as Lily Cole and Jameela Jamil, films such as Save The Arts featuring Francesca Hayward and sustainable fashion shoots such as Be The Change. Supporting the beauty industry over the pandemic has been a top focus, directing the British Beauty Council's six inspirational short biographical films for their Bring Back Beauty campaign.
Lisa is a wellbeing and beauty influencer with a focus on mental health and a large and engaged audience on Instagram, Facebook and Twitter.