Why every foodie needs a River Cottage cookery class
Ethical and sustainable menus with some damn fine wines to boot. If you're looking for a UK foodie break, River Cottage cookery school has you covered, reports Nicola Moyne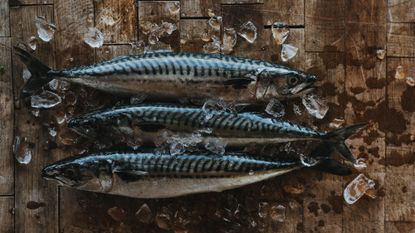 (Image credit: River Cottage HQ)
Ethical and sustainable menus with some damn fine wines to boot. If you're looking for a UK foodie break, River Cottage cookery school has you covered, reports Nicola Moyne
Killing a crab isn't high up on my to-do list in life. Nor is breaking up its legs joint by joint to spoon out the miniscule amount of meat left inside. But, oh THAT crab mayonnaise… At River Cottage cookery school – the 60-acre strong organic Park Farm in Axminster made famous by Hugh Fearnley-Whittingstall's long-running TV series – knowing exactly what's on your plate and how it got there is fundamental to its success. Every year, the school sees thousands of fans and foodies flow through its cookery school, restaurant and grounds eager to sample a slice of the good life. And, this month, I was one of them.
The sun-drenched day (yep, I lucked out) begins with a charming tractor ride down to River Cottage HQ and a much-welcome cup of black coffee and cheesy sourdough breakfast. I'm here for the one-day fish cookery course and, as the cottage's resident moggies sunbathe beside the herb gardens, Connor – our head chef and tutor – starts by passionately telling us about the nasty world of fish farms, the UK's treacherously trawled 'sea deserts' and how most supermarket 'crab' sticks actually contain no crab in them at all. In fact, even your 'smoked' haddock probably isn't smoked – it's just been artificially dyed to make it look like it has. Nice. The course certainly puts sustainability, self-sufficiency, seasonality and all-round ethical eating at the forefront of its teaching methods, which is no bad thing in my book.
But first up, the basics: how to use and sharpen your knives, which sounds pretty patronising, but you'll be surprised how much difference knowing how to really dice an onion makes to your culinary prowess. (It's all in the wrist action, naturally.) Next, we move on to filleting our first fish: a huge pollock fresh from the West country coast. We're talking head and all here, people – head and all. There's no ducking out of getting your hands dirty with this one.
Once I've de-scaled, de-headed and filleted the fish (harder than it sounds), there's nothing but the skeleton left, which, surprisingly is still useful. 'We're going to bake the heads with lots of herbs and garlic and make a fish broth from the skeletons,' Connor announces. Literally nothing is wasted. And all of the ingredients, whether it be vegetables and oysters or pheasants and rabbit, are sourced locally from independent, ethically-minded businesses or River Cottage cookery school itself to maintain the authenticity of the brand.
Once we've mastered (or at least had a stab at) the art of filleting pollock, turbot and mullet, we turn our attentions to conjuring up something edible. Fish and chorizo stew with mussels and homemade crab mayonnaise proves to be my winning dish – the chorizo sauce is perfect, even if I do say so myself – but the shallow-fried pollock with baby gem lettuce and a generous smattering of agretti is wonderful washed down with a glass of Lyme Regis pinot, too.
Later, we learn all about the art of hot and cold smoking (top tip: get yourselves an unvarnished wardrobe in the garden because home-smoked fish is insanely good) and hit the famous River Cottage gardens for a final series of envy-inducing snaps.
To say I've learnt a thing or too about cooking would be an understatement, but it's the passion for produce and idyllic scenery that really sets River Cottage cookery school apart. If you're looking for a weekend away with a foodie twist, this is it.
Book: The one-day fish cookery course at River Cottage HQ starts from £240. To book, call 01297 630300 or see rivercottage.net.
Stay: Old Park Hall is a five-minute drive away from River Cottage and offers a seriously slick boutique-hotel aesthetic (think stripped wooden flooring, a velvet sofa-clad lounge and huge emperor beds) with idyllic views over the rolling Devon hills. Suites start from £140 per night. Call 01297 792763 or email contact@oldparkhall.co.uk to make a reservation.
Celebrity news, beauty, fashion advice, and fascinating features, delivered straight to your inbox!