Meet Poppy Okotcha: the model-turned-ecological gardener greening your Insta feed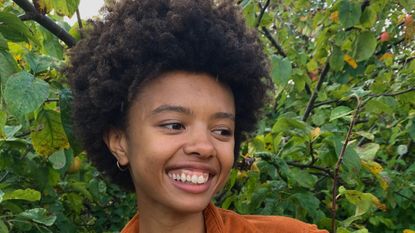 Poppy Okotcha's career trajectory isn't exactly what you'd call conventional. A former fashion model, who walked for the likes of Chloé, Alberta Ferretti and Vivienne Westwood, the 25-year-old is now being heralded as 'Gen-Z's garden guru'; sharing, with her loyal Instagram following of some 71.7k burgeoning green thumbs, her journey through ecological growing.
A regular contributor to the Royal Horticultural Society podcast, Okotcha has made guest appearances on BBC's Gardeners' World, and fronted Channel 4's The Great Garden Revolution (it's still available to stream on All 4, ICYMI) – so not only is she great at growing, she's a dab hand at explaining it to those of us who are less gifted in the area, too.
Now, adding another string to her already laden bow, the sustainability whizz is collaborating with Volvo Cars UK on an Instagram TV series celebrating ecological growers across the nation.
As COP26 enters its crucial final week, we caught up with Poppy to talk growing, Instagramming, and diversifying the sustainability space.
Tell us about your exciting new partnership with Volvo.
We're releasing an Instagram TV show in which we're spotlighting different ecological growing projects around the UK to show how food, farming and sustainable interaction with nature can have a positive contribution to the climate crisis. Volvo's electric commitment [the brand estimates that 50% of its sales volume will be fully electric by 2025] is really aligned with what I talk about on social media, so the partnership is a really exciting one.
You're an influencer and ecological gardener. What does that mean, exactly, for the uninitiated?
Ecological growing is growing in a way that works in harmony with the natural world – whether that's increasing or maintaining biodiversity, or increasing soil health and its capacity to hold carbon in the form of organic matter. There are so many aspects to it, but basically, it's a way of growing that's not extracting, but focusing on renewable resources.
The power of ecological growing is that obviously, it's producing food, but it also engages communities with nature, and teaches you how to live ecologically on a day-to-day basis. When you begin to understand the recycling of everything in nature and the lack of waste, you can kind of consider how to take that back into everyday life. I also think it provides us with a better understanding of how the earth provides us with pretty much every need. I think that's really important: having a literal understanding of where things come from, and how much energy goes into producing them.
You had a successful career as a model before becoming a horticulturist. What prompted you to move away from fashion, and how did you decide on a career in ecological growing?
As I was working in fashion, I was learning more and more about the climate emergency, as well as my own personal wellbeing and health. So I wanted to transition into a lifestyle and career that was doing good for both people and planet, and part of that was exploring food and where it came from – that's how I got into growing, really. Alongside that, I was exploring more about permaculture, and growing food in a way that's good for our physical and mental wellbeing. And I suppose, for me, growing was a solution for many different problems that I could see in the world and in my work.
Sustainability must be central to your day-to-day life as well as your work, then?
For me, sustainability isn't just about reducing plastic or improving biodiversity. It's an all-encompassing way of living that's unobstructive – whether that's in relation to the earth, our own bodies, or our personal relationships with one another. It isn't just about one thing: it's about the way in which we interact with all aspects of our lives.
You've spoken about how, as a mixed race young woman, by occupying a visible space in growing and sustainability you're "opening the door to people who may never have considered this world was for them". How do we make the climate movement more inclusive?
There are voices in the [sustainability] space who are doing incredible work on the frontline of climate catastrophe, so I think it's partly about listening to people who are doing what they're doing already, and partly about increasing visibility of people of colour in these spaces, and understanding how systemic change is important in that.
Certain demographics of people are disproportionately affected by policy, by lack of help or lack of time, and there's less capacity to engage with these issues when, for example, you're focusing on just putting food on the table. So I think there has to be an understanding that in order to allow greater diversity in the space, there also needs to be an addressing of the system that is creating that lack of diversity.
You've created an Instagram community of over 70k followers. How do we harness social media to make positive, long-lasting change?
I think that social media can be an incredible tool to spread ideas and information, to connect with like-minded people, and create community around you – which is really important when changing anything on a grand scale. You need community and group action is really important; nobody changes things ever on their own. It allows you to organise en masse.
It's also a way to spread information that's close to source. I think that that's really important, and it means that information can become more accessible to different demographics of people who perhaps aren't spoken to in the mainstream media.
Finally, can you tell us of any other exciting projects you have in the pipeline?
I'm working on a calendar that I've created in collaboration with an artist. Month by month, we run through different things that we can do in our personal lives to reduce carbon footprint – from composting at home, to understanding water harvesting. [It details] all the small steps we can take as individuals in the home and the garden that, when done en masse, can make a big difference.
Celebrity news, beauty, fashion advice, and fascinating features, delivered straight to your inbox!
Kate McCusker is a freelance writer at Marie Claire UK, having joined the team in 2019. She studied fashion journalism at Central Saint Martins, and her byline has also appeared in Dezeen, British Vogue, The Times and woman&home. In no particular order, her big loves are: design, good fiction, bad reality shows and the risible interiors of celebrity houses.