What it's really like to date a man with kids
Dating a dad: a survivor's guıde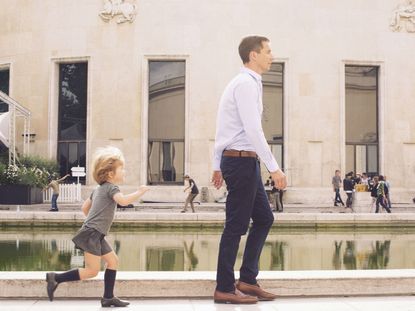 (Image credit: Rex)
Dating a dad: a survivor's guıde
I'm 29 years old and I'm standing in a freezing playground, in heels, with a hangover, holding a melting ice cream. I'm four months into a relationship with a man who has a child who I'm about to meet for the first time and, to be honest, I'm bricking it. But I make it to the park after almost turning back, to find James* (my boyfriend) clutching a Pokémon rucksack and an armful of coat, from which a pair of huge eyes and a half-smile appear. I wave awkwardly at this tiny yet enormously significant human being – all gangly limbs and pretending to be a dinosaur. He has his dad's eyes. I have no idea how I got here, but in this moment I realise that life as I know it is about to change.
When I first met James, I was riding an epic wave of self-indulgence: living in London, working as a journalist for a fashion magazine, travelling the world working on stories, interviewing celebrities, rolling from party to party. It was spontaneous and chaotic, and that's how I liked it. Most of my friends were settling down, but I had no desire to have children – I'd never felt the maternal pull. I also had a one-way ticket to South America burning a hole in my handbag. James and I met on a snowboarding holiday in early 2011, and he was perfect for my non-committal tendencies. Recently separated from his wife of five years, he was proud dad to a three-year-old boy, and living in his parents' spare bedroom awaiting a divorce settlement. With too much baggage to contemplate a serious relationship, he was just the thing, I thought, to kill time between now and my trip. Then the unthinkable happened. I fell in love with him.
The prospect of me – a carefree woman not yet 30 – dating a man with kids was met with fear and trepidation by my friends. 'I think you're really brave,' said Sarah. The only thing she'd previously seen me take responsibility for was which pub we should go to for a night out, and I often got that wrong. And yet I knew I wasn't the anomaly, given that the divorce rate among 25- to 29-year-olds is twice that of the average across all age groups, and concentrated mostly in the early years of marriage (between three and five years). In any case, I thought, what's the big deal about dating a dad? I imagined a loose scenario of every other weekend spent to a soundtrack of cartoons, on a diet of pepperoni pizza. The reality, of course, is much more complex.
In truth, the rewards are few. With all the will in the world, you can't give – or receive – the unconditional love that a parent can. In the early days, you don't have sleepless nights worrying about them, but nor do you get the heart-melting sticky kisses, or eager eyes scanning a room for only you. You just clean up the popcorn and put the crayons away until next week. Rightly so, it's his parents who watch him star as 'third sheep from the left' in the school nativity. But that doesn't mean you're not sat anxiously at home sending 'how did he do?' texts.
'My boyfriend Evan made it clear from the start that I would always come second to his daughter Lola, and that I wasn't to tell her off – even when she was rude to me in my own home,' admits my friend Charlotte, 33, who has her own experience of dating a dad. 'I can't tell you how many times I was reduced to tears by a seven-year-old! I'd been attracted to Evan because he was responsible, self-assured and not like the other guys I'd dated, who could barely look after themselves. But I ended up feeling like a frustrated outsider.' Charlotte and Evan split after five years. 'Selfish as it sounds, I just didn't want to share him,' she explains.
This constant tug-of-love is tough for the father, too. Christian, a 35-year-old dad to girls aged three and six, puts it neatly: 'My girlfriend is the most understanding person on Earth. I spent far too long in an unhappy marriage, so when it was over I recognised The One the minute I met her. But two years on, she still hasn't met my kids. There's so much hostility from my embittered ex-wife – it's like she holds a gun to my head in terms of access to the children. However solid the relationship is, I live in fear that my girlfriend will lose patience and one day say, "I don't need this, I'm gone".'
The terminology doesn't help. The word stepmum is loaded with negative connotations, often prefixed by 'evil' or 'wicked' (thanks for that, Cinderella). It also doesn't apply to people like me. James' boy has a perfectly good mother and, when he's with us, his dad does all the disciplining, cooking and bottom-wiping. I, meanwhile, can make an elephant out of Lego.
I was lucky. James' son and I bonded over a shared appreciation of Star Wars and the kind of imagination that can turn an empty washing basket into a spaceship. For him, I was a novelty. For me, he was my friend. But it's an ongoing challenge that we'll only realise the enormity of as time goes on.
'If you thought about the energy you have to expend for little or no return when dating a man with kids long term, you would never do it,' warns Ruth, who was 28 when she got together with Tom, who had a five-year-old son, Jacob. 'Tom and his ex split amicably, but when he met me it was quickly twisted into a "he left us" story. His ex would tell Jacob that he wasn't allowed to hold my hand, or she'd send him to our house without a coat in winter. Or we'd be on our way to pick him up and she'd call to announce a change of plan. Tom would be crushed with disappointment.'
James' boy is six now, and I've known him for more than half his life. That it took a child to teach me about growing up is an irony not lost on me. It is a notable dichotomy that today's thirtysomethings – born on the cusp where Generation X meets Generation Y – battle with Peter Pan syndrome. I was in no hurry to settle down, but it is a luxury to get a preview of the kind of father your partner will be. Three years ago, baby talk of any kind left me itching to start a conga, just to lighten the mood. But, it turns out, I'm pretty good with kids and they're actually heaps of fun (when you don't have a hangover). Who knew?
Whether or not you want kids of your own one day is a vital conversation to have early on, according to clinical psychologist Dr Claire Halsey. 'Some fathers vow not to have more children, especially if they've experienced bitter divorces; others are determined to do it again, this time with the right person,' she says. 'If you know you want children, the benefit of watching him at work is that you'll have a much clearer understanding of where you're compatible on important things like family values and discipline.'
And me? I have been given a unique window on to a world I never imagined before I met James. One that makes the idea of growing up a lot less scary. Being a dad makes James who he is and, in turn, makes our relationship what it is: a solid team marching into an unknown future that's messy, complicated and utterly brilliant in equal measures. I cancelled that trip to South America weeks before I was due to leave. Why go to the other side of the world for an adventure? It's right here. Me, James, his boy and a small dragon who goes by the name of Spyro, lined up on the sofa and watching Return of the Jedi. Welcome to Saturday night.
Things to know before dating a dad By Wednesday Martin, author of Stepmonster: A New Look at Why Real Stepmothers Think, Feel and Act the Way We Do
1. Stepkids can feel like being with you is a betrayal to their mum. Take your lead from them and closeness will come when they trust you.
2. All-together bonding activates everyone's anxiety about being an outsider. Spend some low-pressure time with his kids alone, and allow him to do the same.
3. Ditch the fantasy of happy families. It's rarely that easy! Just take things a day at a time.
4. Don't presume that if they're upset, it means you're doing something wrong. Learn a bit about development and you'll realise what's normal for a tantrum-ing two-year-old or a sullen seven-year-old.
5. Don't attempt to recreate your boyfriend's original house rules from his previous relationship. Make your own.
6. Don't try to be another mother. Be who you are and invent a relationship with his kids that works for you and them, avoiding the extremes of disciplinarian or doormat.
Celebrity news, beauty, fashion advice, and fascinating features, delivered straight to your inbox!
The leading destination for fashion, beauty, shopping and finger-on-the-pulse views on the latest issues. Marie Claire's travel content helps you delight in discovering new destinations around the globe, offering a unique – and sometimes unchartered – travel experience. From new hotel openings to the destinations tipped to take over our travel calendars, this iconic name has it covered.