What we can all learn about dating from watching The Undateables
The Undateables is a joy, but it also puts paid to the tedious game-playing, point-scoring process of modern romance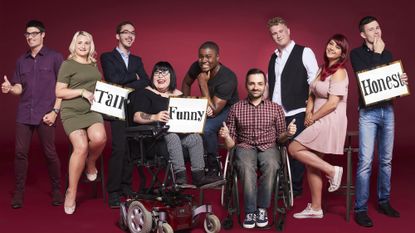 The Undateables is a joy, but it also puts paid to the tedious game-playing, point-scoring process of modern romance
Shortly into Sam and Rosie's date on Monday night's episode of The Undateables, before their pizzas had arrived, Sam looked up at Rosie and laid his cards on the table. 'As far as I know, this is going very well', he said. 'I'm glad it's going well' Rosie smiled back at him. 'I'm really quite shy' she added, 'but now I've met you it's getting easier.'
Oh, the time (and money) so many of us could save if we shot from the hip like Sam and Rosie. Not sure how the date is going? Just bloody ask.
Now in its eighth season, Channel 4's The Undateables is a gem of a show, and one that roundly dismisses the patronising notion that disabled people aren't as obsessed with finding love as the rest of us. And unlike Love Island - where the average relationship lasts less time than a Tesco lasagne - several of the matches made by the programme's brilliant blind dating agency have lasted long after the cameras have gone. There's even been an Undateables wedding, between 24-year-old Brent Zilwood and 27-year-old Challis Orme. When Brent, who has Tourettes, was first introduced to Challis, he called her a 'shithead.'
I had reservations about the show when it first launched. I have an older brother with Down's Syndrome and worried Channel 4's tendency to play the controversialist could make a circus of its subjects. But despite the slightly mean-spirited title, The Undateables has proved to be one of the most life-affirming dating shows on television. It's also the perfect antidote to the game-playing, hoop-jumping and point scoring process of modern love. The uncontrived openness of the show's participants should be a lesson to anyone who's wasted hours tapping every WhatsApp message and social post of the person they're dating for clues.
Alongside Sam and Rosie, on Monday night we also met Donovan, a robotics engineer who suffers from brittle bones and who hit it off with nursery teacher Tanya. Much like Sam, Donovan saw little point in ambiguity. 'I don't know about you but I've had a pretty good day' he said. 'How would you feel about swapping numbers?'
A general 'let's cut the crap, shall we?' spirit has run through every season of the show. You might remember from previous series' the brilliant Christina, who set herself a hard deadline of her 30th birthday to find love. 'I want to find a man before my 30th', Christina, who has Down's Syndrome, told the cameras, 'I want him inside the cake and he pops out and says "happy birthday, I'm your boyfriend."' Despite strong suggestions by her mother and sister Roxanne that she should play it cool, she saw no issue with bringing up this target on a first date. But isn't it better to take the Christina approach and weed out the flakes early on than suffer the fate of my friend L, who went out with a man for a year before he announced he was moving abroad. 'I thought you got this wasn't a long term thing?' he said.
I also admired the give no fucks attitude of Richard from season 7, who initially refused to be paired up with anyone outside a five-mile radius of his house. When he was required to travel further afield he said to his date, 'so are you pleased I came all the way to Ramsgate?' As someone who once took an almost two-hour (two tubes, three buses) across London for a 10pm drink, I can fully identify with this pass-agg enquiry. But unlike Richard, I said nothing and returned for two more equally fruitless follow-ups. I think we know who the winner is here.
Rhys Jenkins, who appeared on the first episode of the show, said he had initial reservations about appearing on The Undateables. 'I [worried about] exposing my life to the public eye' he wrote for The Huffington Post, 'but [The Undateables] is first and foremost the chance to meet someone nice who I could form a connection with. And even if love didn't result from the experience, I'd make a friend. Sometimes in life you don't always get what you hoped for, but that doesn't means you don't get anything great.'
Isn't that a better mantra to live by than 'treat 'em mean, keep 'em keen?'
Celebrity news, beauty, fashion advice, and fascinating features, delivered straight to your inbox!