How We Met…..What about you?
HOW WE MET is published TOMORROW! And I am officially EXCITED.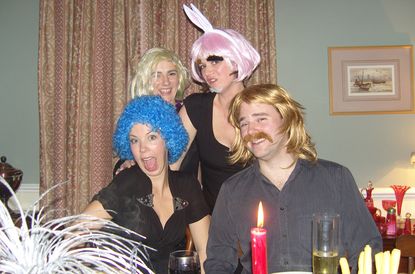 HOW WE MET is published TOMORROW! And I am officially EXCITED.
I have yet to buy a frock for the launch event, but I am DETERMINED to put aside at least a few hours, to get myself down to that there Westfield Shopping Centre (can you tell I have given this some considerable thought?) And actually spend some time choosing something, rather than what I usually do, which is to leave it till the day before said event (Christmas party, wedding, christening, book launch it doesn't matter) and have to buy whatever I can find on my high street, which invariably involves something in a size smaller than I actually am, which I convince myself I WILL fit into after twenty-four hours fasting and a small miracle.
Then I wear something I already have.
Maybe because I've been answering some of your questions on my Facebook page (www.facebook.com/katyreganauthor) - (thanks so much for these! It's been lots of fun doing it, even if on camera, I look like I'm about to sit a very scary examination…) I've been thinking a lot about the inspiration for HOW WE MET. For those who don't know yet, it's basically a book about friendship, loss and growing up - about how a group of friends cope with the death of one of their clan, and how it makes them look at their lives, and in the end, what is truly important.
Thank God I have never lost a close friend; however, my friendships themselves are certainly an inspiration behind the book. Some of my friends have read HOW WE MET (there are perks to being my friend, you know…) and say they can hear 'me' in it, hear 'us' in it. One friend today said that it brought back a lot of wine-fuelled memories of uni days and she also felt it was about that transitional time in our lives (approaching 30 perhaps) where life can suddenly get a bit serious….and have we even adapted at nearly 39? I do often wonder…
I can reveal that there are certainly elements, snippets from me and my friends' lives, things we have done that I have used, changed, embellished and integrated into the story ("hypnotist" say no more!! "Interailing and those overpriced spag bols" and "having our photo taken leaning against the Leaning Tower of Pisa!" "Losing control of bowels on a ferry to Greece" My friends in real life, all KNOW who they are….It is often these little gems that get burrowed away in my head and used in fiction, so beware, be very aware…
It is also these moments, these beautiful moments - yes, especially like being so horrendously hungover and Deli bellied that we poo ourselves on public transport - that bond us, which make us look back and laugh and which lay the foundations of long-lasting friendship which is unshakeable, no matter how much we change, because we have got history and crucially, shared times. Is there anything more important that the people in your life, after all?
History and shared times are also what keep the group of friends in HOW WE MET (Melody, Fraser, Norm, Anna, Mia AND Liv, despite her not being there in person) together in spite of what life throws at them. I kind of miss their togetherness a bit, to tell you the truth; writing it made me nostalgic for that time when there was a big bunch of us who hung out, before life and bills and responsibilities and divorce (divorce is in there) and babies (those too) chipped away at your merry time! Like my friend said, the book explores that transition, those hairy few years between your late twenties and early thirties - where you realize those dreams of becoming an astronaut or a rock star, are probably far behind you. Add to that the death of a friend, and it throws my characters' lives into even sharper focus.
In the book they meet (at least Mia and Fraser do) in Fresher's Week, when they attend a hypnotist event. This isn't exactly how I met my uni friends - (although I did take part in this kind of event in Freshers' Week and I DID see an elephant walk onto the stage, yes I did…)
Other funny stories about meeting friends that come to mind are…
*Meeting my friends Mike and Chris whilst working on the student newspaper as features editor - my first ever writing 'job' - there was a LOT of drinking in that job. Possibly more than most… *Meeting my friend Helen when we shared a toilet and shower in Halls (shit n' shower partners they? were so-called and I've used that line in the book too). She also used to bring me onion bhagis straight to my bed. That was a beautiful friendship right from the start. *Meeting my friend Suzanne when she stalked me in Waitrose because she recognized me from my column (I wasn't even secretly delighted about being stalked, I was just delighted) *Meeting my friend Sue when we did a comedy duo act called 'Christine and Beattie' in the sixth form end of year show (both characters were basically mentally sub-normal. Political correctness didn't exist in 1992…) *Meeting my friend Delia when we did an acrobatics duet together in a dance festival, and I FORGOT the whole thing on stage. We were eleven. She's never forgiven me. *Meeting my friend Mika - mmm, that's a hairy one - but I think drunken yoga was involved. Or something. Some kind of dancing? Mika maybe you can fill me in…
I could go on on but really, what I'd like to ask you is this: How did you meet your group of friends or even one, special friend?
Think long and hard because very shortly, I shall be announcing a brilliant competition for you and a friend to win this fantastic prize:
A one night stay at 42 The Calls – an award-winning hotel in Leeds which features in the final chapter of HOW WE MET. This stunning 18th century boutique hotel does the best breakfast and this, as well as dinner at the theatre-style Ambiente Tapas, will be included in the prize.
I have been to the hotel and can assure you it is GORGEOUS. I am actually quite jealous. So, what are you waiting for? Get thinking. The competition will be coming very, very soon and you'll be able to enter via FB and Twitter, so keep watching my FB author page www.facebook.com/katyreganauthor for updates or type in #howwemet and follow the buzz on Twitter.
In the meantime, I would love to include soooo many photos of me and my mates - my school mates, my uni mates - for you to laugh at. But they are all in storage, (am living at Egg's! He was just meant to be my friend too…) so have included this stonking photo of some of us, being footloose and fancy free (the kids were in bed) on New Year's Eve (Yep, it's another 'hilarious' facial hair-themed NYE….)
Follow me too @katyreganwrites Visit my official website: www.katyregan.com HOW WE MET is available for download now at http://www.amazon.co.uk/How-We-Met-ebook/ and out in paperback on January 31st.
Celebrity news, beauty, fashion advice, and fascinating features, delivered straight to your inbox!