This is why 67% of affairs happen during a summer holiday
Oh those summer nights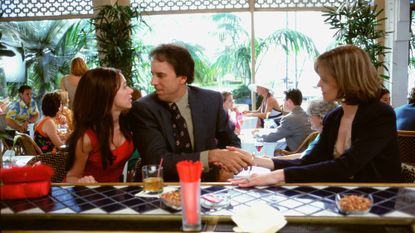 Oh those summer nights
There really is something about summer, isn't there? It's the season we all have the most sex (must be because we're all walking around half naked, hey) and thus unsurprisingly it's also the season when the number of cases of STI's go up.
But did you know that summer is also when most people will cheat on their partner?
Gleeden, the European leader in extra-marital encounters, surveyed over 7,000 members to find out many had played away whilst abroad - and you may be in for a shock.
The survey found that a staggering 67% of affairs had taken place during a summer holiday, and more than half of those who took part admitted that they had taken advantage of being on holiday with friends in order to have an affair.
Surprisingly, 23% of people who took part in the survey 'fessed up to cheating on their partner whilst actually on holiday with their partner (the nerve of it), whilst 18% of people admitted to jetting off alone in the quest for a holiday fling.
So why are so many people unfaithful overseas? Well for 66% of those who took part, the simple answer is that it's 'easier to conceal' a holiday romance. Given that partners often come from other parts of the world, there's no direct proximity or mutual links to one another and the chances of meeting again are very slim.
For the majority of those who took part in the survey a holiday romance is just that, with 42% stating the fling ends when the holiday ends. For 31% of participants their summer romance ended after just a single night of passion. However, 27% of those who took part had extended their holidays in order to stay with their new found love for a little longer.
Only 11% of participants revealed they had been caught, so if your partner is going on holiday this summer then all we can say is beware.
Celebrity news, beauty, fashion advice, and fascinating features, delivered straight to your inbox!