How organic wine gives you less of a hangover
And it's affordable too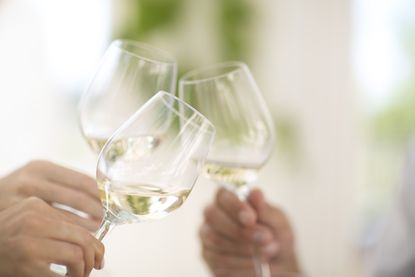 And it's affordable too
Got your attention, have we? Thought so.
It's no secret that we're a fan of wine, especially after seeing that drinking a glass of wine can protect you from having a stroke and that red wine can apparently make you healthier and when we heard that organic and natural wines could reduce our hangover the next day, we immediately took notice.
Here's your definitive guide to organic wine and how it's pretty much going to change your life (no exaggeration) according to wine connoisseur Robert Edwards, Founder & Managing Director of The Vino Beano...
What is organic wine?
'An organic wine is made from grapes that are grown without the use of pesticides, fungicides or any other artificial chemicals. Instead, organic producers work with natural products to enhance the biodiversity of the vineyard, rather than synthetic goods.'
What is the difference between organic, natural and biodynamic?
'Biodynamic wines come from producers that do not manipulate the process with any yeast additions or acidity adjustments. Biodynamic producers also tend to take a more holistic and preventative style approach to farming. Organic wines can also often confused with natural wines. Organic wines contain some Sulphur Dioxide, which is added to kill any unwanted yeasts and bacteria, whilst protecting the wine against oxidation. Natural wines do not include Sulphur Dioxide, and their consistency and quality is often questioned. The ongoing market potential for natural wines remains to be seen, however it is expected by some sources that natural wine will hold a 5% share of the wine market by 2020.'
What is the difference taste wise?
'It is generally regarded by organic wine producers that organic wine does taste better, and gives you more of a sense of the terroir and individual artisan wine making techniques. There have also been various market research projects, and blind tastings carried out across the globe across the years, and organic wines are consistently better reviewed than those that are not produced organically.'
What difference does it make to your hangover?
'Hangovers are caused by dehydration, the breakdown of ethanol and any natural by-products from the fermentation process. It has not been proven that an organic wine will give you less of a hangover but some people are more sensitive to sulphites and additives so wines with less chemicals will have less effect in terms of headaches and nausea.'
Why should we go organic?
'Organic wines have natural ingredients and processes. Generally, whenever you eat or drink anything that is not processed or artificial, it is better for our health. Often in the cases of food, organic produce can be 2-3 times more expensive. However, with wine, the price points are far more affordable in relation to cost of non-organic wines. That makes organic wine more accessible to the wider market.'
What are the best brands to buy organic?
'When buying organic wine, you should look for those that have been certified (these are generally made clear on the labels, or made aware of by the retailer). Many producers that are not certified still make wine organically, but do not want to have their hands tied as such, with regards to exactly what they can do in the process. However, fully organic wines are becoming extremely popular, and the number of organic producers grows year on year.'
Organic wines
We sampled a few on your behalf (you're welcome) and have to say that Aldi's Toro Loco Organic Red, Ocado's Nero D'Avola and Thirsty Earth and Vino Beano's Authentique all passed the taste and sore head test.
Celebrity news, beauty, fashion advice, and fascinating features, delivered straight to your inbox!