'Men used to run the show but now many of us feel emasculated and anxious'
When Geraint Anderson, ex-hedonist highflying banker and Cityboy author, lost a friend to suicide he knew his debut film, Trick or Treat, had to shine a spotlight on male depression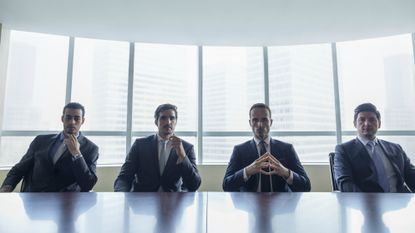 When Geraint Anderson, ex-hedonist highflying banker and Cityboy author, lost a friend to suicide he knew his debut film, Trick or Treat, had to shine a spotlight on male depression
Believe me growing old isn't for sissies and in my experience many men find it challenging. In fact, a few years ago so many of my contemporaries were depressed that I decided to make a film exploring this still little-discussed epidemic; though, of course, I hope Trick or Treat does so in the least depressing way possible.
I'm no expert about male mental health but, looking around at my peers, there often seems to be a perfect storm of challenges that rear their ugly head when they reach their thirties and forties. This is the time when, unless they're very lucky, long-held dreams and ambitions begin to appear less and less likely to be realised. It's also often a time when many see their bodies begin to noticeably decline whilst their relationships slips into mundanity.
This latter process is, of course, accelerated by us often having young kids when we are in our late thirties and, let's face it, their effect on romance and our sex lives can be compared to global warming's impact on the polar ice caps. A depressed father of twins best summed this up when he told me (quoting the Linklater film Before Sunset) 'I feel like I've opened a small nursery with someone I used to date'. This is also a time when our parents begin to pass away, jobs reach stressful levels of responsibility and divorces become commonplace.
Sounds grim? Well the latest stats make for sobering reading. CALM, the Campaign Against Living Miserably (a charity designed to support suicidal men), quotes two truly shocking statistics: firstly, that suicide is the biggest single cause of death for men in the UK under the age of 45 and, secondly, that three quarters of suicides are committed by men. Of course, every one of those suicides is an absolute tragedy that will have a lasting impact on the man's partner, his parents, his children and his friends - as it did for me when a pal of mine took his own life some years back. It is the undeniable seriousness and pervasiveness of this issue that meant, when it came to deciding what subject my debut screenplay should highlight, there was no serious competition.
Of course, women face many of these issues too but seem to cope with them better. Women are generally better attuned to talking to each other and exposing vulnerability. Many men still have a macho reluctance to tell anyone about their problems though, pleasingly, men ranging from Prince Harry to Rio Ferdinand talking about their mental health problems, is helping many feel able to discuss them too. Secondly, the expectations facing fathers have changed more in the last fifty years than in the previous five thousand. And interestingly, it is my generation that is probably the last one that can generally say that their fathers never changed a single nappy. Indeed, my peers' parents often had a clear demarcation of roles - with the father bringing home the bacon and the mothers taking on the lion's share of parental duties. This has now completely changed and some men can't cope.
Now, before I get into serious trouble, I need to make it clear that I completely approve of today's new balanced model of parenthood and career! Anyone with a brain does; but that does not mean that this transition, that my generation of men are at the cutting edge of, doesn't add yet another complication to an already difficult life phase. Let's face it, men used to run the show and the loss of that dominance (though, of course, it still has lots further to go) has left many feeling emasculated, anxious and unsure about their role in society. These feelings can be particularly hard to come to terms with if, like me, you're an ex-raver who came to fatherhood late and had got used to a selfish, hedonistic lifestyle centered around partying (as I described in a, frankly, overly gleeful way in my autobiography Cityboy). There seem to be so many amongst us who are 'kidults' wondering where all the fun went.
It's all the issues above that I wanted to explore in Trick Or Treat- the tagline is 'middle age can be murder' - however, I was determined to do so in the most entertaining and least preachy way possible. Trick or Treat is about a depressed middle-aged ex-gangster from Blackpool whose estranged brother suddenly turns up claiming to have drunkenly run someone over but, of course, all is most certainly not as it seems…
Writing and producing an independent feature film is no mean feat. I finished the screenplay over three years ago, yet it will only hit cinemas on 25thOctober. While I don't pretend that this film will change much, if it succeeds in bringing a little more attention to the pressing issue of male mental health then it will have been worth it.
* Trick or Treat is released in cinemas on 25thOctober. Starring Craig Kelly, Dean Lennox, Kris Marshall, Jason Flemyng, Frances Barber, Shaun Parkes, Hugo Speer, Jamie Sives and Maimie McCoy. It recently won best feature film at the Marbella International Film Festival.
Click https://evolutionaryfilms.com/trick-or-treat/to pre-order a ticket.
For more info : http://www.trickortreatthemovie.com
Follow Geraint on @cityboylondon
Celebrity news, beauty, fashion advice, and fascinating features, delivered straight to your inbox!
Maria Coole is a contributing editor on Marie Claire.
Hello Marie Claire readers – you have reached your daily destination. I really hope you're enjoying our reads and I'm very interested to know what you shared, liked and didn't like (gah, it happens) by emailing me at: maria.coole@freelance.ti-media.com
But if you fancy finding out who you're venting to then let me tell you I'm the one on the team that remembers the Spice Girls the first time round. I confidently predicted they'd be a one-hit wonder in the pages of Bliss magazine where I was deputy editor through the second half of the 90s. Having soundly killed any career ambitions in music journalism I've managed to keep myself in glow-boosting moisturisers and theatre tickets with a centuries-spanning career in journalism.
Yes, predating t'internet, when 'I'll fax you' was grunted down a phone with a cord attached to it; when Glastonbury was still accessible by casually going under or over a flimsy fence; when gatecrashing a Foo Fighters aftershow party was easy-peasy-lemon-squeezy and tapping Dave Grohl on the shoulder was... oh sorry I like to ramble.
Originally born and bred in that there Welsh seaside town kindly given a new lease of life by Gavin & Stacey, I started out as a junior writer for the Girl Guides and eventually earned enough Brownie points to move on and have a blast as deputy editor of Bliss, New Woman and editor of People newspaper magazine. I was on the launch team of Look in 2007 - where I stuck around as deputy editor and acting editor for almost ten years - shaping a magazine and website at the forefront of body positivity, mental wellbeing and empowering features. More recently, I've been Closer executive editor, assistant editor at the Financial Times's How To Spend It (yes thanks, no probs with that life skill) and now I'm making my inner fangirl's dream come true by working on this agenda-setting brand, the one that inspired me to become a journalist when Marie Claire launched back in 1988.
I'm a theatre addict, lover of Marvel franchises, most hard cheeses, all types of trees, half-price Itsu, cats, Dr Who, cherry tomatoes, Curly-Wurly, cats, blueberries, cats, boiled eggs, cats, maxi dresses, cats, Adidas shelltops, cats and their kittens. I've never knowingly operated any household white goods and once served Ripples as a main course. And finally, always remember what the late great Nora Ephron said, 'Everything is copy.'