Henry Holland told us the one thing you'll never find in his house
We talked all things interiors with the designer at the launch of his new Habitat collection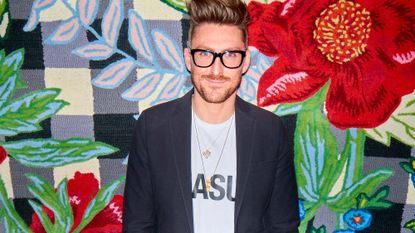 (Image credit: David Titlow)
We talked all things interiors with the designer at the launch of his new Habitat collection
Attention interior design lovers! Henry Holland's new collection for Habitat has landed. We talked to the designer about paint shades, his dream money-no-object interiors purchase and which of his friend's houses give him interiors envy.
What are your golden rules for decorating a room? 'I will always try to start with a neutral base (white walls / black floors / white floors) and will then layer colour up using accessories like cushions, artwork and lighting. This is an easy-to-update and affordable way to keep you interiors fresh as you always have this base to build on and adapt as you get bored and want a change!'
If someone's got around £200 to spend what's the easiest way to jazz up their living room? 'Easiest way is through "high impact" accessories – cushions, rugs, lamps and artwork will all immediately transform the feel of a room and can be done really cheaply.'
What's the coolest interiors item you've bought on your travels? 'Probably some big antique haberdashery storage cupboards from French Antique markets and also a collection of embroideries and cross stitch canvases which we then used to upholster a vintage 1950s armchair.'
Which of your friend's houses give you interiors envy? 'Most of my friends have good taste but my friend's cottage in the countryside in Oxford gives me real envy as it's a similar old and antique style to my house, and I love the art she has on the walls.'
What would be your ultimate money-no-object interiors purchase? 'I love Memphis furniture and I have an armchair bookmarked on Pamono which I will be buying as soon as I win the lottery!'
What would we NEVER find in your house? 'A Bidet… my mum lives in France and they are in all the bathrooms. Not into it. don't get it, not for me.'
How do you choose which interiors products to create for Habitat? Will we see more slogan cushions? 'With fashion you only have a small amount of fabric to work with so I find it rewarding to see our hero prints being 'blown up' onto rugs and bedding that make such a huge impact. And yes to the slogan cushions - we really wanted to include a slogan cushion as a nod to House of Holland's 10th birthday and this is one of my favourite pieces in the collection, so watch this space!'
You're doing a Hoxton Hotel take-over this month, could this be a more permanent fixture? 'I hope so! We really wanted people to be able to interact with the new collection and what better way than to be able to take over a hotel room for people to immerse themselves in everything House of Holland. We've had beautiful bespoke wallpaper made using our hero floral print, plants from Grace & Thorn and all of the Habitat interiors products throughout the room. It's a pretty crazy space – maybe not hangover friendly (I'll feedback on that after the launch party) – and has been such a great project to work on with The Hoxton, Holborn.'
Who do you follow on Instagram for interiors ideas? '@thefutureperfect I really love and also @uglydesign for fun things!
Celebrity news, beauty, fashion advice, and fascinating features, delivered straight to your inbox!